Title explains it, I guess:)
Haha, I guess you saw my question in the "post you unis" thread!

Awesome 36er btw! I'm getting a brand new one delivered this Friday! Now I'll have TWO 36ers, but I'll probably sell my current one.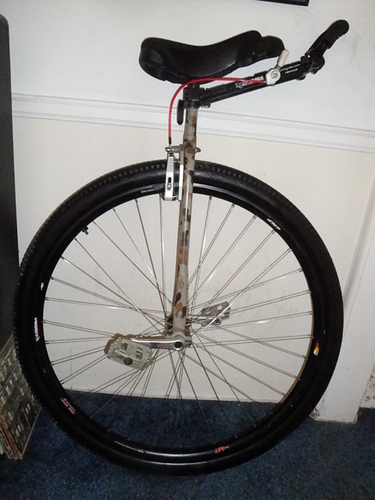 That's right. If you check back you'll see my reply to your question in that thread. But weren't you going to post some of your great 36er pics now?
Haha, I know, I already saw it. I've pretty much posted most of my 36er pics in other threads, so I'll wait 'till I get my new KH this Friday!
I got it with the touring handle and magura brake. Only mistake was getting the dual 110/127mm cranks; I should have got the 125/150's, since I ride 36 MUni also. I'll just box 'em up and send them back to switch them.
I wish they made something closer to 114/150! That would be ideal! Btw, how's riding long distance with that bicycle seat? Looks way small and not very cushy.
You must be looking forward to that KH. Getting a new uni is just so exciting, especially when it's a high end one.
The bike seat is not cushy at all but I find it pretty comfortable even for long rides (today I went for about 50km). The great thing is that it doesn't put any pressure on the delicate bits but mainly on the sit bones. I find it more comfortable at least for this purpose than the KH FFR which I have on my other unis. I have tried a wider and cushier bike seat too and it was absolutely terrible on the uni. It's great on my bike, though. For muniish things it isn't ideal because it can slip out sometimes. But I do some interesting XC with it too and it works fairly well for that. By the way it cost €8,50.

And it's very light.
Where did you get your touring handle parts? Looks good and very functional. does it adjust length-wise? And where did you get the fender…did you make that? I like it because it follows the curve of the wheel perfectly, unlike the store-bought fender I have, which sticks out way too straight, and much higher over the wheel.
Btw, the rim in the first pic looks different then the others, and appears to not have machined sides, or is it just the lighting? The rest of the pics look like the standard nightrider rim.
There's already a thread for custom 36ers…
Terry, you really needed an ISIS 36er! You always jump with yours and now you can do trials with it!

That's a lot of questions. I'll try to answer them all:
The parts for the touring handle are all modified bicycle parts that I bought at a LBS in Arnhem. The parts are: head set stem, seat clamp, seat post, regular stem (non head set), handle bar and some bar ends. Everything's auminum and attached to each other with bolts squeezing one part around the other.
It is therefor adjustable lengthwise although it is at the max length for this seat post now. I would have to get a longer seat post to make it even longer but I find it long enough like that. I think I posted a more detailed description of the procedure in the custom handle bar thread.
The fender is called "wolfguard", it's about 10 years old at least. Unfortunately they don't seem to make these anymore. I was looking for the company on the web recently and only found dead links. It is really ideal for the uni. I used to have it on my bike for years before I realised how well this would fit the 36er.
The rim is a stealth pro with machined sides. It looks dark in the first pic because of the lighting.
Ah! I missed that one, but at least this thread is good for any coker, so it's a bit more inclusive.

Haha, yeah, that's the main reason I wanted to get the KH, since it has the Isis hub/cranks. I just got tired of bending so many square taper cranks doing even smallish drops. I didn't really like the nimbus frame, and the KH is lighter, plus now I'll have a cool KH triple threat: 19" trials, 24" MUni, and now the KH 36er!

(Plus, a new pair of KH leg armor, included!)
We're all looking forward to the 36" centerfold photo's
The nice thing about the Nimbus frame is it accepts a wider hub… I just got a new nightrider frame… It's pretty slick.

Here a picture from my former modded 36-er Nimbus…(inspired by Dustin Schaap)… Loved it, finished my first marathon in Düsseldorf (Germany) last year in just under the 'magical' mark of 2 hours with it. (1.59.48)
The small frontwheel is just a 'crashdevice' to protect the bar and prevent disaster.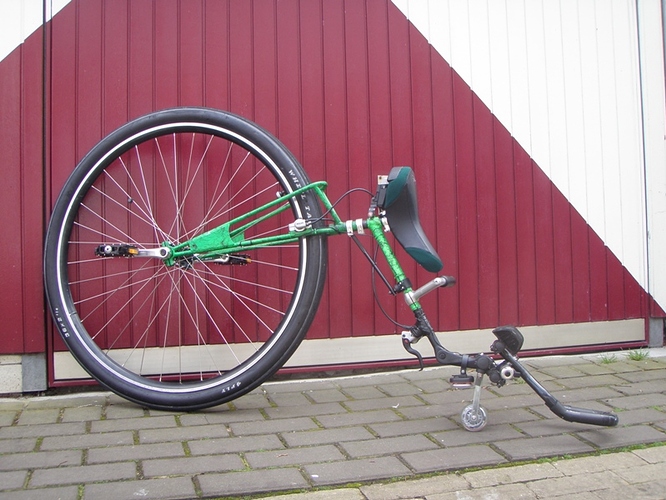 Yes I saw you riding this last year and found it impressive. Just a pity that I didn't realize who you were :o I think that is also in the video of last years marathon at 0:31
That's pretty slick. Now no one should ask you where your other wheel is. Hmmm, doesn't that make this a bicycle??
Here's my 45er, sporting a nail in the tire after the Carmichael July 4 parade. Having a solid rubber tire has its upside!
Below is my road Coker and a rooster. It has a Wyganowski handle with bottle holder, brake, bar ends and a bell for the bike path.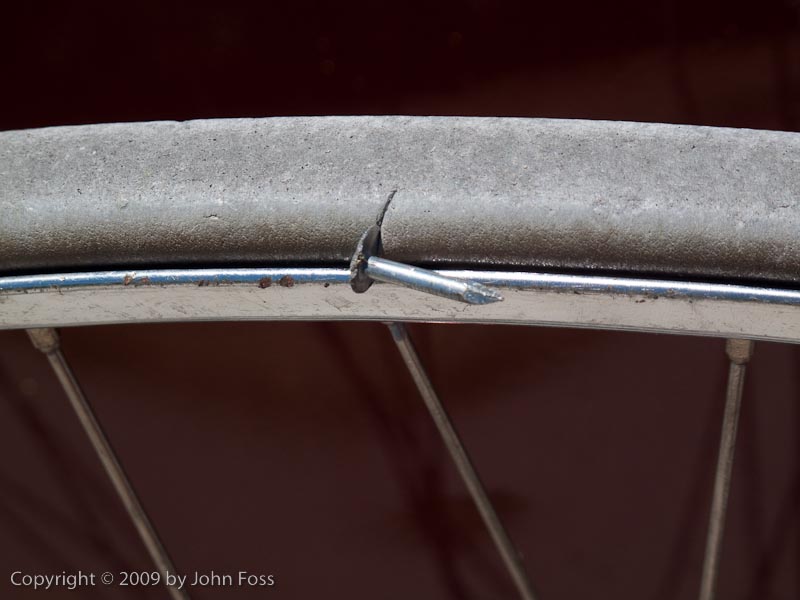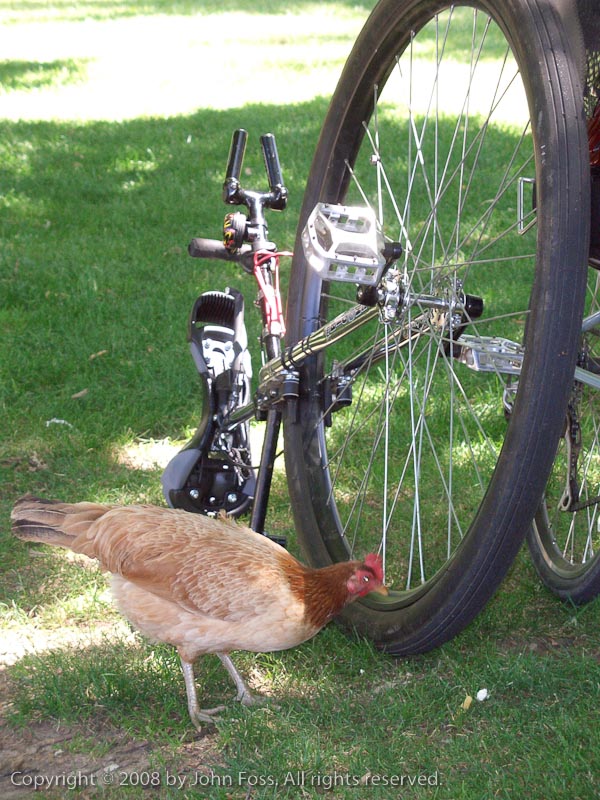 I finally got my KH36 together. The brake is a Frankenbrake H22/H33 built by Brycer. He puts together a great brake. I spray-painted the brake mounts and they turned out well. I am thinking of finding a way to paint the brake as well to match up better with the other orange parts.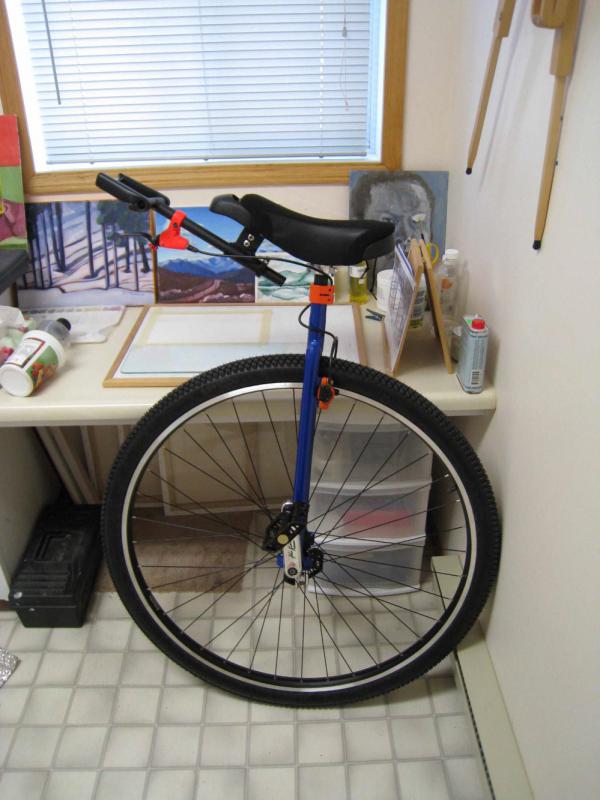 john, where did you get the solid tyre from? i guess it's custom?
Four days late, but worth the wait! My new KH 36er, ready for the road, and also some hardcore 36er-MUni!


The touring bar w/heavy duty kh stiffener was a bit tricky to install, and the plastic magura hose was hard to wrap around the seatpost, but as long as it doesn't kink, it should be fine. Love it!