I have been thinking lately of letting Blue Shift move along to a home where it is likely to be ridden by someone rather than hang from a hook in my basement. I am approaching 70, have had both knees replaced, tore my left Achilles 18 months ago and pulled my right Achilles six months ago. High-stress torque changes from a geared unicycle and high-speed spills onto joint replacements is not in my future best interest. I have not ridden this unicycle in a few years and the last time it was ridden at all was by Irene Genelin in October of 2019.
This unicycle has a rich history as can be gleaned from an advanced search of the forum using dates prior to 1/1/2004 and search phrases "geared unicycle", "uni.5", SH uni.5", or "Blue Shift." The uni.5 hub has a number of firsts to its credit: first geared hub developed especially for a unicycle, first geared 24" unicycle, first geared 29" unicycle, and first geared Coker. The story of the hub development, the first unicycles built, first rides, the trip of the uni.5 around the country so that a number of riders could try it out, and the availability for testing by all participants at NAUCC 2002 and Unicon 2002 is all in the forum archives.
The first thread I posted on the topic is here. Also, some of the background for the project can be found on my website: Greg Harper - Home
I have and can provide the complete as-built drawing set in AutoCAD 2k2, .pdf, and .ps formats for the hub, frame, and seat rail adapter.
Blue Shift in its current configuration as pictured:
One of the two original uni.5 hubs modified with sintered bronze top hat planet bushings and a hardened PH-4 stainless steel axle square tapered for cotterless cranks
Lightweight, elegant, blue-anodized aluminum Steve Howard frame custom made to accommodate the gear change hardware of the uni.5 hub
Velocity Dyad 700c rim
Schwalb Big Apple tire (this tire is so big it rubs on the crown if inflated to 50psig so a smaller cross-section tire would be more appropriate)
Blue-anodized, triple-drilled Kooka cranks (the middle hole was mis-drilled on one crank and is crooked)
Blue-anodized Primo pinned platform pedals (great alliteration, that)
27mm aluminum seat post with Steve Howard tilt adapter
Air saddle made from a blue Miyata saddle
Small box of hub tools and extra hub hardware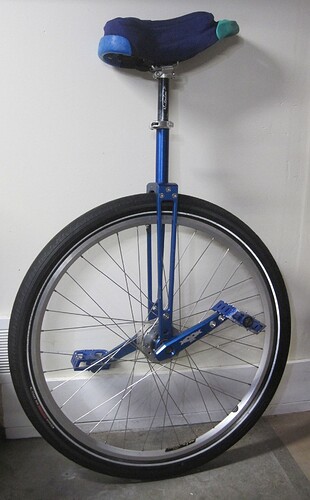 Full disclosure: This unicycle has scratches on the pedals, cranks, saddle bumpers, and fork legs characteristic of unicycles that hit the ground at speeds greater than 15 mph.