Thanks to @Eric_aus_Chemnitz for the heads up on this option:
I'm in communication with them now and the vibe seems promising. Cost… well that may be on the higher side but we will see …
I'd be interested to know who would be game to try a rotor made for the new schlumpf hubs by this company.
And off the topic of my head or would have:
A swept rotor arm design
2-2.3mm thinkness
Dedicated heat treatment
203mm or possibly even 223 (!) sizing
Pinprick hole design on edge section
I see they offer glass bead blasting option to the surface treatment which from what I gather saves braking the brakes in and gives a more even surface when compared to standard rotors.
If people are interested in this it would be handy to know
your ideal set up and what your favoured "look" of the rotor would be (check out BrakeSTUFF's site)
size preference
thickness preference
max £$€ willing to spend
and any ideas or comments
I think I like this one the most so far: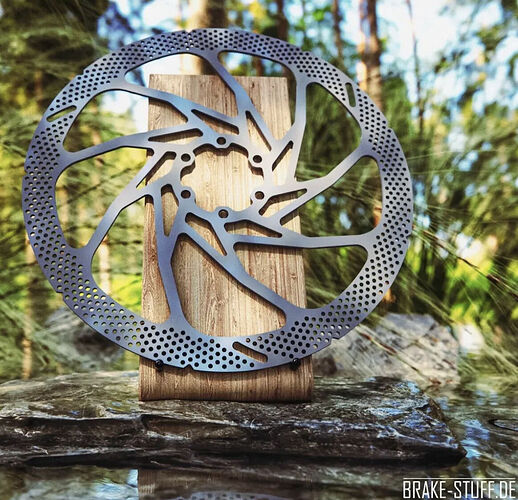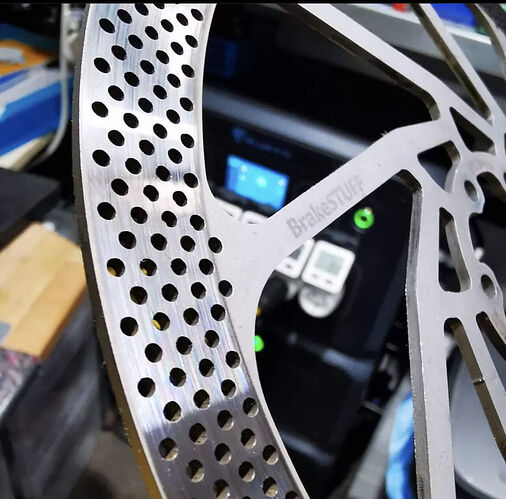 (Naturally it will be with a much larger inner space but the outer section seems very solid)
I am background thinking that this type of thing might get cheaper with a group order and to that end I think we could look to arrive at an amalgamation of all peoples desires - it will end up a bit of a compromise I guess but still a nice mix of all the most popular specs
(Or it could be that just 2-3 people are interested and that kills this project off quite simply
)
Hope this ends up useful to the schlumpfing community and at the very least gives another supplier to the disc rotor areas for these hubs… and those massively skilled riders who can wear out rotors (not really me… but I enjoy tinkering)