Does anybody know where I can find a 72-hole unicycle hub? Preferably for square taper cranks.
Thanks, Joel
I think you're going to need a 36-hole hub and a drill for one of those…
why do you want a 72 hole hub??
it would be cheaper just to buy a new whole wheel, because a 72 hole hub aint gunna be cheap, also most hubs are ISIS nowadays
Hopefully he's making a cool custom pimp cycle, with a low rider style wheel and some sweet lug work on the frame.
As Johnfoss said you'll need to get a 36 hole hub and drill another 36 holes. Two 36 hole square taper hub options are the suzue hub and the UDC hub (UDC US only has the 48H suzue hub). The tall and less cutout flanges on the suzue hub is probably better suited to drilling an extra ring of spoke holes.
Can't wait to see your creation

Why not
Why not just forget about spokes and machine up 2 discs??? then you can decorate them

The hub is actually for a 53" wheel for an ordinary bike (penny farthing). I thought of drilling a 36-hole hub but was hoping for an easier solution.
I won't be starting this project for a month or so but I will post pics if you're interested: http://www.flickr.com/photos/28879558@N04/
Thanks for your help,
Joel
Holy poop!

thats some nice work you have done Joel! You should just make your own hub, it looks like you could easily do it. There is a guy that lives close to me that 100% makes his own penny farthings; they are works of i art i think.
His shop is Rocky Mountain High Wheels and his name is Paul B. Rust. Im sure he could help you out a lot with this project of yours.
Thanks, Jacob. Paul is actually where the rim and tire came from. They were a birthday gift from my wife.
Do you intend to stretch the hub? The standard unicycle hub is too narrow for a penny farthing wheel.
This guy builds p/f's in London. He might help you out.

Or the University of Vienna's engineering dept. has an active p/f manufacturing group.

Does look like you have the wherewithal to make you own. Does that present a problem or is it just time?
Have you sorted out the long spokes you need?
Enough with the questions.
Good luck
I would start with a wide UDC hub (when did they stop calling them super wide?) and drill in the extra holes.
And yes please let us know what you plan to do for spokes.
I ordered that hub but will cut the flanges of and braze on my own. I'll also lengthen the hub if necessary. The spokes will be coming from Paul at http://rmhwonline.com/
I won't start for a few weeks but there will be pics on my Flickr page.
Thanks, Joel
Can't wait to see what you'll do with the project

Joel
It's been a few days since you updated us on your project and I wouldn't want you to think that some of us had lost interest.
I'm somewhat jellous of your workshop setup. All those chucks and collets and a fishmouth grinding rig. loving the allignment jigs etc. I could drool on, but I think you get it that I'm interested. Please keep the pics coming.
[ What grade of tube are you using? If it's 4130 I'd be interested to know how you will bend the backbone]
Best wishes.
Richard
I've been in a little bit of a holding pattern while I wait for the hub to be painted. I should have it in a week or so.
The backbone is 1.25" x .065" 4130 and was rolled on one of these:
-Joel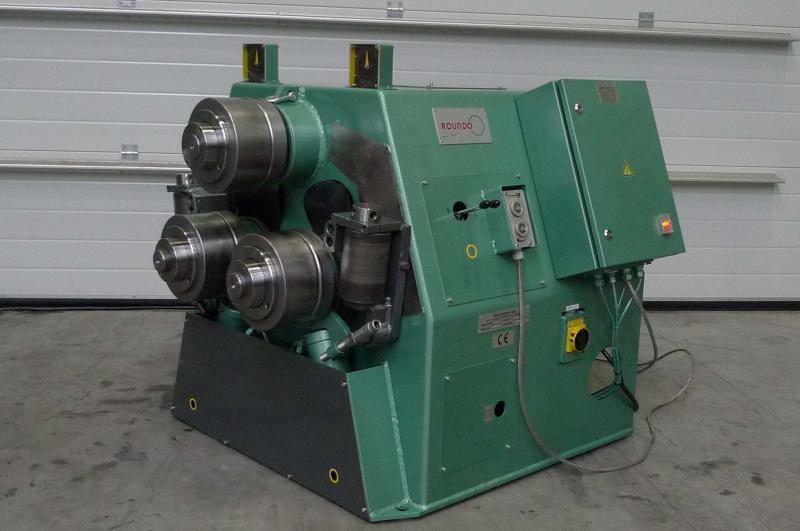 Amazing! How do I get access to one of those? Are they common in machine shops (I know the shops on campus at my university don't have that)?
It was rolled by Flour City Bending. They also bend the material for my LD stems, though that's done with a draw bender.
Making progress.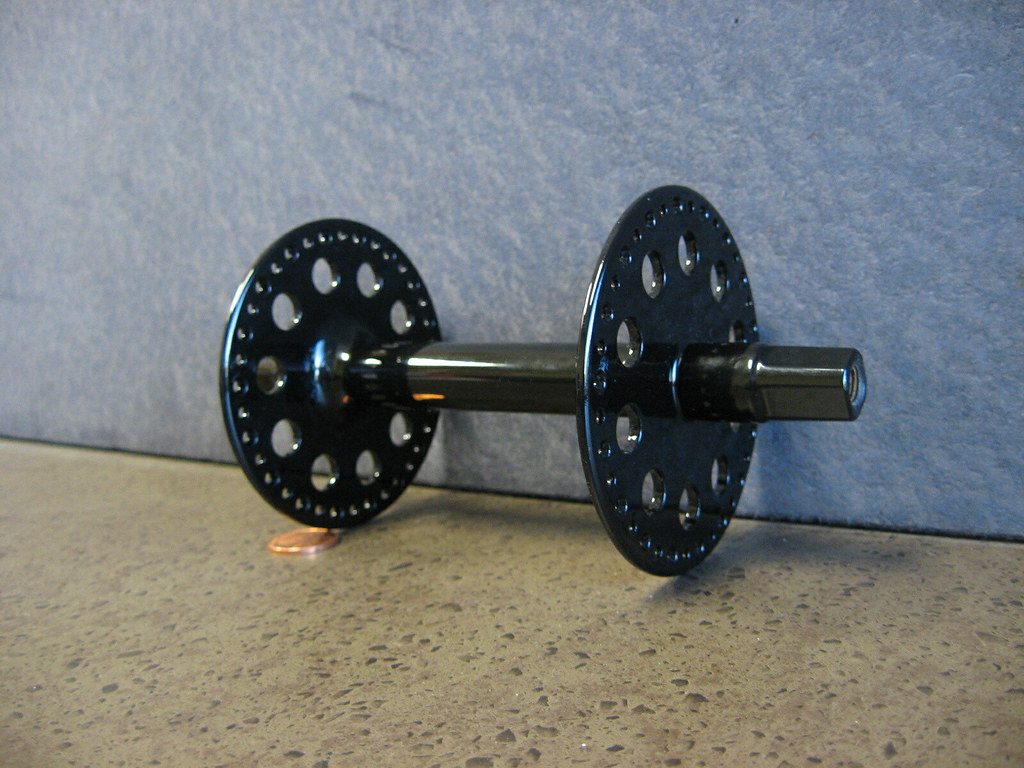 Looking really nice Joel! What kind of paint is that? Or is the hub powder coated in a metallic powder? Will the entire penny be done in a similar finish?
So what's next in the process? Wheel build? Or more work on the frame?
Looking forward to following your progress.
Cheers,
Daniel
Holy poop you are going all out on this thing!

I can't wait to see the final product.