See this on ebay.
http://cgi.ebay.co.uk/ws/eBayISAPI.dll?ViewItem&category=2904&item=7127106632&rd=1
You can't really call that a unicycle? Can you?
JJ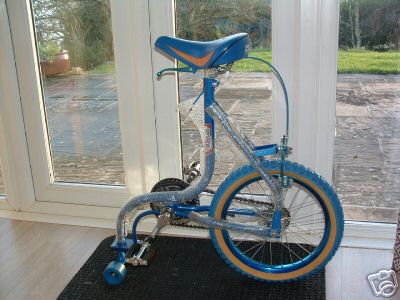 Nope. I'd call it a tricycle that is hard to ride.

I'm not sure if the thing has a fixed gear hub or a coaster hub. If it has a coaster hub you would not be able to ride backwards and would make riding it as a unicycle (a wheelie) very very difficult. If it has a fixed hub (cannot coast) then it might be possible to ride it as a unicycle, but would be very difficult.
Looks like a nightmare to ride, those small wheels at the front, you would have to have a smooth surface for that, turning would be a challenge.
JJ
So tell us what is it like? Good, bad, ugly?
JJ
Guess so, but he or she has a good patio (behind the sutpidcycle) for short unicycling!
JJ
the skate bike, Riot wheel, and that stupid monocycle with the harley biker wannabe threads are about as redundant as "wheres your other wheel" comments.
Funny if you feel that they are redundant that you have the need to comment <laughs>, feel free to ignore all redundant threads that pop up.
So where is your non-redudant thread?
JJ
p.s. Flaming doesn't work.
he has no chance of getting £250 for that thing!
use the search and you will find many, oh wait you cant…this thread proves that

It's a skate bike. That is the name of that cycle type. They have been marketed by various companies, under many different names.
I first saw them at the 1983 National Unicycle Meet in Syracuse, NY. Sem Abrahams' family brought some, but these were much cooler than the more recent models. These were called Rodeocycles, and were from Motobecane. They had a big plastic shell over the frame, making them look much cooler. The seat was more like a unicycle seat, with a handle on the front. And the drivetrain was fixed; you could ride them backward and forward. Non-unicyclists were zipping all over the gym on them all weekend. I even have a picture of my dad on one.
Later came the LeRun, which was promoted on MTV during the late 80s or early 90s. They were much more similar to the one pictured. I will assume that if it has a brake, with lever under the seat, that it's a freewheel model. I think I've seen others that had coaster brakes instead of the caliper types.
Wheel-wise, it is clearly a tricycle. Tricycle is probably not a fair name for it, since two of the wheels are so tiny. But it's clearly not a unicycle as it has 3 wheels on the ground. With a steering system. And no fixed wheel.
If you search eBay for "unicycle" or better yet "unicycl*" (which coveres unicycles, unicycling, unicyclist), you have seen many non-unicycles that have been called unicycles. The most annoying are all the penny-farthing bikes (usually pictues and toys, not real ones). Can't they count wheels?
Re: You can't call that a unicycle?
"brockfisher05" <brockfisher05@NoEmail.Message.Poster.at.Unicyclist.com>
wrote in message
news:brockfisher05.1itb4t@NoEmail.Message.Poster.at.Unicyclist.com…
>
> I call it retarded
>
>
I think that is probably unfair: as unicyclists we KNOW that 5 year old
kids CAN and DO learn to unicycle. Parents in general do not, and as such
might view a skatebike as something the kid CAN learn to do. Few parents
outside of unicycling would ever consider a uni for their little
darling…obviously far too extreme and dangerous. They do not know how
wrong they are of course, but is that something to blame them for? We
should be more tolerant to others, even if they are not always tolerant of
us…
Take the mickey out of the ridiculous asking price, but why mock others,
who have different tastes to ours, and may well wish to ride and enjoy
riding something other than a unicycle?
Nao