Among all the unicycles I,ve seen this one is one of the weirdest and coolest unicycle:
The Jack Halpern's amazing 150!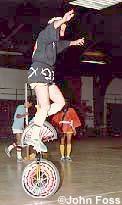 NOTE: You can find this an many more crazy unicycles at the invaluable Jhon Foss´s Garage Page, under multi wheel.
What other unicycles have impressed you?
Thanks for sharing!!!
Pepe
PS: I recall one with a bowling ball in it…