Please can you post your freestyle/hockey unicycles?
I'm looking for some inspiration

This is my Freestyle uni (and a few others, trying to look cool in an ordinary bike rack). Wyganowski frame, based on a very strong fork crown used on tandems. 48 spokes, tall frame. Japanese indoor-riding Freestyle pedals with soft, rubberized ends. All it needed then was a non-handle on the front of the seat (and maybe a more comfortable seat). This unicycle is intended for professional use, where strength is a higher priority than weight. The only thing I would have changed on it was to have chrome instead of paint, but that wasn't available at the time.
The picture is from NAUCC 2003 in Minnesota.
Oops, wrong preset; that over-large copyright notice!
nice trick, took me a while to see what you did there.
Freestyle/Hockey uni
Howdy ya'll.
I have recently started playing more hockey and riding freestyle with a club indoors once a week. Thought it was about time I made my KH20 flat more inside friendly. Now sporting a KHE bikes MAC 1.5 lightweight freestyle tyre, Foss 20" tube, white plastic nimbus platform pedals, and white front and rear bumpers. It's a sweet ride!
Cheers,
Dmac
very cool! how is the light wheel treating you?
From October. I now have a blue KH Freeride saddle, blue Primo The Wall tire, and Chameleon pink Odyssey twisted PC pedals on this Nimbus X.
New uni for hockey
So it's not my birthday, but I feel like buying a new uni
Currently I'm using a trial unicycle for hockey. Its nice and manoverable, but fat tyre and 140 mm cranks and I'm getting killed for pace.
( I also not very good, and I'm hoping this is my equipments fault not mine)
I've tried 24" unis for hockey and find it a bit awkward
So probably looking at a 20
Was thinking of getting a new wheel set for my trials frame
Any suggestions on good
Hub
Cranks
Rim and tyre
For hockey
Thanks all
Here's what I use:
Standard Nimbus Eclipse frame with a black tyre instead of a white. The Nimbus 'Flat' saddle has now been replaced by a KH street because I've realised I like my saddles with a little extra padding.
That's pretty cool! Where did that paint job come from? (Never seen anything like that.)
Looks like some kind of tape or plastic strip? Pretty cool, I might do that to one of my wheels if I could find something neat.
Oh, yeah kind of like that duct tape with a pattern.
It's a custom paint job. Primer, marker, layers of clear paint to seal it. Here's another pic of the other part of the rim.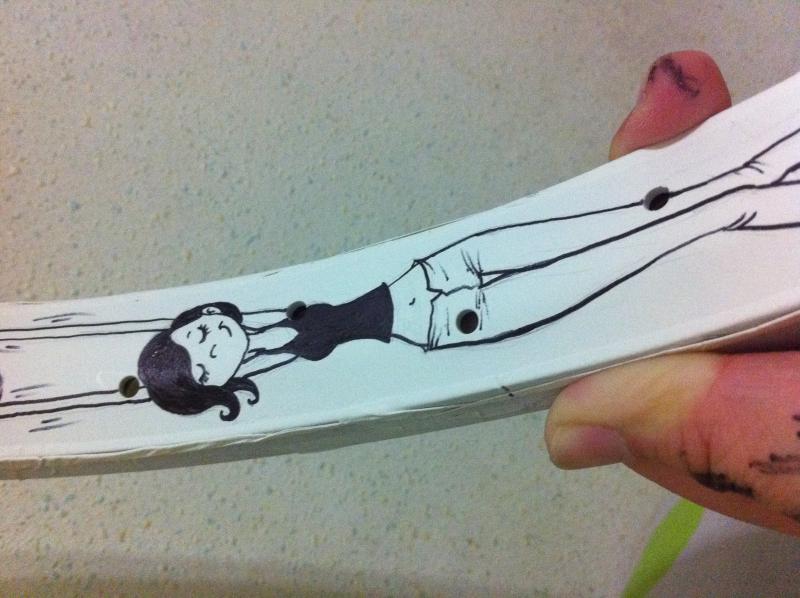 Well I haven't been riding this a whole lot and it is a freestyle uni so you rarely get knocks on the rim.
There are a few chips here and there from mostly storing the uni with other unis.