My name is Kenneth Bancroft (Keny Banks). I was born and raised in the small but lively town oh Nelson BC. Nelson is heavily populated by mountain bikers, and has the terrain to support it. This is what in part got me interested in Unicycle.
It began about 6 years ago at a private school I attended. The school had recently built a new gym and purchased new equipment for it. Some of that equipment, believe it or not were 3 unicycles. I was immediately drawn to the unfamiliar contraptions. I like most people had never seen a unicycle outside of a circus or street performance. I tried on several occasions to ride the unicycles. For the most part I failed, but did manage a couple of pedals; rather satisfying pedals if I may add. After leaving the school I began mountain biking, but often thought about my experience with the unicycles.
It was near the end of summer of that year when Victoria walking around the streets with my parents that my interest in unicycles would escalate. I saw a 20 inch trials unicycle with a fat tire. I couldn't take my eyes off it; it was intriguing to say the least. Being 12 or 13 years old I didn't exactly have the money to buy it, but I spent the rest of the summer wishing it was mine.
By the fall of that year I had convinced my parents into helping me buy a unicycle. At the time I was desperate to find a hobby, and mountain biking was not working out for me. So out of some fluke I was able to get a 24 inch Kris Holm signature addition unicycle. I had planned to get a MUCH cheaper one but it was the only one I could buy locally. So there I was with a high quality mountain unicycle and barley any ability to ride. In order to not look like a "poser" I tried my best to learn quickly. Every evening I would walk the unicycle to a nearby school and try, and try, and try to ride. I eventually figured it out and almost instinctually started trying to do drops and skinnies. I knew very little about the sport and what people were doing on unicycles. All I really knew was what mountain bikers could do, so I started heading in that direction (and still am). After about 2 months of riding I started going to the mountain bike trails, which in Nelson are steep and technical. Needless to say I walked down most of the trails at first, but still enjoyed it profusely.
That's how it began, day after day; month after month, year after year I got better at trails. I rode almost exclusively with mountain bikers, so this kept my riding as fast as possible. I love going fast, hitting big drops and taking my unicycle down mountains I once thought would have never thought possible. I do ride street, but my passion is for freeride.
So here I Am, 18 years old and still riding my unicycle. I am now am started to venture out into the uniclcing world and community, as to up until this point, I have been isolated around mostly mountain bikers. If you are interested in the riding I do or have any questions/comments, feel free to message me.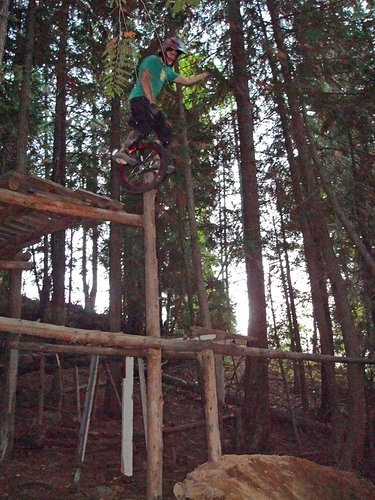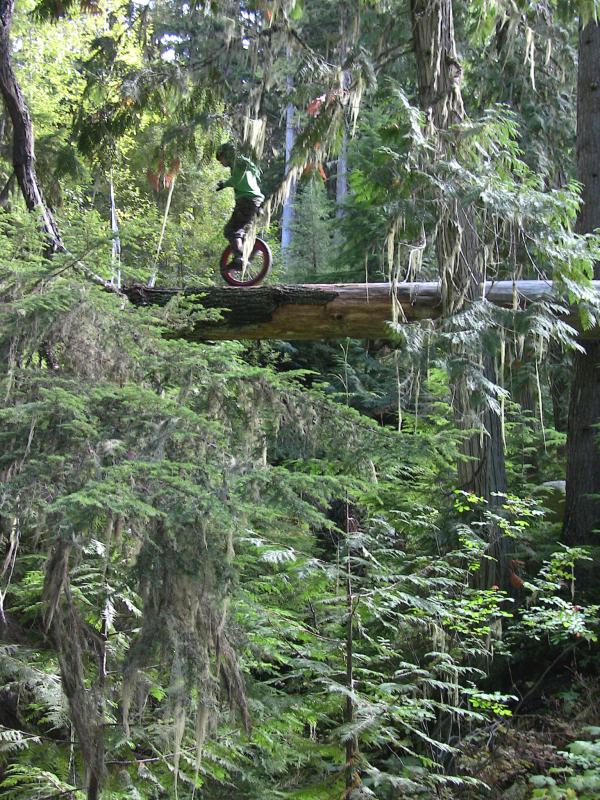 More pics

Videos