LegoBoy and I swapped some seats around this weekend when our new KH Fusion Street (2011) saddles came, so I decided to setup a mini-studio and take some pictures for direct comparison. Here is what I came up with: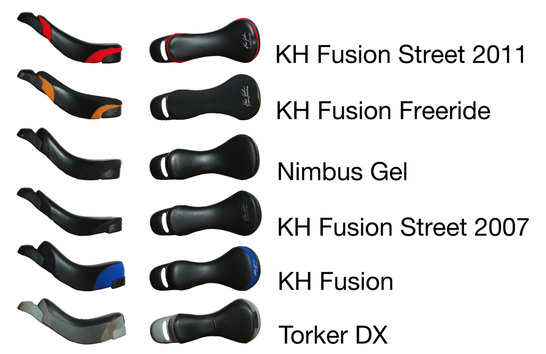 All the seats are aligned by the grab handle so that the shapes can be compared. It's too bad I didn't do this before selling my 2007 KH Fusion Freeride or my Torker LX, but at least I took the pics selling the Nimbus Gel and Torker DX today.
So far I'm liking my 2011 KHFS more than my 2006 KHFS, but I've only gone on two rides with it. As you can see from the left column, the new KHFS is still excessively curved front-to-back, but it is much better than older seats such as the original KH Fusion and other seats with the Velo base. As you can see from the right column, the current generation KH base has a slightly better shape when viewed from the top; some of the older seats were too narrow at the center and wide at the nose.