Hey everyone! I posted this on facebook, and I figured I'd repost it here to get a different demographic's response.
As a lot of you probably noticed, they released the updated 2012 IUF rulebook. Everything is mostly the same, but there's one sentence that really stuck out to me in the flatland section: "Skills typically known from freestyle should be judged with equal weight" (Section 4.10). Now, this probably won't affect the guys competition at all. Guys flatland is established enough that no freestyle rider could compete in a major flat comp and expect to win without doing any flip tricks or very few roll combos. However, I think this new rule could be a big problem for the girls competition.
There aren't that many girls flat riders, and we're lucky to have more than a handful of competitors at any given event. However, there are hundreds of female freestyle riders. I'm worried that the girls flatland competition is going to turn into a second freestyle competition. For example, at last EUC Winter there were a bunch of freestyle riders that registered for the competition (though most of them didn't show up to compete…). As another example, check out the girls "flatland" final from EJC (at 4:14)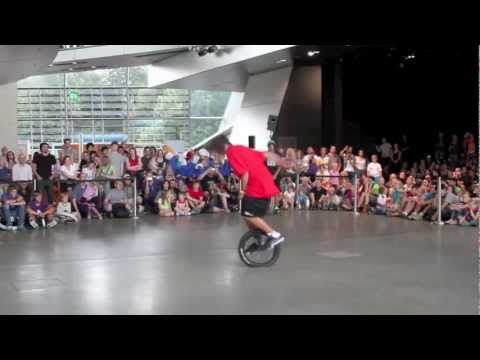 .
Now, I have nothing against freestyle riders entering the flat comp, or people using freestyle unicycles in the comp. However, I definitely think that flatland tricks should be weighted more than freestyle tricks in the flatland competition.
I'm planning to contact the IUF about this, but first I'd like to hear what you think! So please leave your opinion below.