Do you have unicycles or parts with interesting back-stories, eg having been passed between different owners? If so please post them here (no need for tons of detail - I got a bit carried away below!).
Why am I starting this thread? In a recent post I realised I was sending a photo of a crank to one of its a previous owners (because I'd seen a mysterious (serial?) number stamped on it). It got me thinking that there must be other unicycles or unicycle parts out there with interesting histories that showcase the connected nature of our unicycling community, and it might be nice to collect some stories together.
So here's the story of my cranks - feel free to reply with stories of other unis or parts that are well travelled or have been through a number of owners, or otherwise have interesting provenance.
A pair of much-travelled Nimbus Venture (Mk 1) 138mm Cranks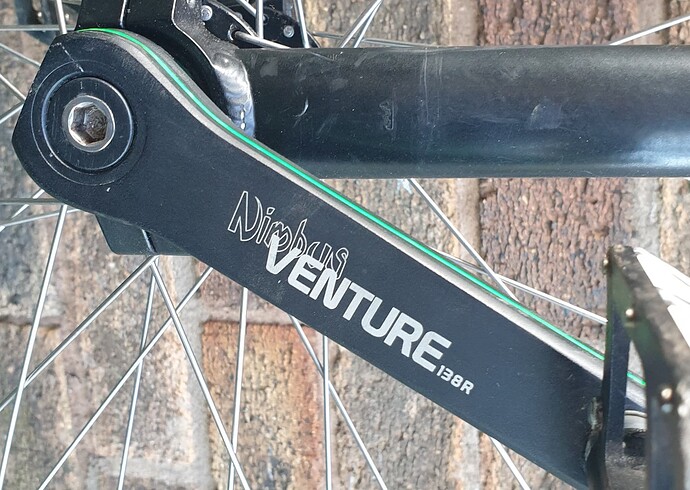 Back-story (tldr?): In 2020, about 18 months into unicycling, I was looking for a second-hand 36er and spotted a Nimbus Nightrider Pro on ebay. I contacted the seller and it turned out he had four other unicycles he hadn't listed yet, all of which had belonged to a friend of his, Rob Higgins, who had sadly died in 2019. I ended up buying those four, collecting them just before the UK Covid lockdown started. They included a geared KH36 with modified 150mm Nimbus Venture cranks that were part of a system Rob had created to change gear using bar mounted levers (see here). Later that year I saw a 36" tyre listed on ebay by another seller who said it was 'from a house clearance'. He turned out to be another friend of Rob's, trying to find a home for all Rob's unicycle spares and tools in the middle of lockdown. I decided to buy them all, and a few days later a big box arrived with all sorts from water bottles to cycle shorts to spanners. There were also various prototype parts for the gear change system, the Schlumpf button spanner from his g36 hub, and even a spare Schlumpf axle bolt.
The Cranks: Amongst the (many!) cranks in the box there was a pair of 138mm Nimbus Venture Cranks which had been modified in the same way as the 150s that we're on Rob's uni (see below).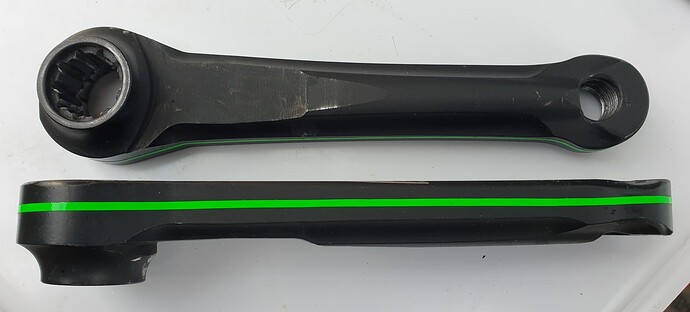 I suspect Rob had tried the 138s but found them to hard going in high gear. However a year or so later when I had dismantled the g36 gear change system and moved the hub to a 26" wheel, I put the 138s back on Rob's now unguni 36er, and it seemed like a nice reunion.
Further-back Story: Much later I just wondered if Rob had been active on this forum, and found he had, as @LIKWIDART (that was also the name of his car detailing business). He had posted a few times (eg he possibly joined a group doing a London to Brighton ride in July 2011). I also found a post in which he was looking for 138mm Nimbus Venture Cranks (specifically Mk1 versions), and from that I discovered that these cranks I now have had been gifted to Rob in Feb 2013 by @Siddhartha_Valmont, who had sent them across the Atlantic. However before that they had belonged to @Nurse_Ben, and before that to Josh at UDC - gifted each time to the next owner. So that's some great history for some humble cranks!
Josh @ UDC → Ben → Siddhartha → Rob (added to then removed from his KH36) → me (reunited with his KH36)