Since this is my first post, I'll start off by introducing myself. My name is Mitch, and I used to unicycle when I was a kid. I started trying to do it when I was about 10 or so, and over a few years, Starting and stopping(I would put it away for months), I learned to ride pretty well(never could ride backwards or idle though). I stopped when I was in high school, and sold my unicycles in my early 20's. I really regret this now. I had the 24" Schwinn and the Schwinn Giraffe you can see in my avatar. I would love to have those now.
Well a few weeks ago, I started seeing this group of people on unicycles in the parking lot behind a local coffeehouse. I finally stopped last weekend and asked what they were doing, and found out there is a unicycle football league here in San Marcos. They get unicycles at cost from an Austin Bike shop, I guess kind of a sponsorship deal. Well I went back a few days later and gave Them my money, and this past Friday, my new Torker LX came in. I've been riding again and I am determined to get better than I ever did as a kid. I haven't joined a team yet, but I plan on it soon.
I've been reading a lot of posts on this site and watching a lot of your videos, and I am very impressed with everyone here and I really like the sense of community that this site has. I'm curious to see what you all think of this sport.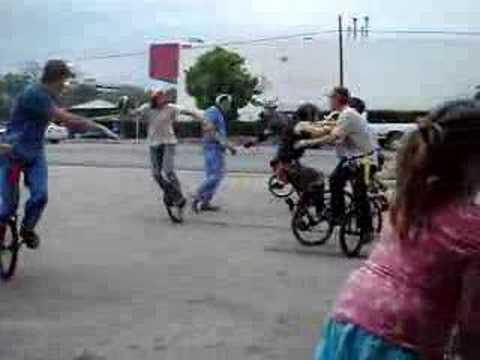 Before anyone says anything, I've already bought a helmet and knee and elbow pads. I'm also going to get some gloves and possibly some shin protection before I start playing with them. Some of this looks really painful, and I'm not as young as I once was.
Thanks for looking and thanks for the great site.
Mitch