(yes I am a nerd)
Introduction
The physics behind different sized unicycles and cranks are well known, with larger wheels and smaller cranks allowing faster riding. However, at some point the uni becomes too hard to ride, depending on the terrain and wind of the course, and the strength of the rider. I have heard lots of personal anecdotes about what works best for different people but have never seen these relationships quantified.
My objective here was to check my performance around a standard course using 4 different setups, with a GPS watch to track my speed and heart rate. The course has only moderate hills so I predicted my speed would increase linearly with the Total Gear Ratio (TGR) of the wheel.
Methods
I rode a 2.3mile lap on paved roads with little traffic. There was about 100ft of vertical change (see figure). Nothing too steep, but there was a stiff headwind in one of the climbs.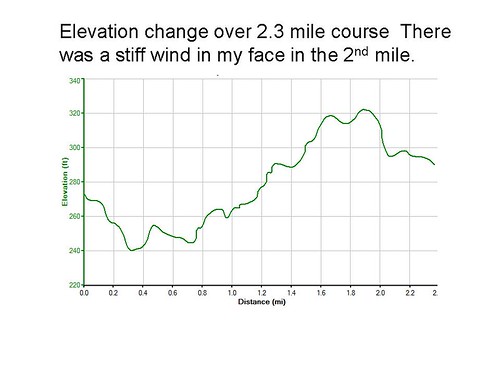 I took advantage of a geared KH36 with 2-hole cranks to ride 4 different setups:
Low gear 167mm cranks, TGR = 2.77
Low gear 135mm cranks, TGR = 3.34
High gear 167mm cranks, TGR = 4.28
High gear 135mm cranks, TGR = 5.16
After a warm-up I rode one setup for one lap, took a little break, rode another, switched cranks, rode a third, took a break, rode the fourth. I started each lap from a standstill. I wore a GPS watch to track my speed as well as my heart rate.
I've been riding uni's for 3 years, a guni for 10 month, and a geared 36er for 1 month. Most of my riding in the last month has been with 167cranks so my legs are still not as strong as they need to be to make the most of this wheel.
Results
My average and max speed over the 2.3mi course increased roughly linearly with increasing TGR (see graph).

When geared down my speed was relatively steady over the course, compared with the faster, but more variable, geared-up laps. Gearing had a bigger effect on speed than crank size, increasing average speed 27% and 21% for the 165's and 135's respectively, compared with 7% and 3% increases in speed when shortening cranks in the ungeared, and geared, respectively.

My heart rate was relatively low when geared down (averages 151, 155 bpm) compared with geared up (average 169,168 bpm). Geared-up heart rates were also very consistent over the ride compared with the ungeared laps.
Discussion
This experiment confirmed well-known relationships between gear ratios and speed showing that gearing can increase speed by roughly 25%, while crank size changes more in the 5-10% range.
The low-geared 165's felt pretty silly out there on the road, certainly not an ideal setup, but it gives a good reference. Going faster on ungeared unis is less a cardio issue then a question of how fast can you spin your legs, at least for the 2.3 mile laps I rode. Truth is, it's not the most efficient exercise.
However, once geared-up I was able to push myself to the limit, quickly getting my heart rate to the 90-95% range and holding in there for the rest of the ride. Variations in my speed, therefore, are due to changes in the elevation and wind more than changes in my effort. The wind was rather strong tonight, and I expect the speed/TGR relationship would be more linear without the wind. Indeed, a few nights ago I was averaging 17mph on the same course, in no wind, geared up with the 137's.
I'm a little surprised my max speed wasn't higher on the 137high, I've gone faster. Generally I think this is my setup for road riding, although I like having the 165's for trail riding. If I keep riding maybe my legs will grow into a 125/150 setup.
While none of the hills were large, my legs were challenged to muscle the big gear up the hill into the wind with the shorter cranks. There is no doubt that gunis put a new emphasis on strong legs, compared with the egg-beater motion needed to spin ungeared wheels around. I've still got a ways to go in this department.
Of course in the real world I could just downshift up these hills, but tonight I suffered, in the name of science.