This is the most recent pic I have of my uni. The only difference is it has a Koxx1 Luxury Saddle now.
Specs.
Koxx1 Ultra Thin Luxury Saddle
CrMo Seatpost
Koxx clamp
KH 05 frame
Moment hub/cranks
Oddyssey Jim C pedals unsealed
Try-all rim
Monty Eagle claw tire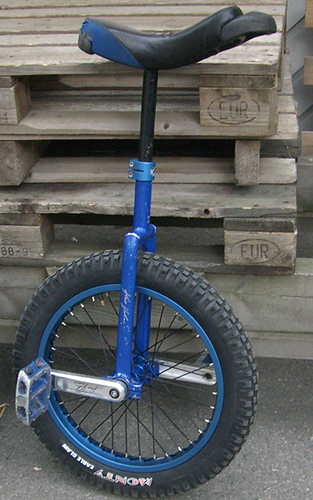 I also bet this had not been done recently. Maybe he needs to check them before each ride.
If that's not the case instead or in addition to the 13 G spokes he could go to a Koxx street rim or a Qu-Ax wheelset.
Which are you going to do?
Mine is 44.8 km/h like madison said.


SO very true madison. I wait for the day when we can do our speed runs together.


Here you go,
CF KH street saddle
cromo post
it now hasa Koxx black free tricks frame
20x2.25 tire on a Primo HulaHoop rim
green primo spokes
KH moment hub, 125mm cranks
pedals off a torker, which now have been modded with grip tape.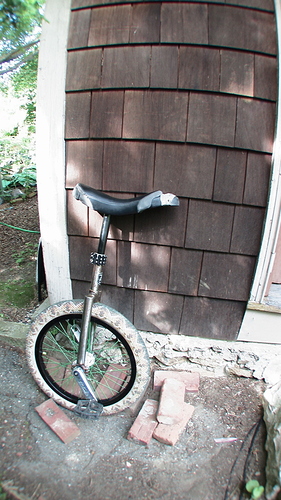 Either that's a fish-eye lens, or your uni is bent?! Looks like its bent forwards from the neck upwards

Edit: its definitely a fish-eye lens!
Its a photo I took wtih my video camera, which does have a fisheye lens on it.
It's be cool if that was "officially" timed, like for guinness. Do you have actual video footage of your speed record? How long did you maintain that speed? That's 27.8 mph. At that speed, if I was even able to hit 17-18 mph on my coker, you would still pass me like I was standing still! Hard to fathom. That's also roughly a 2 minute mile!
Okay heres mine.
Except a little less shiny and with LX pedals now instead of the Jim C's:
Carbon Fibre KH street seat
07 KH post and Clamp
07 KH frame
KH/onza 140mm cranks and hub
Try-all rim
Luna tire
Torker LX pedals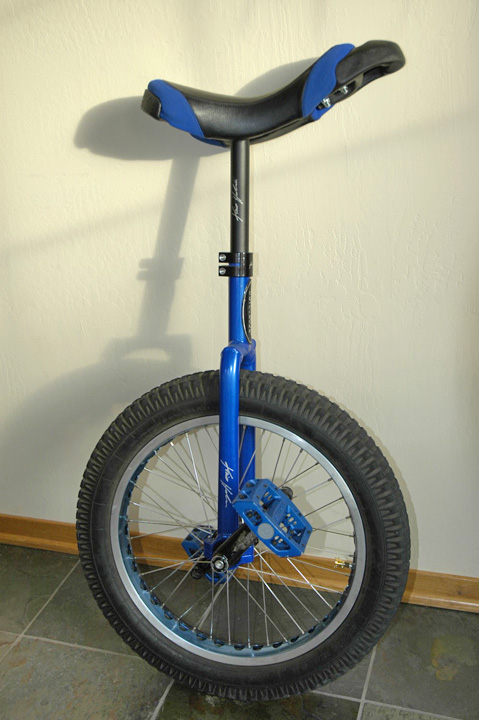 I don't think he has video proof, but the way he described it, it wasn't on flat grond but on a slight downhill. Mine was reached on a slight downhill as well and the only proof I have is my cyclometer, the next time I attempt the record I will try to get video.
260 RPM!!

!!
Here is my mod rim'd uni.
There is no seat on it, as I have not been riding latley and have givin the parts to a friend to sew me up pull strings on a koxx cover.
Koxx leopard cover, ontop of CF base.(if sew job works out)
Cromo post.
Painted DH clamp (white and lime).
Painted Koxx DH frame (white, with lime bottom bearing clamps).
Painted Koxx street cranks (white).
Painted Koxx hub (white and lime).
Shaved Tryall tire.
Custom GOLD LEAF'd drilled Tryall rim.
Attemped matalic lime spoke nipples.
Lime Hoffman sole mate pedals.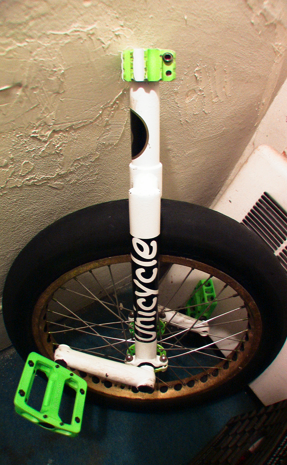 Here are mine.
N36 frame powder coated lilac
Airfoil rim
TA tyre
T7 handle
125mm cranks
KH fusion freeride saddle
Now has DMR v12 pedals (silver)
And pink, silver and purple barbie stars on the spokes
also:
N29 frame powder coated blue (if I had known then that KH was going to bring out one in exactly the same colour I would have had a different colour)
140mm cranks
Bontranger jones tyre
Now has 'highligher' green slim jim pedals and fusion freeride saddle.
Hard to believe anybody could pedal that fast without a major bail! Even with 89mm cranks!

Got my new 36"er after mine vanished from my apartment…
anyway, pics of that new 36" and my "semi retired but still ridden" 24". The bar wraps are a mess on the 346" because I just finished a huge ride that tore them up and if you're wondering what the mount to the left of the cycling computer is on the handles, its for the cell phone/mp3 player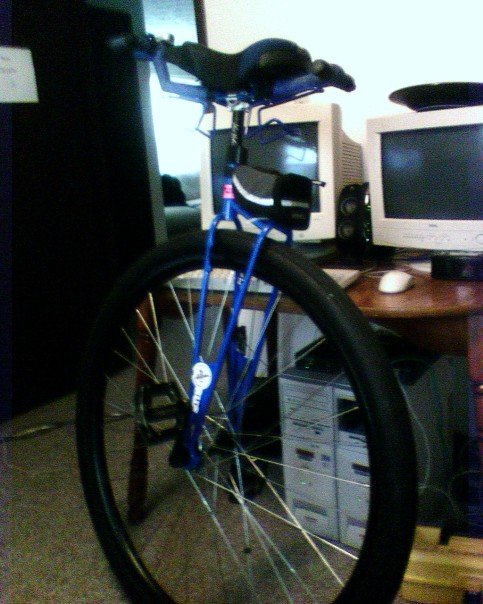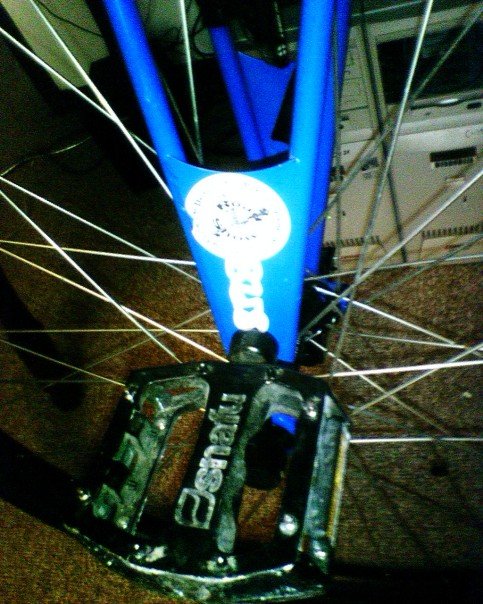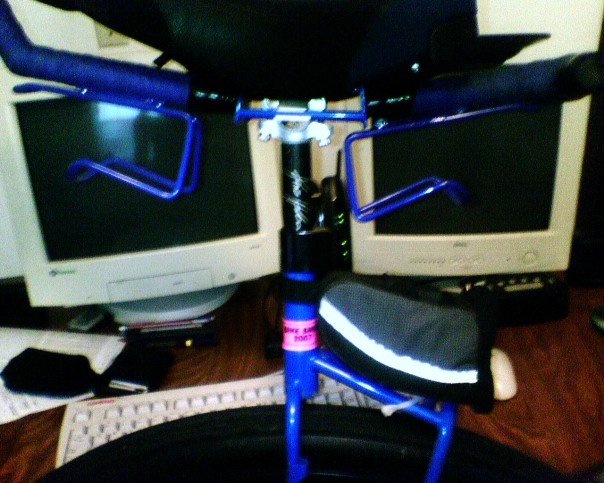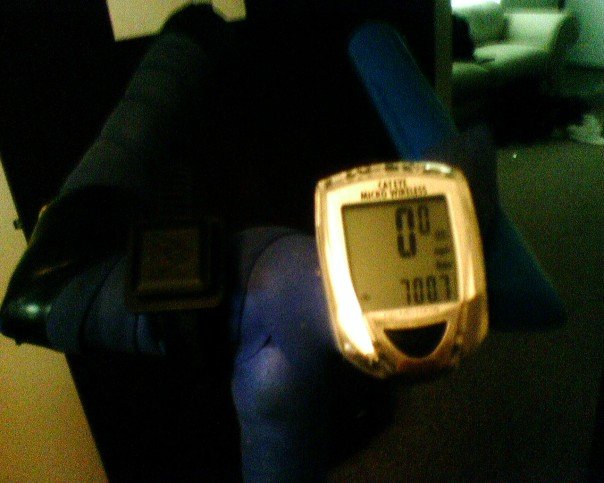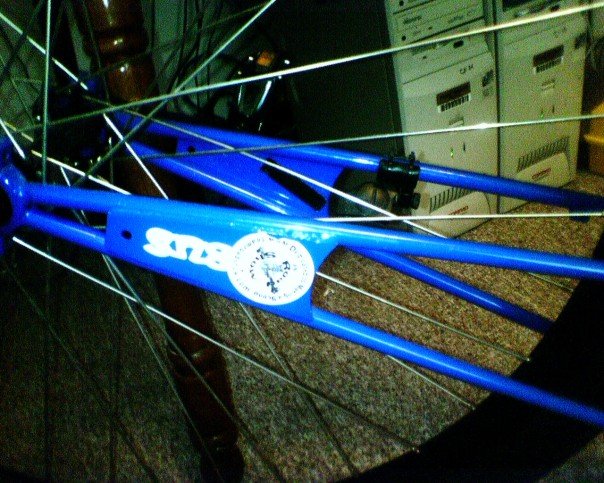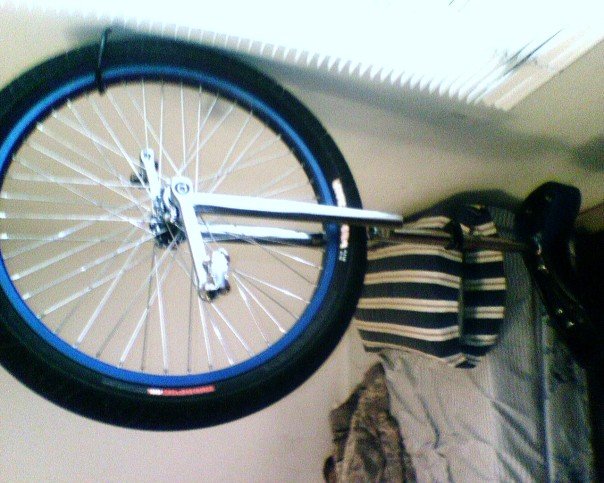 I use 125's but am upgrading to either 110's or 89's soon
This is my muni, called "Cthulhu" after the monstrous creature from HP Lovecraft's horror stories. The name somewhat reflects my feelings regarding the big, speedy wheel when I first bought it

Spec:
Nimbus 29er frame and wheel / hub
KH Fusion Freeride saddle
UDC T7 handlebar (recently bar taped)
BMX Calliper brake (plus an old brake lever I stole from my MTB).
Lighting by Cateye.
127mm Qu-Ax freestyle alloy cranks, with Specialites TA self extracting cotterless crank bolts (I can change these for another set of cranks in a few minutes using only a 6mm allen key)
Kenda Klaw 29 XT rear tyre
Wellgo platform pedals with pedal protectors
Bedford flame stickers
Cheap cycle computer from Halfords
Bell, again from halfords
Insulated drinks bottle
This uni is set up for medium-long distance riding both on and off road, and for commuting use. For rides combining long ranges and some technical sections, I'm planning on switching crank lengths mid ride, using the self-extracting bolts. I'm going to add an under-saddle wedge bag for carrying some Soreen, Kendal mint cake, tools, alternative cranks and possibly a pump.
I also own a no-brand 20" freestyle and a rather spiffy 36". I'll post pictures of these when I get the chance, but the 36 is currently in bits so it might be a while

edit: weird, double posted for no apparent reason.