i am trying to gather the most unicycle pics.
plese post your unicycle(s) pics here
I won't bother attaching each image separately, it'll take far too long and take up ungodly amounts of space.
Note: If the page doesn't make it obvious, I don't actually own all of these … I'm speaking for several people.
Here are my Sem 26er with Hookworm (aka. the Beast) and my once Avinier, now more or less YUni, (aka. the Sneak) cycles head butting each other:

And here's my Summit (aka. Trogdor) proudly wearing all if its battle scars:

Mine!. All Mine!
Raphael Lasar
Matawan, NJ
<minor threadjack>
Is that just a cunning place to store a spare innertube, or is there some ulterior motive in the form of A Cunning Idea?
Phil
some of our collection.
L- R
Pashley Muni 26
Sem XL 24
Pichlerad 20
Fleet mini giraffe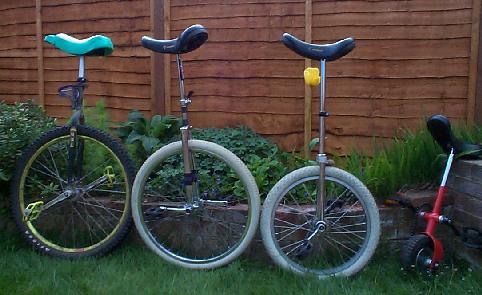 I used that cycle to ride distance. I didn't want the extra weight of the tube on my back so I figured that was a good place to hold it. It worked well except I don't think it was very good for the tube. When I looked at that tube last, it seemed to have some small cracks where the cable ties where holding it to the frame. I have since taken it off. If I were to do it again, I would put that tube in a section of used tube to give it some protection.
AND just to keep this post on target, I'll post a pic of a unicycle I once had:

This is my handlebar uni.
Could you hop that thing high? (the handlebar one)
David
hop? I could barely ride it. It's harder then it looks. And again, to keep this post on topic, here's a pic of another of my unicycles. This one I can't ride at all:

Daniel
Man I feel embarrassed to post this next to some of the other unicycles but here's my unicycle:
Norco 20" "trials" uni
Kris Holms saddle
Diamondback bear trap pedals
Tioga tire
Sun rim
-"death grip" seat clamp
Custom dice valve cap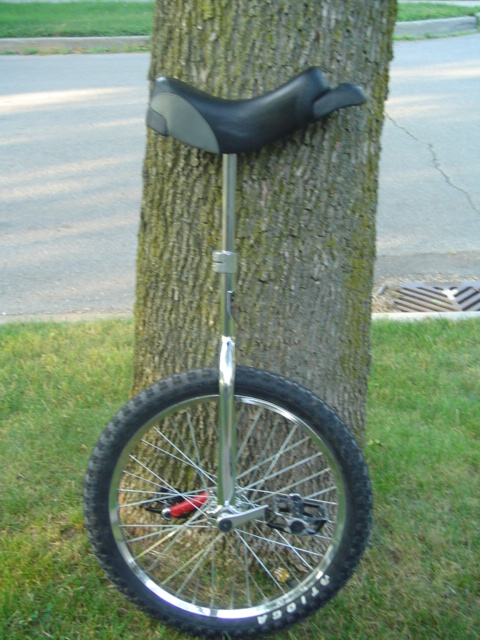 That must be really tough to sit on.

I think the picture I tried to attach is too big…will resize.
Wow, nice looking scanner bed!

Your Schwinn has cotterless cranks. I think that means it's from 1980 or so to 1983.
Oh, and here's some outdated pictures of some of my cycles (and those of other people):

http://www.unicycling.org/unicycling/Unidb/qdesc/models.html
There are several threads like this one.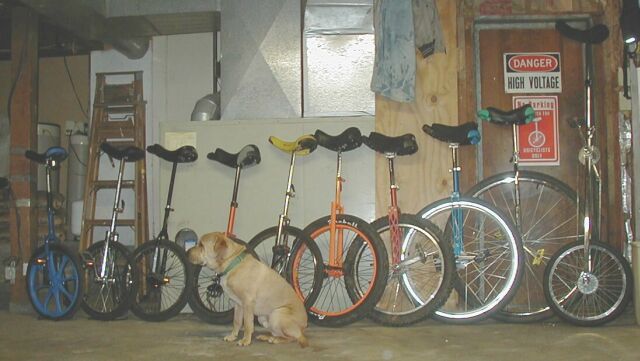 the last one was months ago…you're still at 10?