Nice work! And I'm a sucker for a tan sidewall; really makes it pop!
Thank you! The tan wall just gives it so much personality, I think.
Nice, that you can built your wheels alone wirhout of help and also it's right. I think a bigger Freewheel is much better than a small one.
Sure is a good skill to be able to self build wheels as I imagine if you asked a cycle shop to build a unicycle wheel they probably would not want to do it.
I am looking forward to trying a larger freewheel which will be soon.
It really depends on the shop. Some would love to do so - because it's new for them, it's like a game -, but other would be reluctant - because they are afraid of not doing their job right. So… The best way to know is to knock at their door and ask them

No need for me to ask so i will have to carry on imagining , Plus i enjoy buliding wheels so i will always do my own

Helps to have a bit of understanding of wheel building. I've built a couple of wheels, including Freewheel and Schlumpf. I feel a bit more confidence when replacing broken spokes and Truing wheels…may or may not be a good thing
Re: wheel building. Standard uni wheels are built like BMX bike, bombproof but kinda heavy.
I started my first wheel build as a way to customize my ride and it was such an annoying experience that took me like 2 weeks to complete. The shop here charges $120 which I said I'd do the next time but I ended up putting the budget towards parts instead.
Now 9 or 10 builds later I can get a wheel laced, trued, and rideable in under 4 hours for a non disc wheel.
It's let me do builds that are specific to my riding and make my uni time that much better.
I have expensive taste though and am not responsible with money.
For the average person I think a standard wheel and just swapping tires would be fine, but it's a good way to save money on getting your uni dialed.
As for bike shops doing uni builds. Drop off the frame with them and it's a very easy build to do. Aside from the hub, lacing and building is the same as a bike wheel so most shops worth their salt should be able to do it with zip ties on the frame to measure wobbles and hops.
So, now here is the fleet after I built a 27.5" wheel for the "Frankenuni".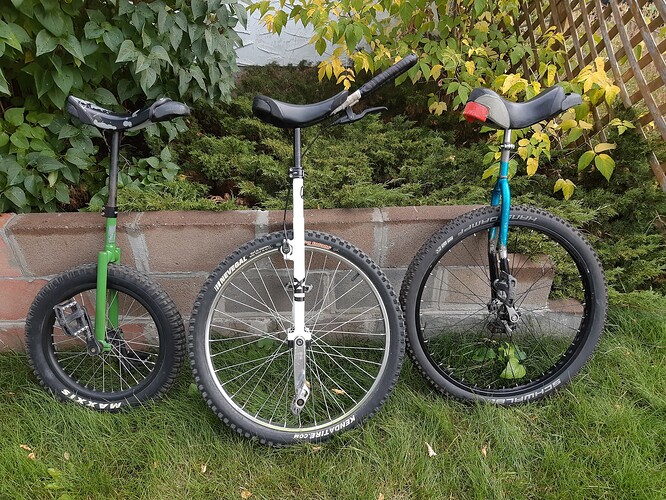 And this is "Frankenuni" all by itself: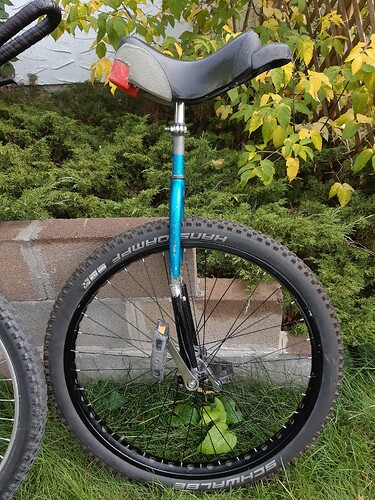 It actually works quite well considering what it is.
Cheers,
Dawson
Yesterday was a good day.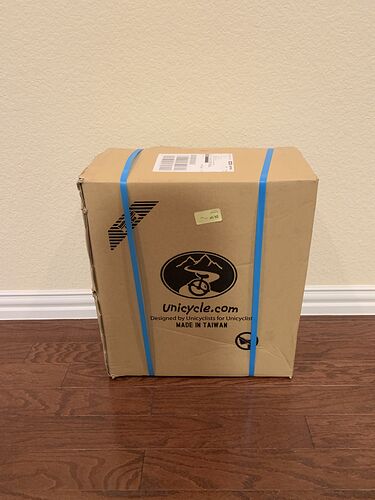 Switching from a Coker button tire & tube to a Nightrider tire & Foss tube made my 36" Nimbus Nightrider 2 pounds lighter.
This is what the Nightrider tire replaced.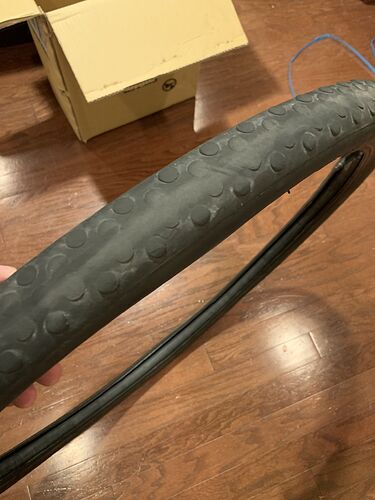 I figured I'd better take a photo of the wiskers before they are gone.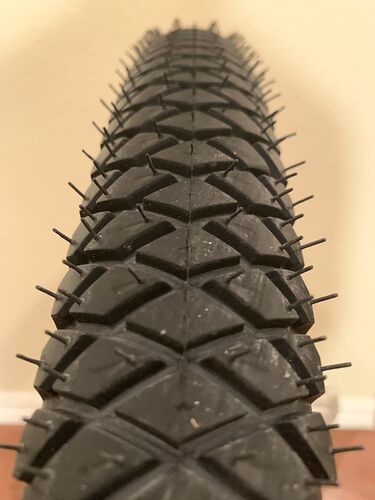 I was able to get a 2-mile test ride in, this morning. It seems quiet now, and I never thought it was loud. The unicycle also seems more responsive.
I can guess, and I think I'll be 90% correct, but would you mind providing a a list of the components that went into that build?
Thank you!
That tire looks like the tire on my huffy as a kid after a summer of laying patches. You were definitely do for a new one.
No problem:
Mad4One Muni frame Large
Mad4One Gold two bolt seat clamp
Kris Holm Pivotal Seat post
Kris Holm Fusion One saddle
Ursli Short Handlebar
Formula Cura 4 Brake
SRAM HS2 180mm rotor
Nimbus ISIS Steel Disc Hub
Nimbus VCX 150mm cranks
Pedaling Innovations Catalyst Pedals
Light Bicycle RM29C15 rim
Bontrager XR2 29x3.0 tire (tubeless with Stans tape and sealant)
Crazy Setup. It is stiff enough to hold your weight on the Uni? It's scary i think. I hope uour fixed it good, not that the seatppst lay down when you're ride your Uni.