Hello

Gearing up for the 2022/23 Schlumpf arrivals it occurred to me that perhaps having a dedicated geared-up-gallery would be a good idea.
We can include previous, older Schlumpf builds - as well as the spiffy new ones as they get built this year.
To mods: if you feel this is too much fragmentation for the forum - please move this post to the general "post a picture of your unicycle(s)" thread
To kick this off - you've seen it before, but I would now hazard that this G26er has reached its final state. I'm happy with all aspects for the build and it fits the era of the hub and frame style perfectly.
Love the Ursli-Bar with real leather in yellow!
(And thanks to @Dino for the stiffener plate - it enabled this to be classed 100% complete!)
Kris Holm 26" Narrow Frame
Hub M0274
KH Moment 125/150 cranks
Braided Magura HS33 brake + Spooner
2.6" Maxxis Ardent tyre
KH Freeride saddle (Yellow) + Short Ursli-Bar
Impact seatpost
KH seatpost clamp (Yellow)
RaceFace Chester pedals (Yellow)
Yellow Dice valve-cap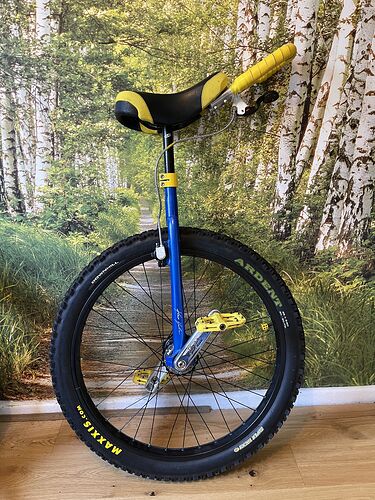 Looking forward very much to seeing the new geared rides that roll up on this thread - as well as seeing (if you feel like sharing) what people already have in their two-speed mono-garage


-Felix