Hey guys,
I just thought I'd share this. It's fairly recent news in the biketrials world. The original article:
http://translate.google.com/translate?depth=1&nv=1&rurl=translate.google.com&sl=fr&tl=en&u=http://www.tribalzine.com/%3FKoxx-en-liquidation-judiciaire-La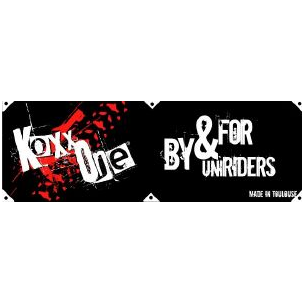 Maybe some of the newer riders won't be too familiar with this brand, but for those who rode through the early-mid 2000s you may remember the impact this brand had on trials and street unicycling.
Though already an established and pioneering biketrials brand already, Koxx-One was their unicycling sister brand- and had some very talented riders from across Europe in their team. Throughout the early-mid 2000s, they were KHU's main competitor when it came to trials and street unicycles. Anyone remember the original Devils and the XTP?
Try-All was Koxx's sister brand for general componentry for both bikes and unis. They were the first to introduce the idea of ISIS technology to unicycles, which Kris Holm and UDC later improved upon.
After Yoggi left K-1 and started Impact, Koxx-One really quietened down. New models were released (like the Devil 2 and the Rail Hunter) but the popularity of the brand in unicycling massively declined approaching the later 2000s. I think Koxx just gave up on its unicycling brand to focus more on its many other sister brands and of course its main sport. Koxx the biketrials brand was still alive and kicking- sitting at the top of the biketrials competition world for years, until now.
This brand did bring a lot of good things to unicycling and definitely had its place in furthering unicycle technology. To those, like me, who have ridden and honed their craft on a Koxx-One uni at some point in their riding life, then it may mean something to you.