I alluded to it in my thread on my amazing barn find, but lately I've been throwing a lot of effort at a project that really nobody sane should ever be attempting.
That's right, I decided to soup up that crappy Chinese unicycle I bought and reviewed recently. Totally pointless? Yes. Totally something never done before? Most likely probably. Maybe. But it's purple.
Up until now, everything had been going like clockwork. I'd been gathering upgrade parts, painting things purple, and was about ready to slap it all together.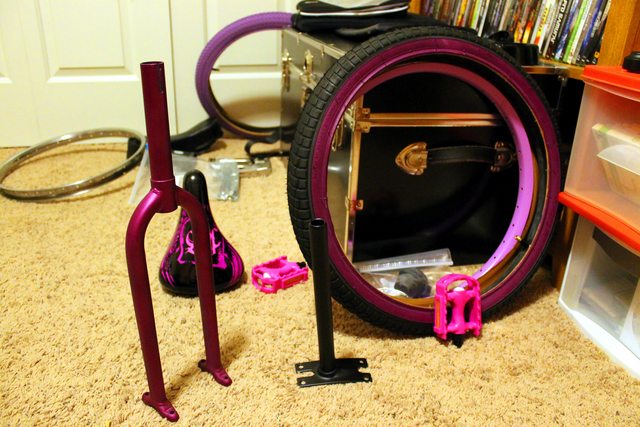 At first I thought "upgrade to ISIS," but then I realized that the bearings on an ISIS hub were different than on a square-tapered hub (like the Chinese unicycle currently uses). I know that there are ridiculously expensive KH adapter bearings available, but I thought, "hey, just stick to the spirit of the original and use a cotterless hub." So I ordered the UDC CrMo square tapered hub and some 75mm cotterless Venture2s and thought that would be just peachy.
Now that I'm to the point where I should be putting things back together, I've run into a problem.
Here's the old crappy hub.

Here's the new one.

And here's the problem.



Basically, the only hub of higher quality I can find has the hub flanges spaced too far apart (obviously making it structurally more sound) for this oddball frame.
Obviously the smart thing to do would be buy a new frame, but I really want to use this particular frame. Masochism or something. I just have this sick desire to make this particular unicycle perform better (i.e. not use the horrible hub it came with).
So what are the options here? Anybody know of any better quality hubs available with narrow flanges? Or should I just chop a chunk out of the middle of the UDC hub and reweld it? (Probably not a good idea, right? I can't imagine that's a structurally sound idea for a piece like this.

)
If all else fails, I will probably try the AtomicZombie method and hand-fabricate a new hub out of sheet metal and cold-rolled steel shaft. That's my last option though, so if anybody has a better idea I'm all ears.