Nice video. Thanks for sharing.
I haven't been riding. This makes me want to get back out there. Thanks!
Is that one of Jakob Flansberry's frames?
Yes it is. The picture below shows the frame before welding. You can see the letters ''unimyra' machined on the inside of both frame legs. It's also got brake mounts on both legs. It's a beautiful frame.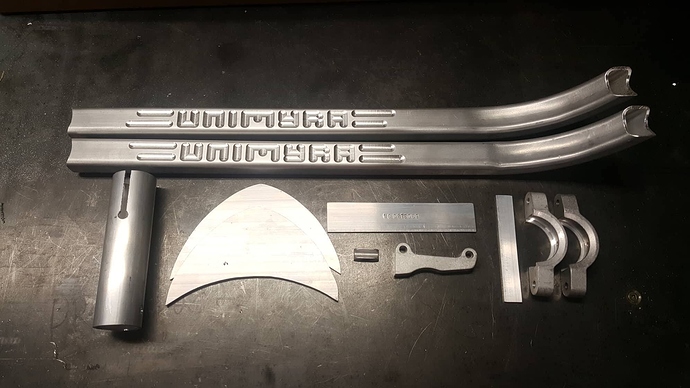 Jakob also made the handle bar
Fancy!

Love the under-the-tree part!
What tire did you go for? It's rather big but not huuuuuge?
The tyre is a Duro Crux 27.5 x 3.25. This is my favourite fat(ish) tyre. I also have a Surly Nate (26x3.8) and a Scwalbe Jumbo Jim (26x4.8), but I find those much harder to ride (on the Hatchet).
Wow! Etching your name on the legs is very fancy. I have one too but it must have been an earlier model. He hadn't worked out his logo yet, and I didn't think about asking for my name on it.
Nice video! How long is the trail, roughly? I'm trying to figure out whether I should feel sorry for myself that I don't really have any long trails nearby, or whether I'm in the same boat as everyone else.
It's a 14 km back and forth trip wich includes 3-4 km gravel/tarmac
are you waiting for someone else to clean those trails up?!
So why don`t you just give it a like as @canapin wrote:
Because he was a spam account

I've deleted it.