I think that's Bob and Alfonzo! Bob was the left one. Can't remember their last names, though.

Those pedals do have some nice style to them.
They'd go particularly well with my raw Flansberrium.
I don't know them but I believe their closest associates are cranks.
Short answer: no
Long answer: google reverse image seach recognises them from this page:
SURLY BLOG POST LINKY HERE
The post is dated January 2018 so you could potentially contact the person on the other end of the camera via one of the Surly staff. Only then will you be able to learn the true identities of the pedals in question.
I like them. Let us know!
Thanks, Rich. I spotted them on the Surly blog, but I thought I'd ask here before querying Surly. I've now done so, and will post again if they let me know.
I'll be interested to see what you find out. The concept is a lot like a DMR Vault, which has been cloned and copied a lot, but with what appears to be a more rounded shape. I could see it being a prototype or pre-production piece from somewhere since Surly is part of a big bike parts distribution business, especially as they look to be un-anodized.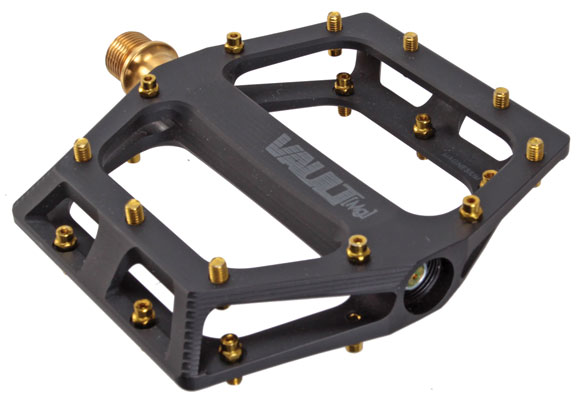 Good call, LE. Surly's prompt and friendly reply informs us they're protos for these.
Nice, they look like less ugly Vaults. Too pricey for me to try out on a whim, but if I was in the market for new pedals I'd certainly give them a go.
Such a beautiful and detailed product page. Except they don't mention how much the pedals weigh, which for me is still a factor even when their purpose is to be "stomp" proof.

I wish there were pedals that were a better fit for people who don't ride on the balls of their feet. Like a lot of folks, I ride with the pedal closer to the middle of my foot, and those inside pins near the axle would never touch shoe rubber. The back inside pin probably wouldn't touch my shoe either.
So I wish those pins, and the top surface of the pedal, were shifted out some to better match the shape of my shoe where it's on the pedal. Here's a lame photo edit of what I'm talking about: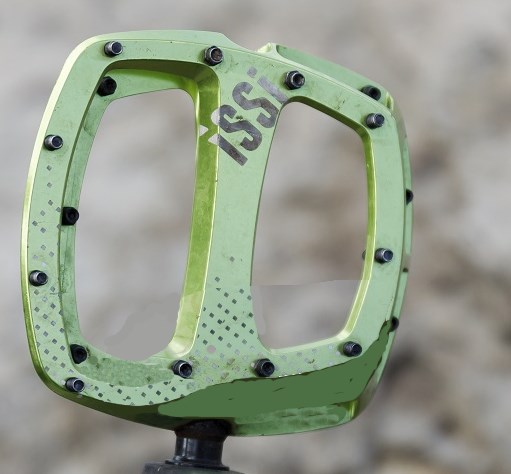 Those pins are removable. There are just standard m3 or m4 allen screws. Have you tried getting longer ones for a few cent and experiment with them?
There isn't anything but air where I want the pins to be… and lots of wasted metal that isn't doing anything.
Would it be possible and make sense to change the pedals from left to right by changing the spindle?