i got a custom too
but no pics… sorry
and i just broked it… it need repais.
i ride both a custom muni and trials. mostly because i'm fairly tall i like my frames to come up higher than most "stock" unis. plus i went to college with george barnes(GB4) so i pretty much had to ride his frames. plus he's 6'6 and understands tall folks.
I have two custom, anodized aluminum frames made by Steve Howard. The red one is a MUni which now has red Kooka cranks on it.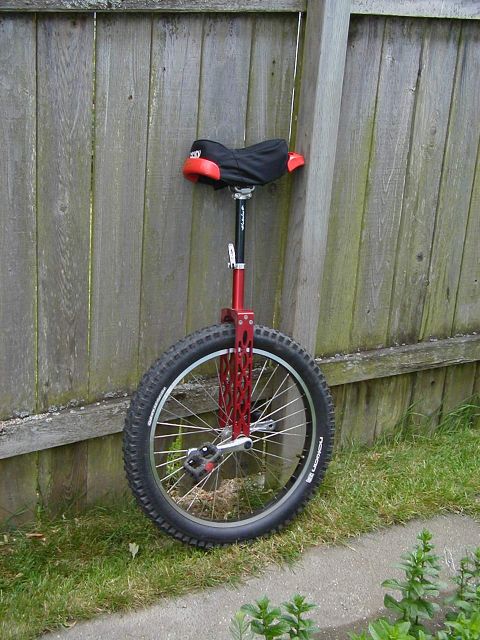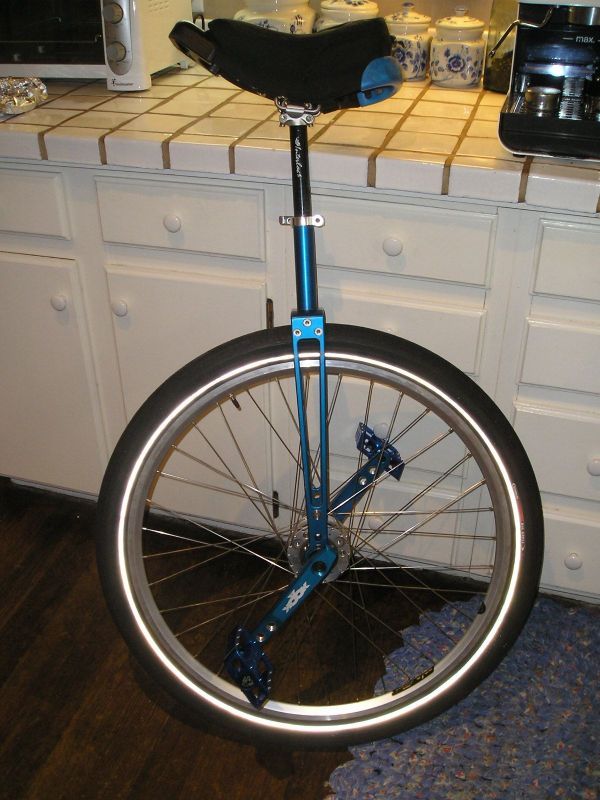 nice frames people! any one else got 1?
did you see andrew carter's custom frame thread? i don't have the time, but perhaps you might search for it?
Ed
andrew carter's cutom frame:
yeah seen that one, thanks for your effort anyway
harper, the MUni frame is soooooo awesome. How heavy is it?
I ride a homemade Steve-howard-esque trials frame. It was my first machining/metalworking project ever, and shows a ton of subtle mistakes because of it. I'm about 10 hours of work away from finishing the second version, which, save for one mistake, has come out perfectly so far.
The hardest thing about custom frames is the bearing holders. There's no really good design out there, and unless you have a cnc mill, they are rather difficult and take forever to make.
It floats to the ceiling so I just store it there in my basement. I never weighed the frame by itself. Maybe Steve knows. He made several of that version.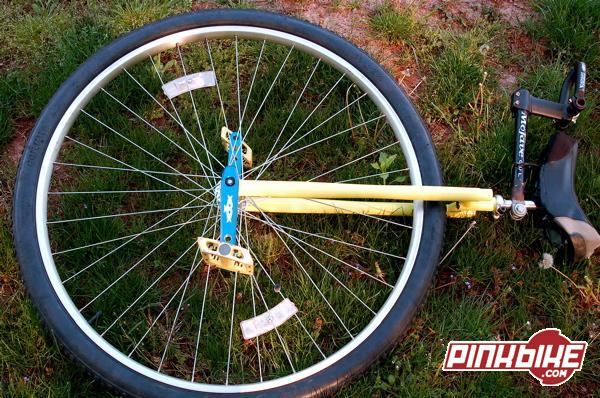 my onza frame
wow… that is a really awesome uni you got there unicyclepa
Chase
thanks nows all it needs a new wheel
How's that handle? and where'd it come from? I'm looking into similar options for my coker, but only kinda. Is it custom gear?
Custom frames I have:
I drilled a 24" Schwinn frame with 1" holes, back in 1982 or so
12" uni, Schwinn style, made by Tom Miller, 1984
45" big wheel, Schwinn style frame, made by Tom Miller, 1982
5' giraffe, made by Emmet Carpenter in the 70s
9' giraffe with articulated step for freemounting, made by Tom miller in 1986
Custom Miyata frames; a 24" frame cut & re-brazed to be 20" (because they only made 24" frames originally), other custom Miyata frames with tall head tubes and my initials built in under the chrome, all made by Tom Miller in the early 90s or so
Roger Davies Mk5 carbon MUni, 1997 or so, lighter than any other frame I have
Wyganowski 20" freestyle with long head tube; heavy but very strong (great pro Freestyle uni)
For a while I had one of Steve Howard's wonderful MUni frames, but donated it for raffle at Unicon 11. I miss it!
Wilder MUni (red)
GB4 29er (red), does double duty as a cruiser or fast but easy MUni
Got any pictures? I wanna see that 45".
tom miller's the "TUF" guy right?
Check out my Garage Page. The unicycles shown still look the same, only older…



Actually, the big wheel was later painted red and I drilled 7/8" holes up the frame. This can be seen in some of the other Garage pictures.
Yes, all my Tom Miller stuff is The Unicycle Factory.