Nice pictures. Tell us a bit about the event.

Hi, cheers for posting the pics, that's me in the third one

Were you the guy with the green top and possibly a beard or sideburns?
I was just about to post about the races in the other thread, will put a link to this one in there too.
Oh and Mikefule that is your old Coker I'm riding!
No, mine was much more vertical than that!

Quick write-up of the race here: Warwick (UK) Unicycle Races - 6/9/2009.
My wife took a few good photos from the races too, including the starts of both races and some of Danny and Tim in the coker race. I'll post them tomorrow when I'm not so knackered!
Cool. I found it unusual that only the third rider pictured was holding his lift handle. Do you know what the top speed was? Looks like you had fun!

I don't know how fast my top speed was, but overall it was 8k (the course is slightly shorter than it is supposed to be) in about 21 minutes. So, 14 ish mph average I think.
Fancy nipping over for the race next year?

blue tshirt shorts and big hairy retriever, planning on entering next year ,never done any road riding yet ,spend most of my time on my muni
More pics
Hi folks. These are great pics!
I'm hoping to post some pics of the fun race too. They're massive files so I'm hoping Pete (No.50) in the fun race will do some magic to them first!
Album
I've created an album here of my Warwick pics so far. There may be more when I get hold of the other camera!
CLick here: http://www.unicyclist.com/forums/album.php?u=15766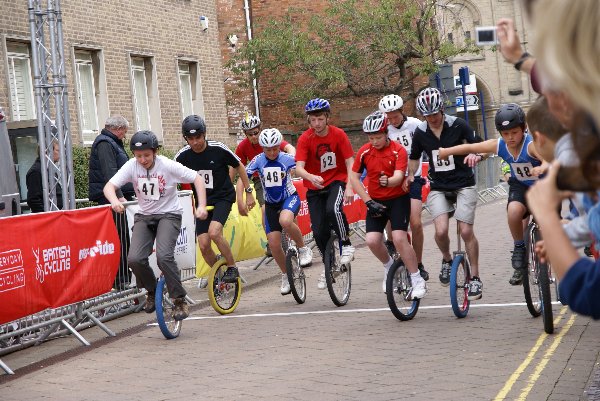 Warwick pics
I've created an album of my Warwick pics, sample below. There may be more to follow if I can get hold of the other camera. Click here: http://www.unicyclist.com/forums/album.php?u=15766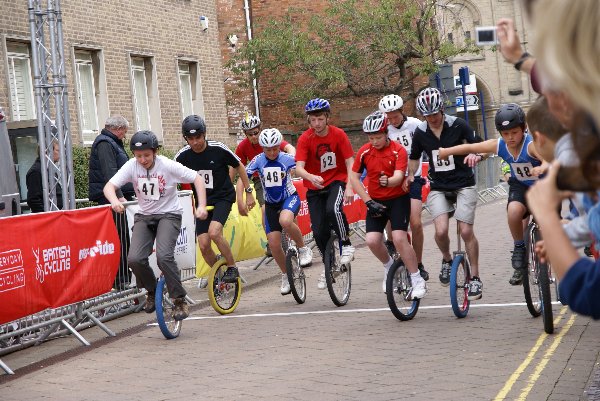 You Tube
Hi folks
I see a bit of the racing has appeared on YouTube, courtesy, I assume of #45 in the race (Chris). Good stuff.
Ps, I still have visions of Chris' spectacular UPD in front of us… and his amazing recovery!
Ah… the link:
http://www.youtube.com/watch?v=sMdELeS2N8w