Definitely interested in a winter ascent/descent too - preparation for BC riding

Chris
What are you doing in the UK Chris? I thought you were in Canada already?
This winter ascent idea is sounding a bit like people might be well up for it. While we're on the subject, I should warn people that this is a proper big mountain and this isn't completely without danger. It's also not a guaranteed ascent - there is a definite chance that we'd turn round if the weather got too bad, or the conditions of the snow/ice are to far out. If I did it as a walk, I'd take ice axe + crampons with me. Even up the easiest track, in Feb, this is likely to be a big old walk. I'm not 100% sure it is a sensible idea myself yet.
Joe
On the Llanberis path I'd say the bit just above the tunnel under the railway could be dodgy - it was quite scary with normal riding boots on last time I was up there, and the weather wasn't THAT bad (some snow on the ground and quite blizzardy at the top). I suppose it's possible to avoid the worst of the cliffy bits by walking up the railway line from there, but if it's that bad that you can't ride safely there's not really much point in going right to the top (most of the good riding is below the tunnel anyway from what I remember). There's always the visibility and temperature to get you as well (it's kin cold at the top even in spring).
Rob
yep, well, got credit-crunched. Have now sold the house and will be heading to BC as soon as I can. There is never an ideal time to up-sticks the whole family and move continent, but at least all the legal stuff is in place and I can legally live and work there. Expect to see some ride-reports when I hit the big mountain passes and trails ;o)
Snowdonia in winter is not to be avoided just because it might be a bit cold and wet - proper planning, preparation, clothing and equipment is required, plus lots of sun-dried bananas :o)
Chris
I was at the top of Snowdon with my b*ke on Monday ('twas much better than going to work!).
I had intended to go down the Ranger path to see what it was like, but the weather was grim and it was very quiet so I thought it best to leave it for another time. I'd love to try the loop down the Ranger path and back over the hill to Llanberis but it's extremely weather dependent and the hard bit is the furthest away bit dropping off the wrong side of the mountain; if you did yourself a nasty going down the Ranger path - quite likely, given by all reports it's much more technical and exposed than the Llanberis path - it's a very long way to limp back to where you started.
I took the default option and zoomed down the Llanberis path instead; as much as I'd like to try a different way down the "normal" way will never cease to be a fantastic descent!
Maybe one of these days the weather "up top" will be nice again - I remember Sam doing a stillstand on the obelisk at the top on a beautifully still, sunny day; the last few times I've been up it's been rather less pleasant…
Phil
Ed: Here is a helmet cam of the Ranger Path.
It looks like your sort of thing!
Joe
That looks really good - I thought Ranger had some really scary edges (or perhaps I was thinking of Rhyd Ddu?)
Rob
That video makes me cry; that was just two days before when I was up there, but their weather was far better than what I had…

On Singletrack (here) the chap said there is much more than what is on that video and that lots of it is "quite scary".
Phil
Where are we planning on staying on said weekend?
Dane
Right, I know I started this thread but me and Leo are going to have to drop out


There is a trials competition at Extreme Festival that we have to attend instead. http://www.xperience08.com/blog/
We are thinking of doing it a week earlier instead. Sorry guys.
Edd
Well, we did it! Up Miners and down Ranger. What a ride it is!
Heres the view from the summit. We set off really late so it was really busy once we got up there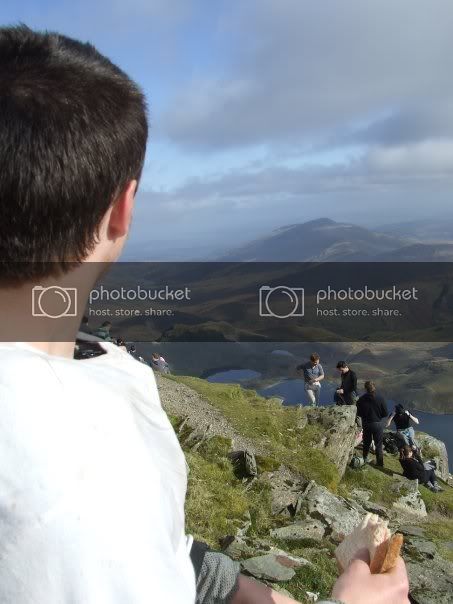 In that video Joe posted they don't show the best bit!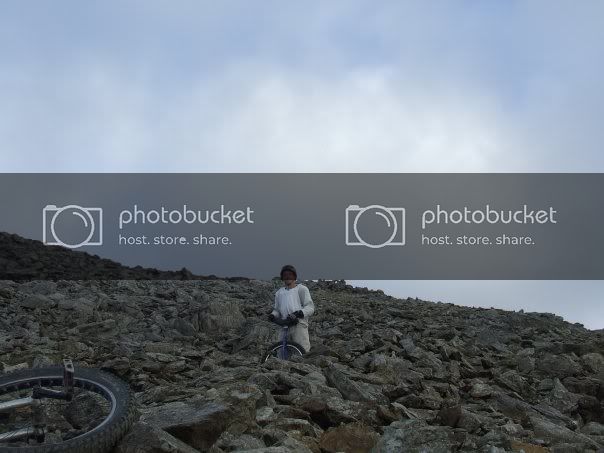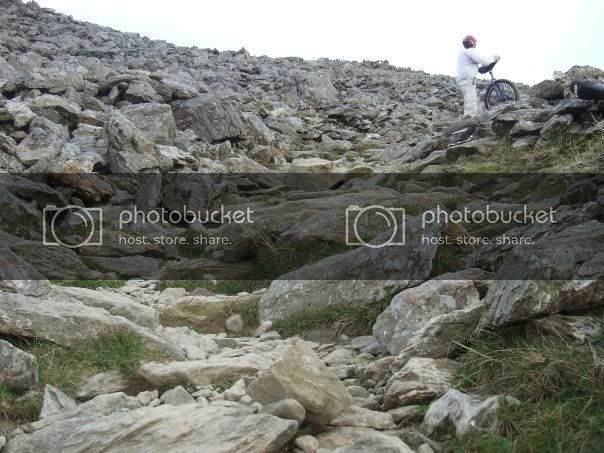 Really rocky and bumpy with small drops all the way. Once you get on a run is fantastic, but come off and its a nightmare to get started again. Im not sure where the really big rocks are mentioned in a few writeups I've read, they were mostly small to medium sized, just lots of them and very close together.
Leo came off and hit his face on the ground which really knocked our confidence so we took it easy after that. Otherwise, we probably could have ridden the lot.
Really impressed with Ralphs progression. He was an entirely different rider by the time we got to the bottom


I would recommend the Ranger path to anyone thats getting bored of Llanberris and looking for the next step up.
Damn! I missed this post. If I'd known, I could have made it this weekend as well. Looks like you had fantastic weather for it too.
STM
I missed that too

Thanks for the kind words Edd. The Ranger path was by far the best muni I have ever ridden; it had sections that I could not do but were not too insane to give it a go, other sections that were rideable but a challenge, and other bits that were easier but still very fun.
We could not have asked for better conditions: the sun was shining, no wind, relatively warm, and not too many walkers on Rangers, but enough to carry us down if we got injured!
Edd's and Leo's riding is something to be inspired by; very fast, flowing and getting air off every drop possible. I expect we will see some of the footage in videos soon.
I am looking forward to riding Snowdon again.
We did not over publicise that we were going this weekend because we went wild camping, so we would be more likely to have been caught in a larger group.
That looks super - looks like you had fantastic weather for it, I haven't seen what the view looks like from the top for ages!
Have they finished that cafe yet?
And does it sell beer?
Yes and YES!

£3.40 a can though!

Llanberis Path, Snowdon on a 29er?
Sorry to dig up an old thread here, but the vids are great and I saw via a link elsewhere the faceplant. (in the bail reel) Not nice, pretty lucky to keep all his teeth I reckon.
My question is this, is Llanberis path rideable on my KH29er?
I do ride off road, cross country and some muni have done some downhill but not overly technical. All on my 29, I do have a magura rim brake and I can drag it out to do steeper terrain. I'm not overly keen on trying that terrain ou have in your vid, that looks a bit to scary for me…
I'm contemplating doing this to raise money for MS Society and just need a bit of guidance on the wheel size…
Any advice?
Cheers in advance…
Bob
Going by how it was last time I went there (a few years ago now), I'd say it was doable on a 29er. There are some rock garden sections that may be nicer on a fatter tyre (I did it on my 26x3) but nothing that couldn't be done on a 29er tyre if you're careful. Most of it is fine. Riding up is quite hard though on any wheel…
Rob
Since then, most of those rock gardens have been flattened out and replaced with huge flat flag type stones. I would say that the Llanberis path would be easily doable on a 29er, especially if you have a brake.
In fact it might be a bit more exciting on a 29er because at least you'll be able to go fast. Its no where near as technical as it once was.
If anyone is looking for a more exciting route down Snowdon, I would highly recommend the Ranger path. Its steep, very rocky and huge fun!
Good luck!