You guys are animals. Once you dig that deeply, Ben, the rest is a cruise.
See you in Oct.
JL
There's a photo page for the race w/a bazillion photots.
I went through and gleaned out some uni photos, if you click on:

and then pick "Favorites" you can see two of our intrepid heroes.
Re: This unicycle climbed Mt Washington
1:45 is pretty awesome, even on a b*ke!
A few months ago, I was contemplating doing
Mt Washington on a b*ke (which I may try next
year), and my calculations showed that I would
have trouble breaking 2:00, and would require
a 22-24" gear. At that point I briefly considered
using my 24" unicycle, but I can't uni for more
than 1:00 without destroying my male parts.
I understand that the times for running are
nearly the same as those for b*king, as the addl
20# for the bike doesn't pay back in efficiency.
Once again, congratulations to Mike, Ben & Joe.
On Sun, 21 Aug 2005 18:27:39 -0500, "aspenmike"
<aspenmike@NoEmail.Message.Poster.at.Unicyclist.com> wrote:
>Ben and I both broke the old World Record on Mt. Washington!
>
>Joe 3:00 hours/mins
>Ben 2:02 hours/mins
>Mike 1:45 hours/mins New World Record
>
>Fastest Male Bicyclist Tyler Hamilton :51 mins
>
>Congrats to Joe and Ben, you guys are heroes in my book!
>I need to eat and sleep now, talk with you all in a few days.
>Cheers.
Ben,
Your tale of perseverance is truly remarkable.
I found your experience inspirational.
Think about all the stories the other riders and observers will go home and tell their friends.
NICE JOB!
Well done guys- sounds like a really awesome climb! Were you all riding on 29's? Anyone Coker it?
Ben,
I have been out of touch for a few days but wanted to be sure and congratulate all of you on the big climb. I can imagine attempting most things, but I don't know that I could ever do a long grueling hillclimb.
Good job all of you.
And as for your thread title, even as nice as that new uni is I am sure it couldn't have done it without you.
Scott
Way to go all of you. Very nice writeup Ben. Sounds like a truly fantastic race - I'd love to do it next year.
—Nathan
If you drive up the Mount Washington auto road (allowed during the summer), they give you a bumper sticker that reads "This car climbed Mount Washington." You tend to see the stickers on cars scattered around the Northeast.
That's how it was in the early 90s, anyway.
Okay, that makes more sense. I would prefer a t-shirt that says "This unicyclist climbed Mount Washington".
They still have those damn stickers on cars all over… I've never been up Mt Washington (Despite being born & raised in NH) unless you count Tuckerman Ravine (skis/snowboard only… no uni (yet)).
How about shorts that say "This a$$ has been up Mt Washington"

I have a T-shirt that says "This BODY climbed Mount Washington."

I don't need no stinkin` car for that!
Congratulations to all three unicyclists for completing a tough course! I got a ride up to the top to take photos, and I was immediately amazed at the difficulty of this climb. You can see the photos in this gallery album.
I set off from Connecticut kinda late Friday with a last-minute decision. I threw some camping stuff in the back of the truck and took off. As I drove further north I started getting that old, familiar itch that comes when I'm starting a new adventure that will carry me far from civilization. I had come up to this very same area several years ago to participate in an Appalachian Mountain Club class in Winter Mountaineering, where we spent a week up in these mountains learning various skills at below-zero temps. I'm sure Joe, Ben, and Mike had similar feelings of anticipation as they arrived from different parts of the country.
All the campgrounds were full, but a little pitiful-face and an accommodating sheriff set me up in a State Park Campground parking lot, and I was soon listening to owls and waking up every couple of hours in the back of the truck, worried that I would not get up in time.
Finally I could justify getting up and headed for the base of the mountain. Nothing was open except a bakery shop, where I managed to snag a cinnamon roll and a cup of coffee.
A micro traffic jam at 5 AM in the middle of the White Mountains told me I was in the right place. Soon I was pacing lines of cars with bicycles and bicyclists preparing for the race. Finally I spotted Mike Tierney, and met his relatives from New Jersey. This was the first time I had met any of them, and it was a real pleasure.
I snagged a ride up the mountain with them, and it immediately hit me that this was one steep road. The car didn't take long to develop that hot burning smell as we drove up in first gear. Watching the road, I saw mazes of frost heaves, ripples, and irregular patches in the road surface. We wound back and forth through the trees, then went on to a dirtish surface as we cleared tree line. The race staff directed us to a bumpy landing on the side of the road. We emerged to a very light rain, strong wind, and cool temperatures, and I was glad to have brought long pants, a fleece jacket and my winter shell. In general, though, the weather was fantastic.
We climbed up the road to the visitor's center, as it would be at least an hour and a half before any racer would arrive. I soon got itchy, though, to be outside, and went wandering about. I eventually roosted on the steepest part of the route, which was a lumpy, irregular s-curve with a good view of the road below. I played with the camera, clearing some old photos, and trying not to curse myself for not keeping my cards clear. I was grateful to be there, though, freezing my buns off, instead of home in front of the computer.
Soon the weather shifted as clouds started streaming over the mountain top, though, and my great s-curve view shrank to about 20-30 feet of grey haze. Everything became coated with water. My nylon pants soon soaked through, and I started developing deal-with-the-moisture strategies with the camera.
Finally, I heard cheers and soon the first bicyclist appeared, Tyler Hamilton. I snapped a photo for practice and completeness, and started to get a feel for what this would entail. It was amazing to see the raw strength and smoothness in his legs as he remained seated on the steepest part of the course. It took a good four minutes for the next cyclist to appear.
A few cyclists later, I took a video to practice getting the camera turned on in time. With visibility of only about 30 feet, getting the camera out of my jacket, turned on, and set to the proper settings before the cyclist passed me was a real challenge.
The next 50 minutes or so was spent trying to force my vision into the vague grayness with several false alarms. It took a while to register Mike, rapidly striding up the hill, pushing his uni as fast as the streaming bicyclists, and I was barely able to catch him as he went by. He was able to ride most of the course, although I don't know the exact percentage, and finished about the middle of the entire pack.
A few minutes Ben appeared, and I was now a little better alerted for what to see out of the mist, and was able to get the camera going a little faster. I was amazed to see him ride by, and took off running after him to the finish line. Then I quickly returned to my position to look for Joe. I wasn't sure if he was even in the race, since I hadn't seen him at the bottom. After about 45 min more, I was too cold to function and went inside to find Ben and his family in the visitor's center. We all warmed up and dried off and had $3 bowls of chili. Joe soon arrived and we compared stories.
Things pack up quickly on Mt. Washington and I was lucky to bum a ride down the mountain, as Ben's car was stuffed with the previously-arranged addition of Joe. I hung out at the lunch and awards ceremony, and then had a great chat with Mike. It was a good opportunity to talk with him, since he had flown in from Colorado.
The results people had to quickly add a unicycle category, although, of course, the three had been signed up for a few months. Unfortunately, the latest results posting didn't correct the name errors that cropped up during the awards ceremony (see these pages). Hopefully, they will be fixed soon!
All the bicyclists were extremely impressed and supportive. I don't use that superlative lightly. Some of them that were passed by Mike during the race came up to him and told him about being passed and how shocked they were. The bicyclists were simply amazed at the skill and fitness the unicyclists displayed, and were not afraid to show it.
Afterwards, Mike told us about training for this race with a 40 pound pack on his back. Something to think about!
I wound my way back south, and stopped in the mountain tourist areas for a bite to eat and a rare Bass Pale Ale. Eventually I arrived home at about midnight. No owls here, when can I go back?
Incorrect unicycle results page
I emailed two difefrent race coordinators for the race, giving them the correct lists and times of the winners, and even a copy of a race photo of a guy who was listed as one of the unis. The attached photo clearly shows him to NOT be a unicyclist.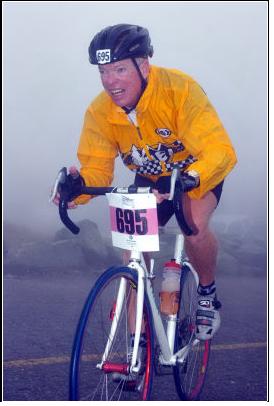 Dave, thanks for the nice story. It was a great honor to meet you and to be able to spend time with you after the race. I am home now from my New England Uni Tour, and starting to adjust to not being on the unicycle everyday for long periods. Thanks for the gallery as well, as I do not have a copy of the podium. Mt. Washington is one of a kind!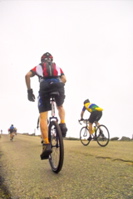 Hey AspenMike!
I still don't think you said what setup you were using. Please tell us !
Hey Joe Merrill!
You, too. What kind of uni did you ride up MW?? Your's looked like a 24 ?
[QUOTE]
Originally posted by steveyo
[B]Hey AspenMike!
I still don't think you said what setup you were using. Please tell us !
Ben and I rode identical unicycles up, 29ers, same tires, same pedals. I have a GB4 frame w/air seat and reeder handle.
I hope to post my write up this week, althoughs Bens was right on. Steveyo, you did Ascutney right? What about Okemo?
Dave,
Your part of the story really helps put it all together. I loved the descriptions of the nature.
I have the highest admiration for all the Uni riders on this hill climb. That's one of those "I wish I could do that's!"
I recently rode my KH24 up Mt. Washington at the MWARBH event. They were giving out stickers before and after the race. I got two that I've not seen before and only one is accurate for me and my unicycle.
Here's a description of my experience at that event and the weekend: http://www.unicyclist.com/forums/showpost.php?p=1687297&postcount=10345