Well, I have lot's to do in university right now, so as procrastination I'll try to start an interesting topic again.
What I would like to discuss, is the learning curve of unicycling compared to other hobbys, and throw in a few paint graphics and my random thoughts.
First of, a graph of 3 learning experiences I made. (Your experience may differ)


As you can see, progress in unicycling starts slow, then accelerates rapidly. (fun fact, same applies for solving the rubiks cube), wheras when I started bouldering, I started out pretty good (thanks to my high experience with all kinds of sports), and made slow but steady improvements after. When playing the piano, I learned a few basic songs easily, but improving became harder really fast.
(NOTE: this is perceived progress, it would be impossible to objectively judge these vastly different things, so this is just how learnig felt to me. I also plotted unicycling from learning to the first few tricks, in my 14 years(ish) of unicycling the graph would be all over the place.)
Next graph: how difficult it is vs. how difficult it looks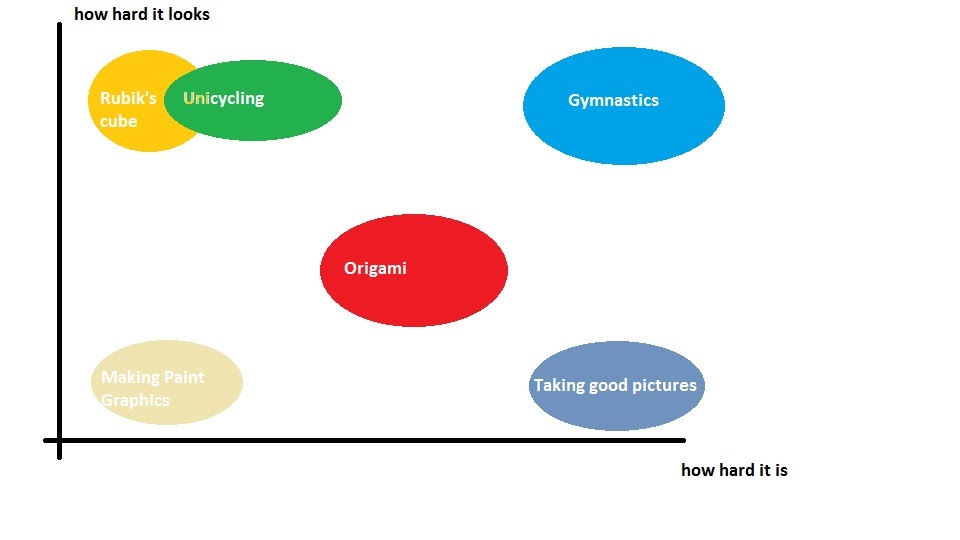 As you can see, unicycling is almost perfect for posing. Relatively easy, highly impressive to non unicyclists. (Again, just riding. It absolutely varies for different unicycle tricks. Example: Standup gliding: super impressive for spectators. Coasting: less impressive, but much harder. )
No graphics for this thought, sorry, but something I wanted to express for a long time: I don't think unicycling is hard. I know some of you may disagree, and it's your good right, but hear me out before you burn me.
As shown in the first graph, the learning curve of unicycling is a difficult one. No progress for a long time, which makes it hard to keep on practicing.
Falling of that weird one wheeled thing for hours gets old really fast.
You would have learned to play your first little song on the piano in that time, and you would think it is great (whoever has to hear it will tell you it's great, but really not be that impressed). Meanwhile practicing unicycling, the neighbours are watching you fall for the 100000 time (not fun).
A little later, on the piano, you play some pop song that you heard on the radio and found notes for online, and it will sound okay, but any new song you learn takes the same amount of practice, and people get tired of the 3 songs you play.
On the unicycle front, you made the breakthrough: you are riding unsupported, within half an hour you made it from going 3m to going 50m, and you are stoked. The neighbours are impressed to, and you quickly learn to ride around town and people admire you.
This little anecdote should show my point: it is easy to impress others (and yourself with unicycling), but that doesn't make unicycling hard. It's not harder than most things, especially after you learned the basics. From then on, unicycling is like anything: more practice makes you better, and you will get a steady feel of progress, sometimes experience holds where you don't learn a lot, sometimes learn 3 new tricks in a day. Just like any other sport.
Back to doing university stuff for now, I may come back another time with more paint graphs. Feel free to discuss, but don't forget to not take everything too serious.