Here's some profile outlines I drew.
Super interesting and informative, thanks for doing that!
Does that also mean you got a One? How do you like it? I know you didn't get into the Stadium from reading previous posts.
Some one posted this about 4 years ago :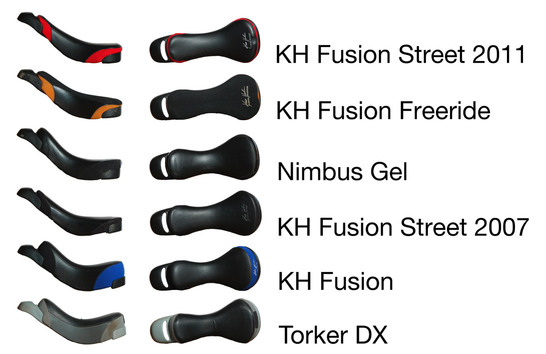 Good info! Looks accurate to me…
I've got the Zero on my 36 (with handle bars) and the Stadium on my two Munis 24 and 26 (no handle bars). I love both saddles.

I got a One but need a seat post for my Oracle. Should have that by the end of the week. Will let you know what I think.
I'll post some profile picks when I switch saddles.
KH One
KH Zero
Nimbus Stadium
KH Street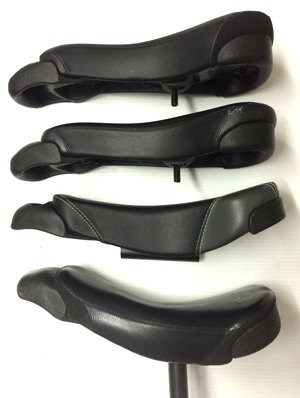 Saddles
Where does the QX Eleven fit in? It looks to be similar to the Stadium. Has any one tried it, especially for Muni?
It's a nice saddle, built on the standard KH base, with less padding than the KH Freeride Fusion. Maybe similar to the KH street? Definitely not as flat, and not quite as firm, as the stadium. Here's a pic: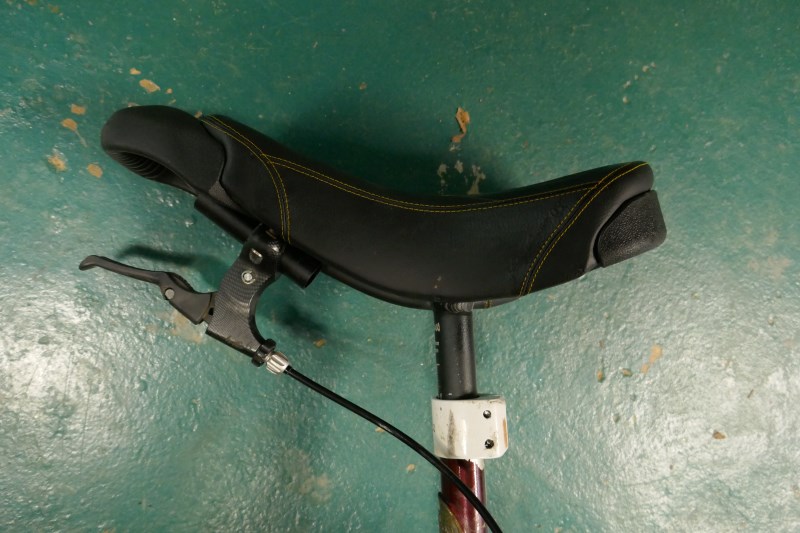 No, it's not similar to the Stadium. It uses the old (standard) KH base and has just a new shaped dual density foam (designed by KH). I think it shall be right between the KH Street and the Nimbus Stadium (having ridden none of those). The only real comparison I have is the Nimbus Gel I have on my other Muni. The Eleven is way better than the Gel. I really like it for Muni. It gives you the full control over the uni just as you're used to but is more comfy than the other saddles built on this base.
Vertigo, since you own all these saddles, how's the One?
I've never seen/read a review of it.
I'll write up my impressions this weekend.

I have the One on my 27.5" that I use for cross-country type riding; I like it. I have it tipped slightly back (nose high). If I don't tip it back, I tend to slide forward onto the middle of the saddle, where it doesn't support me properly.
I use it with a grab handle projecting out front, and it's most comfortable when I put some weight on the handle. The saddle is stiff enough that I can use the handle without an extra reinforcement plate.
I probably wouldn't like it much for rough muni riding, but for the modestly bumpy trails I ride it works as advertised. My weight is mostly on my sit bones instead of soft tissue, there is a lot less chafing, and it stays comfortable longer. I always wear bike shorts when I ride; without them it probably would be a lot less comfortable.
I haven't tried the Zero, so I can't compare it with that one. I have a Stadium on the 26" uni I use for rougher terrain; overall they feel pretty similar. I think the Stadium is a little better for riding rougher terrain with just the built in handle, though I wish it had a little more padding.
Here's a pic of my setup: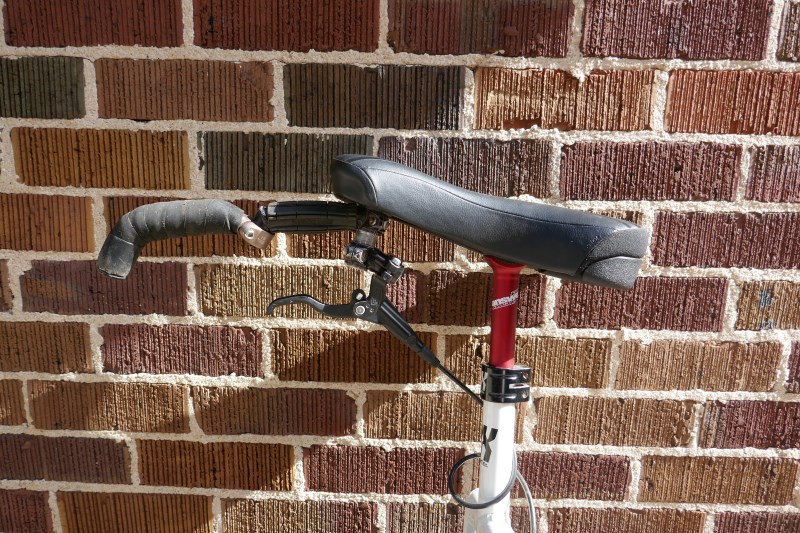 Goldilocks and the three saddles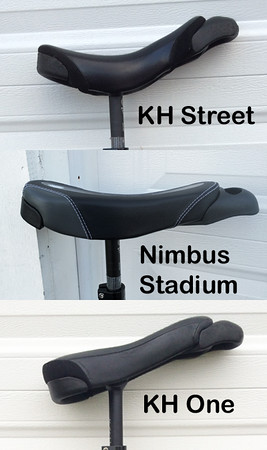 I'm back on my KH Street.
The first flat saddle I tried was a KH Zero (not pictured) that came on my 26" KH muni. I gave up on it after a few rides when a very painful saddle sore developed from the hard edges rubbing the crease between my crotch and leg. I found padding on this saddle much harder than the KH Street that I normally ride and easily gave up on it.
I had sworn off flat saddles until the Stadium came out this summer. People keep bringing up flat saddles so there must be something special about them, right? Well I rode on the Stadium several times and also found it very hard in comparison to the KH Street. After a few miles my crotch was burning with pain. I tried tilting the front up so my butt rested on the back but it still didn't feel as comfortable as my KH Street. Perhaps I need to give it another try with an adjustable seatpost. Regardless, the padding is quite hard so I'm not sure it will ever be comfortable.
You'd think i had learned my lesson after flat saddle number two but I was tempted again when KH came out with the One and mentioned it has additional padding. The One felt best with the front tilted up a couple of notches but still after a few miles my crotch would burn. Unlike the KH Street, no amount of shifting around brought relief. At times it became so uncomfortable that I was forced to dismount. By the end of my rides, I was exhausted and sore. On the bright side I didn't get any saddle sores but by my fifth ride I could no longer stand it. As far as adjustments go, when the saddle wasn't tilted there was too much pressure on the middle of the crotch and when it was tilted up, my butt eventually became sore from the hard padding.
At this point I think flat saddles do not work well for the female anatomy. At least that's my experience. I appreciate KH's willingness to innovate and hope he keeps it up. Just don't take my Street saddle away. Apparently I can't live/ride without it. While it doesn't take all saddle related pain away when riding longer distances, the curved shape seems gives me more options when shifting around to get relief. I also need a bit more padding for comfort than what the current flat saddles provide.
BTW, I've ridden nearly 2,000 miles this year. Most of those miles have been on my 29er. My longest ride without stopping is ~20 miles. Oh and of course I wear padded cycling shorts for added comfort.
Thanks for these reviews!
Vertigo, you'll have to buy several saddle-less unis to put those extra saddles at work!

I plan to heat up my worthless Nimbus Gel seat and make it flat like this video shows: https://www.youtube.com/watch?v=cJ7qrFzg9dE
Already bought my $2 deep pot from Goodwill. I will post before and after photos. Has anyone else tried this?
Rob
Yes, I flattened my Nimbus gel saddle and it was a success. I added a gonad groove to the foam while I had the cover off - highly recommended.
Here it is, a flattened Nimbus Gel saddle, finished it yesterday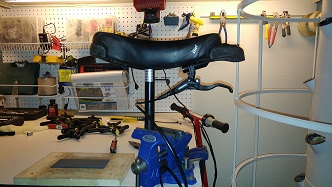 Nice job, it was on your FB too, no?
What method did you use?
I used the boiling method. I did it twice because the first time I took it about an hour ride and it just wasn't flat enough. Weldwood works great so you glue down the original vinyl/leather seat cover rather than buying a new one.
Did a 13 mile ride on my 27.5 Oracle today. With the stock Nimbus Gel saddle it was a constant series of adjusting my padded shorts or trying to sit on the back rim of the seat while riding. Enough! This seat is getting worked over as well