Who here has success with pedals that come with threaded pins? I'm asking as someone who owns a few threaded ones for MTB, but I find that, as a rookie muni rider, smooth pins work way better.
Most MTB pedals come with threaded pins, like Crankbros and Shimano (below).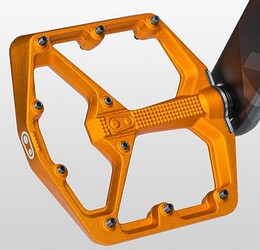 I own similar pedals for MTB, but when I go muniing on these threaded ones, they chew up my 5.10's quite quickly. I suspect it's because I put a lot more sideways force when muniing compared to mtbiking, and the threads also catch on the shoe when I'm adjusting my foot position right after I mount.
I wonder if threaded ones are better for the mtb market (for whatever reason…), and smooth pins are better for muni? There are plenty of pedals with smooth pins, but the majority aren't big brands. For example, URC only stock pedals with smooth pins, like the "Pedals Push" (pictured), and I quite like the smooth pinned pedals that come with UDC unis.

Do the two types of pin make a difference to your riding?