When I started riding, I used cardboard in my socks and pants to protect my shins after reading on the
French forum that when we learn unicycling, we often hurt our shins with the pedals.
I quickly bought shinguards.
I used them while learning and didn't use them anymore when I was comfortable (I went from a 20" to an offroad 29" in two months).
Then, I didn't use any protective gears for years.
After falling on my wrists, but having no major injuries (it just hurt a bit for a couple of days), I bought wristguards I use for every ride after this fall.
I rode for years wearing only these wristguards.
These last few days, I thought about a helmet. I was riding more than usual on the road in town instead of the sidewalk.
I know two people that fell with helmets on, but their jaw hit the ground/sidewalk. One of them lost two teeth.
So I decided that I would go for a full face helmet. I also intend to put a camera to have a recordig just in case, but that's not a priority.
@Maxence told me he has a Bell Super 3R Mips. Full face helmet, with an easily removable chin guard. He explained to me that it's convenient because it can be removed or put back in seconds.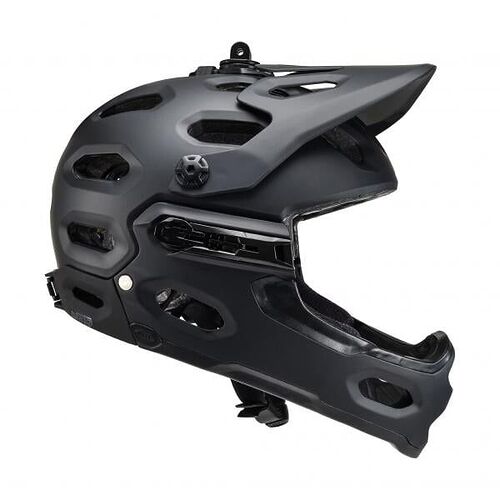 I didn't thought much and ordered one even though it was expensive (170€).
For years, I was upset seeing parents with their kids with no helmet on, when I didn't wear one myself.
As a unicyclist, kids often notice me, with or without their parents. It's cool, but I always felt guilty not wearing a helmet in front of them.
I had fake excuses (in my head) for not wearing one for years: "it's uncomfortable", "it doesn't look cool", "it takes a room in your backpack/hands/whatever", etc.
I used it for a town ride today and it felt great. It's not heavy and not too hot, with very good lateral field of view.
The helmet is fairly comfortable. I still need to get used to removing and putting back the chin guard, but I have no doubt I'll do it very quickly after a few weeks because the system is very convenient.
A detail: when you close the chin guards attachments, the sound is loud and just next to your ears. It made my ears go "iiiiiiiiiiii" a few times. It can be annoying if you have hearing issues. I have permanent bilateral tinnitus and hyperacusis. I try to close the attachments with my finger between the attachment and the helmet so I can close them more softly.
I feel more safe on the road and overall, but I think the greatest achievements are having overcome my fake excuses not to protect my head from injuries and finally being a good example to kids (and parents!).