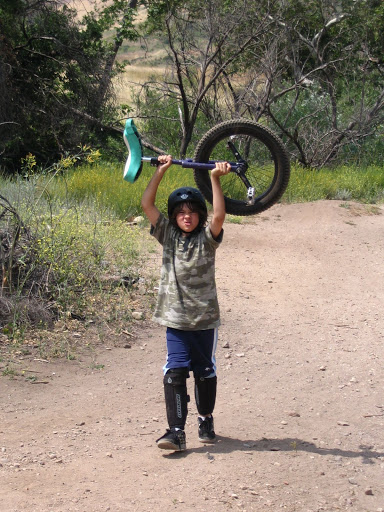 This weekend I took my 10 year old son, Karl for his first real Muni ride with fellow Muni rider, Eric Ambat, and we had a rip roarin blast. Karl has been riding off and on since he started on a Juggle Bug uni near his 6th birthday. I never really pushed him, but helped him with the frustrations of trying to ultimately get on and ride the uni down the block. Lately, he had been riding my old 20" uni very infrequently, but he has been wanting to try Muni for a while.
After some mods to my trials uni, he was ready to rock. A swap of the Jimmy C pedals to something less lethal – some old mtb pedals without spikes and an airseat. I didn't want him to experience the pedal bite in the back of the calf just yet. My goal was to make the experience a fun one.
We went to an area, which I learned in. It's a single track trail that runs about ¾ of a mile and works it's way up in elevation very gradually. There are some bumps in the trail to navigate over and some short 20 foot stretches where you have to work to climb up. Overall there is typical undulating surfaces you find on a hard pack single track. At the top are some small mounds to ride over and some short steep descent areas.
I had heard that kids learn fast. Well it's true. I was amazed at his progress, just over the time we spent riding on the trail from the beginning to the end. He has only ridden on sidewalks and maybe down the sidewalk driveway slope a few times. I got to see him ride over small bumps in the trail as well as through depressions and maintain his balance. Riding with 138 mm cranks helped a lot with the climbing. I kept on scratching my head and wondering, "How did he do that with so little practice?". I remember myself 5 years ago in that same area learning and having constant UPD's. There was a steepish grade on the way back that he managed to ride down, that left me jubilant and with my mouth agape. I remember looking and yelling up at Eric, "How did he do that?" and then yelling "attaboys" to Karl at the bottom.
It's really fabulous watching your son do something you think is challenging and work right through it in only a few tries. There's jubilance and pride.
I don't know about other guys when they ride in groups, but there's the ride a little, play in a spot and shoot the breeze about whatever, that happens on my rides with others. Karl fit right in with jokes from school which were rife with bathroom humor. Eric and I chimed in and laughed. There was plenty of laughter to go around. All around a great bonding experience for Karl and Dad.
Links to a gallery are here http://picasaweb.google.com/teachndad/KarlSMUni where you can run it as a slide show. Two very short videos are here at http://www.unicyclist.com/index.php?page=gallery&g2_itemId=566835
Cheers.