I finally got around to put this together after doing this hill climb in January. Just uploaded to You tube.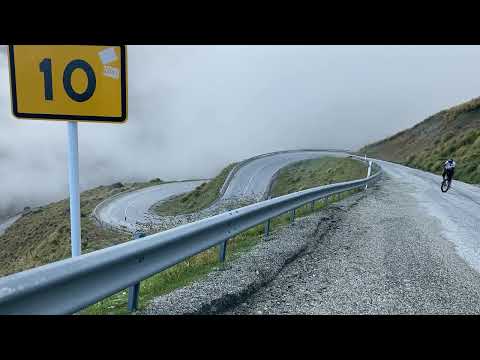 Looks like a stunning climb!
Did you set up all those shots yourself? Must have been a lot of going back and forth if yes. Every time I watch bike videos, it makes me wish that POV shots on a unicycle would look at least a bit interesting, that could save a lot of work when filming…
Thanks, yes I took all the shots myself…using a mobile phone , phone clamp holder and light tripod.
For quick camera setup, I used a bungee cord to attach the tripod under the KH Tee bar and had a cycling top with the 2 pockets on the back. 1 for camera gear and 1 for food (1 kg of a cooked solidifed muesli porridge date mix.)
I needed rest stops every 50 to 100m elevation gain and set up the tripod and staged the shots. Also paused the bike computer.
With the switchback named "The W", I actually noticed it would be a good shot while descending, so set up the tripod went down to a point and come up again.
The Access road was ideal for light traffic…there is a boom gate at the entrance and cars have to pay NZ$10 for access.
I was also going to hill climb the Coronet Ski field access road, with similar gradients, and also the Crown Range switch-back. But didn't feel confident with the traffic and narrow road shoulders.
The most spectacular road/ hill climb in Queenstown area would be the Skippers Canyon road, an unsurfaced road cut into a mountain range above the Shot Over river. It was an access road built in the gold mining days. Also considered the most dangerous road. Hill climbing on gravel roads is beyond my unicycle skills.
For water, I carried on the unicycle 3 x 680ml water bottles and had a 2 litre camelbak, as the ski field was closed. Also had a water purifying filter.
According to climbbybike.com there are only 3 'red' climbs in New Zealand and one in Australia, Mount Baw Baw in Victoria. I hope to try that one day. But would be happy to try some of the hill climbs around Sydney, where I live.
Of course that's a website
Great video and looks like fun!
Really nice footage with incredible views. You mentioned you had to go back several times to retrieve your camera. Do you think you could climb the entire hill uninterrupted with zero stops on that uni?
Short answer: no
I only trained for 3 weeks prior to doing the climb and accumulated 9000m elevation climbing at a local loop that included a 27m climb with a 12% grade for half that/ 8% other half. Also, I had been commuting to/from work 30km round trip 3 times a week on a KH36 for the previous 6 months. Ave speed 13km/hr on hilly route. 170m elevation gain each way.
To attempt a continuous climb, I would need to ramp up the training.
I left as much info in the video for someone else to attempt the climb non-stop and so look forward to hear about it.
BTW, I actually did the climb twice, 4 days apart. As can be seen in the Strava screen shot at the end of the video, I actually didn't complete the Strava segment the first time. I was completely exhausted one corner from the end of the segment. ( notice I'm wearing a different helmet when I reach the top of the segment - where the road becomes gravel)
So 4 days later I tried again with the intention of not doing so much video footage. Also I dropped the tire pressure, which I finally realised was causing the wheel to rub on the frame every left pedal stroke.
Second time, I still had to stop and rest. Absolutely no way I could do it non-stop. Also being 54 years old may be a factor.
Crank length first time 127mm and second time 150mm when cycle-time was actually slower.