There are some stray posts here and there relating to peg unicycling but I wanted to create a single thread to pull these together along the same lines as my Adventures in Freewheeling thread. Peg unicycling seems different enough to warrant its own thread and I feel it has a lot of potential. Just as with freewheel unicycling I don't claim to be the first or the best but simply want to discuss the finer points with others who are interested.
First I should define what I mean when I say peg unicycle. A peg unicycle is a unicyle made from the front end of a BMX bike (or similar) with a seatpost and unicycle saddle attached. They are most similar to unbikes which is the front end of a BMX bike with a normal handlebar attached. They have similarities to both BC wheels and freewheel unicycles as well. Just as many people in the past have created freewheel unicycles there have been people making unbikes and peg unicycles. The only previous video I know of a peg unicycle was posted to the Unicycle Chat Facebook group: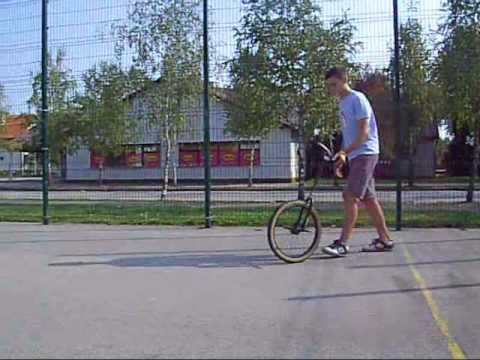 I made a peg unicycle with standard components you can purchase:
It consists of a Huffy Pro drift trike wheel and fork which I purchased from Flatout Drift Trikes. This was relatively inexpensive (about $100 USD) but I don't know if I'd recommend it because the inner diameter of the fork turned out to be 24mm which required some extra parts. I've turned three drift trike front ends to unicycles now (2 pedal, 1 peg) and probably the best, cheap method for attaching the seatpost is by filing off the lip of a Nimbus 25.4mm/28.6mm double clamp and using the bottom bolt on the fork and the top bolt on the seatpost with a 25.4mm/28.6mm shim. Usually you can saw the shim in half to get a second use out of it. Since the Huffy Pro fork had a 24mm inner diameter I couldn't use a 25.4mm seatpost and instead I used a 22.2mm seatpost with an old 25.4mm/26.8mm shim I pounded into shape with a mallet. Then I had to use an extra 22.2mm/25.4mm handlebar shim on the seatpost.
An early video of my peg unicycle is:
Some natural questions are how it compares to riding a BC wheel and a freewheel unicycle. I'm a novice BC wheel rider but can get runs of a few hundred feet at a relatively low speed. I find the peg unicycle takes away the toughest part of BC wheel for me which is having my legs rub the tire. I still need to apply even pressure but the margin for error is larger. Carrying the BC wheel back up the hill always felt awkward to me and it's easier to push the peg unicycle around. The frame also gives me a place to mount a disc brake which is useful for steeper hills.
Compared to a freewheel unicycle I find it has a more stable base which makes it likely that I will be able to get a better "pump" on it and may be better for jumping. I do end up walking back uphills where I could pedal back up on a freewheel unicycle. I find the more stable base actually makes it more dangerous as well. It's easier for my foot to get stuck on the peg during a rear UPD or to be taken out resulting in a fall to the ground and sometimes propulsion of the peg unicycle in a forward direction. On a freewheel unicycle pressure to the rear pedal just pushes it out of the way and I almost always land with my feet on the ground. The peg unicycle is more difficult to get going since I can't pedal and am reliant on gravity to get started. I'm working on a scoot-style of riding to get some initial speed. I'm able to use the brake to stop but I still need a lot of practice to use the brake to slow down and keep rolling. I'm maybe 90-95% proficient at this on a freewheel unicycle and about 15% proficient on a peg unicycle so far.