I was practicing one footed idling with my daughter yesterday and didn't like the way my foot kept slipping off the rounded crown on my trials uni, so I started adapting it by taping a hose fitting to the crown to provide a foot rest. That didn't work particularly well as the hose fitting had a tendency to rotate to the side, but while it lasted it made idling much easier. From there I cut up a 2x4 and contoured it to roughly approximate what a square crown would be like. Again, I just taped it in place, but this time it was solid enough for me to put serious pressure on it and it's a big help for the one footed idling.
So now that I've proven the concept, I'm thinking I'm going to make a hardwood prototype and eventually mill a two piece removable crown out of aluminum. Has anyone else tried this and if so what do you advise? It also seems to me that I can take this a few steps further and make actual foot rests on the crown if I want, or simply drill and tap a couple holes in either side to make them modular.
Here's the quick and crude version.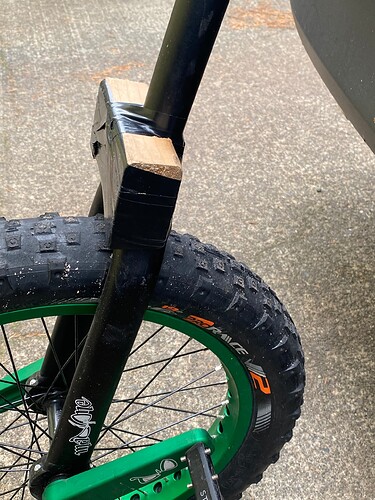 Uploading: C33E23DE-3798-4EB9-A01F-ABE36327AA99.jpeg…