Ooh, unicycle hockey, I'll be there

Well whatever ever next…who'd have thought it
I'll be there!
I'm also going to be visiting cardiff over the next couple of weeks and the club claim that they specialise in unicycle hockey so I shall try to ensure a few of them turn out to play
Plumsie
Re: 1st EMU Winter Warmer Hockey Tournament, Derby, UK. 20th Jaunary 2007
AWESOME…
i'll be there…
any excuss to play hockey outside in the cold
roland wrote:
> I am proud to announce that on the 20th january 2007 between 4.00pm and
> 9.00pm, East Midlands Unicyclists will be holding our first winter
> hockey tournament. The tournament will be a scratch tournament in the
> same format as the successfull summer tournaments that we have held. We
> will be playing under flood lights on our usual pitch and will include
> such delights as Derby/EMU/Le mans starts etc. . This is your
> opportunity to blow away those winter cobwebs and get some high quality
> hockey into the New Year and experience the joys of EMU hockey.
>
> In addition to the hockey we'll have food and refreshments available
> which are looking like - jacket potatoes, mushy peas & mint sauce and
> chilli and an endless (as near as we can manage) supply of hot drinks
>
> Players of all abilities are welcome and this will be a great
> opportunity to learn some new skills and have a fun afternoons hockey.
>
> Play will go ahead in all conditions (In the two and a bit years we've
> used the pitch we've only cancelled two weekly practise sessions) apart
> from if the pitch gets iced over when its gets too slippy to even mount
> safely. If anyone who's interested can reply to the thread well be able
> to keep you updated and if a pitch inspection is needed keep you
> updated as to the outcome.
>
> We'll post more details closer to the time and can probably sort out
> accomodation etc. if people want/need to stay over
>
> Looking forward to seeing you there.
>
> Roland & rest of EMU's
>
>
> –
> roland
> ------------------------------------------------------------------------
> roland's Profile: http://www.unicyclist.com/profile/5937
> View this thread: http://www.unicyclist.com/thread/54698
Don't get carried away just yet I can't promise cold weather or snow , it might well be a glorious t-shirt and shorts kind of day although not so hot that joe feels the need to go topless again - if theres snow I propose that we construct honary snow man goal keepers so no one has to be staitionary
Roland
It's been asked why the winter warmer but after testing the flaming puck last night here why its Warmer
Theres more in this tempters in this threadFlaming Puck
See you all on the 20th
Roland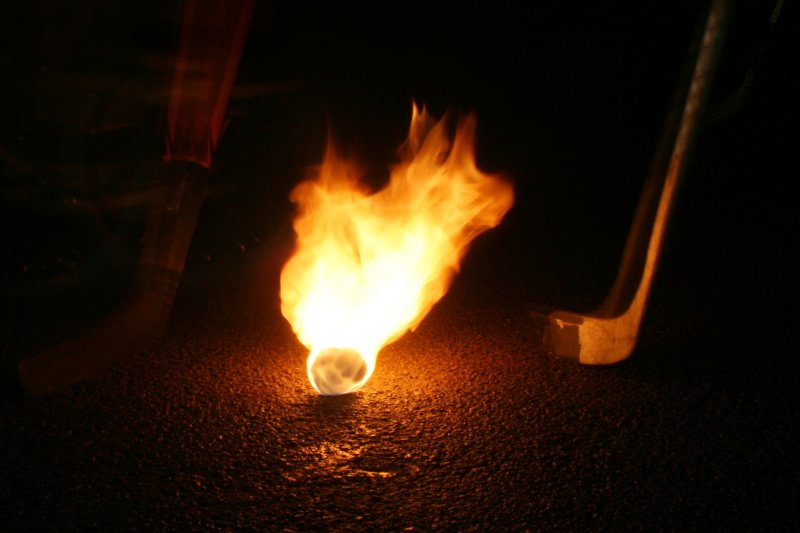 Thought you might like this bumping up.
I'll be there and really looking forward to it… Whatever the weather

Steve
That is very true - played in the rain with about 3" of standing water on the pitch which was different - better than ice at least

we shall see what the 20th brings.
The cost is I think £6 per person, which will include hot food & drinks
Its a scratch tournament so players of all abilities are welcome
If you get a chance to watch Celebrity Big Brother then please do as theres going to be a film crew from Endemol present to film some of the hockey and ask some opinions on the "contestants" so someone who knows something about it would be handy - don't even ask about this

Finally once the hockey is over hopefully there will be some flaming puck hockey if people are interested oh and I'm sure we can come up with some space if people want to stay overnight on the Saturday .
I'll post a link to the pitch location shortly but for those who know its our usual location
So see you there!
Roland & the EMU's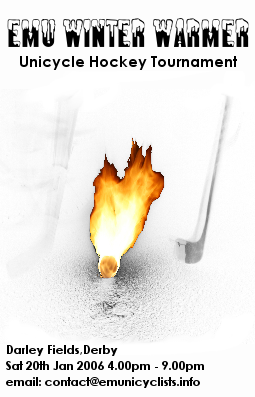 A link to a map of the pitch location is here
Roland
Hmmm did I say I'll be there…
Oh yes I did

P.S. all being well my son should be there with his new wheelchair.
But if people are staying overnight we might have to arrange something to do on sunday.
Muni anyone?
Plumsie
Ouch! That sounds like my arm being twisted there! So, yeah, go on then, I'll be around for whatever's going on on the Sunday.
And whilst I'm on this thread, I may as well offer crash space to whoever needs it. I'm just off the M1 on the Nottingham side, so fairly close to the hockey.
STM
I might be dragging somewhere between 1 and 6 members of my non-unicycling family along with me. Presumably they'll need to pay to partake of the food?
A food donation would be appreciated but we wouldn't expect the full payment if they're not playing - so perhaps a couple of quid each would do the trick
Just a quick reminder to everyone that this is this coming weekend.
See you there
Plumsie
I'm having some extreme weather in North Wales today so would someone be able to either post here or in some other way let me know on Saturday morining if everything is OK and not likely to be called off. Thanks.
According to the BBC website, Sunday will be light showers. It does look like the current bad stuff will have passed by Sunday, although it'll be fairly cold by then.
At least we'll have Flaming Puck Hockey to warm us up

STM
Hi Cath, the only reason that it would have been called off would have been ice or snow as it makes it impossible to mount and is rather dangerous - there is no chance of any of that so it'll be going ahead - it may be a tad damp

but we'll be brave about that - water wings will be supplied if required - Hope to see you there
Roland
Roland,
Just remind me if there was any shelter for us to huddle under by the pitch/court. I'd hate to think of people stood in the rain for 5 hours - Me included. It's been a couple of years since I was last there, so I don't quite remember the set up.
Hopefully it won't rain anyway

See you there.
Steve
You're not going soft on us are you? - these are surely not the thought of the UNI magazine mountain man pin up

We'll have a couple of Gazebo's to provide shelter and where we'll have the hot food and drink ready and waiting, additionally the pitch is right next to the car parks o we could retire to the cars in a worst case scenario - theres no real "indoors" other than the changing rooms . HOwever if it deteriorates to a state "beyond the pale" then we can retire for an intermission to the pub until it abates - rest assured it won't be as bad as the weatehr you had on Ben Nevis
Roland