people who can't afford a sweet setup like that

Re: Who needs a rail adaptor?
Are you going to explain how that was done? Any pictures of the process? Did you add any kind of an additional stiffener inside the seat?
Its just a regular KH seat with 2 holes drilled in it. Put the bolts thorough the holes and the seat goes where the rails would be.
one of the holes goes throught the plate. I cant say how stiff it is because the plate is broken any ways.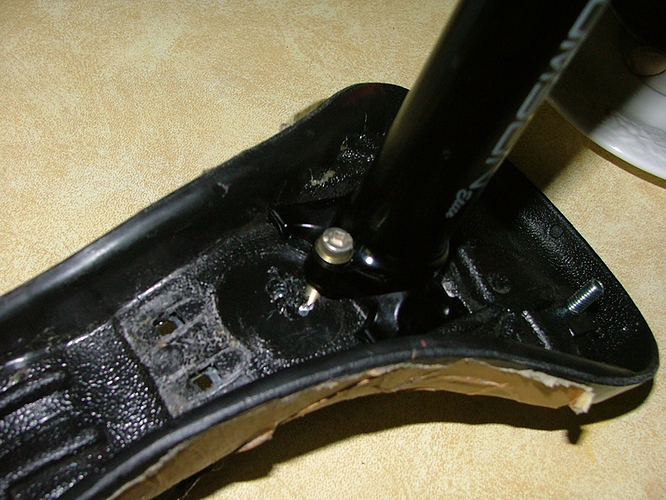 ~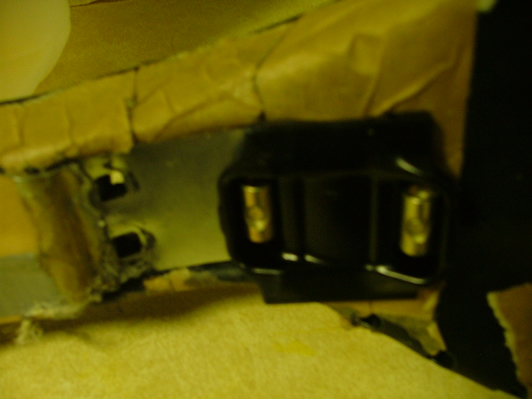 I'm going to have to post pics of my new scott wallis base and trials seat…tomorrow
I've been out giving it a test ride
and I conclude so far that no-rails is the way to ride
hotness. I like my rails, but CF stuff is sweet. I want one of those handles.
how much was the cf bace and handle
Tell me, what would happen if you scratched up than handle, then used it? you would get carbon fibers in your hand that would itch like crazy and get you infected.
Yeah thats what I was thinking as well. Carbon fiber doesn't seem so ideal for a bumper and a handle. Because of the scrathes.
The CF handles and bumpers I make are not the same type of fabrication as "normal" epoxy CF parts you usually see. They are CF reinforced castings using a plastic resin that is much tougher than epoxy, so they are not brittle and do not splinter when they get beat up. If one of them ever does become unsafe to use, I will replace it. People have been banging them around for almost two years now, and only Ben Plotkin-Swing managed to crack one, apparently from a well placed rock hit to the thin web area which seldom gets hit. Ben is very talented.

The seat base is a more conventional carbon and Kevlar/epoxy laminate which is cured under high pressure.
Scott
i broke one of the early Prototypes

After I posted I realized you would be chiming in wanting credit.


I should have specified I was talking about the DeathGrip models, not the early Miyata style test parts.
What would it cost in US for a CF seat base, front handle (deathgrip i think i heard it called) and rear bumper?
thats a mad look'n handle!!
yeah im a wimp and must take credit for my few breakages
and while i got you here Scott, i just want to say i'll miss riding with you this year since i cant make it that far south in Cali. im thinking of showing up at Moab for the 1st time if i can. its just as far, if not farther but im hopeing non-the-less.
Sorry about the slow response guys. I have been working around the clock on, of all things, an Olympic luge.
As for the bases, a worldwide carbon fiber shortage is causing delays in material deliveries, and the price has climbed considerably. At the moment I am keeping my prices where they have been, but I am not sure for how much longer.
The seat bases are $125 with the stainless steel threaded inserts installed, and with the fulcrum adapters for both Thomson and Primo posts. The "SIF Grips" are $20 additional.
The DeathGrip handles are $65 and the matching bumpers are $30.
Base and handle photos The bottom photos show the current style base, with SIF Grips
If anyone wants to get on the waiting list, email me at: scott(at)wallisdesign.com
Jagur,
Sorry you won't be at CMW. I was hoping we could go to some wine tastings together.

I would like to do Moab next year but will just have to see how it works out.
Scott
sorry to bump an old thread, but…
i've been reading and re-reading this thread for a couple of weeks now, and am considering this setup. It doesn't appear that KC has been on the fora lately, so i can't ask him directly, but maybe others who know about tis particular example or have tried it themselves can chime in.
has anyone else tried doing this with a KH saddle and a Thomson (or any similarly designed 2-bolt) post?
anybody know about how sturdy and solid of a connection it makes?
can the bits of hardware on top of the stiffener plate be felt through the foam when you sit on it?