Thats right! Back by popular demand, we present the second round of The video competition!
This time round its even bigger and better. We have certificates for the 1st, 2nd and 3rd place winners and maybe a trophy for 1st place.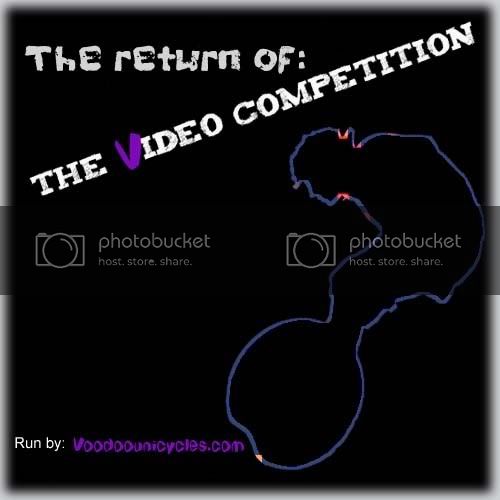 Lets get down to business.
Its the same format as before but there are one or two changes and obviously a different twist. To enter you have to submit a video that is between 1 and 5 minutes long. It can contain as many riders as you like, as long as you are in it too. It has to be made using footage unseen by the unicyclist community and filmed by yourself or any other person in your video.
The videos have to be kept private until the competition closing date, when there will be a seperate voting thread put up with all the entries.
The videos will be judged by the community but I ask the entrants and the people that are going to vote to bear these few points in mind.
This competition is not all about riding ability. In my eyes a good video is original, entertaining and makes you want to watch it again. You could be the best crankflipper in the world, but if you make a video of 8940384785955859484 different crankflip variations I will get bored and most likey switch it off.
So, it doesn't matter if you are a begginer or expert, if your video is original and entertaining you will have an equal chance of winning.
Now to set a deadline. I think that 6 weeks is enough, so I am going to say that you should pm me a link to your video by 14/09/2008. I will be putting up the voting thread on the morning of the 15th September, if I don't have your link, it won't be put up. Sorry to sound harsh but we have to be strict on this or we would never get the voting thread up if we waited for all the stragglers.
You can upload private videos to Vimeo.com, which I think is the most sensible way to do it, because when the 15th comes, you can set your video to public. Here is a tutorial I made on uploading private videos. http://uk.youtube.com/watch?v=bhnlKIBTgug
I think thats everything! So, go and film and do whatever you do to make some kick arse videos!
Oh yeah, the twist.
Heres the thing, you must mix at least two styles of riding together. We don't want purely street, trials, muni videos ect, thats boring! You have to mix it up a bit. This is where the originality thing comes in, the wackyer, the better.
Heres some examples: Struni=Street+Muni Munstyle=Muni+Freestyle Flastance=Flat+distace(Flat on a coker) These are just examples, make up your own and have some fun!
We want to see unispins on Munis, crankflips on cokers, Flatland on 29ers and hardcore downhill muni on freestyles.
So, with that being the only constraint, we hope that this time we can get a few more entries and see some funky, funny videos!
Good luck, ride on!
Edd