I felt a little creative so I made a …

… THING!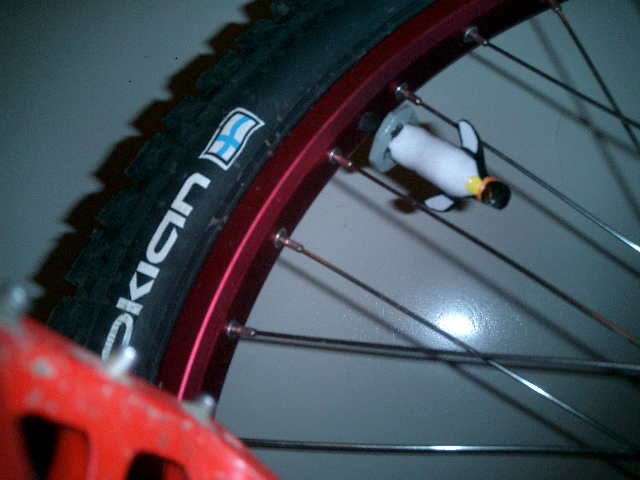 Valve cap! Posibly the best ever made. Thats awsome.
Cool!Thats great.I've tryied to make several of those before,but,ethier the glue doesnt work or the hole i drilled makes it split.
Awesome, well done.
Andrew
Make a small HOWTO!

How to
Small "How To":
Take a random Chineese plastic toy.
Drill a hole so it fits your existing THING.
Squeese some glue into the new THING.
4.Press your old THING into new THING.
DONE!!
You're a genius!
I'll make one of my own tomorrow!
Interstingly (or perhaps not, depending what you find interesting

) Jeff Groves had a very similar valve cap that Darren had made. Only the penguin was slightly larger and didn't have the grey base around it.
I was toying with the idea of doing something similar with Pez heads.
where did you find the penguin
My dad has a funny story about one of his Mtn. Biking buddies who made a Mr. Spock valve cap. By the end of a rather intense ride, Mr. Spock's ears were all worn off.
If your penguin gets some cool battle damage, keep us updated.
i just made one but my i cant upload the pic
but its a diniosor its prity cool
Penguins RULE! As does LINUX…
I must ask–is the penguin there because you use Linux?
I'm a fan of Linux myself, so it's the first thing I naturally wonder any time I see a penguin…
My sisters room:D
is the penguin there because you use Linux?
Nope. Im a windows xp guy.
I just made one of a green duck. Mine was the easiest to make because it was one of those things that you put on the end of a pencil so i just took the valve cap off and put this one on.
cool we should all make one and have a contest to see whose is the best
i will post my pic of it later
here is a close up of my duck: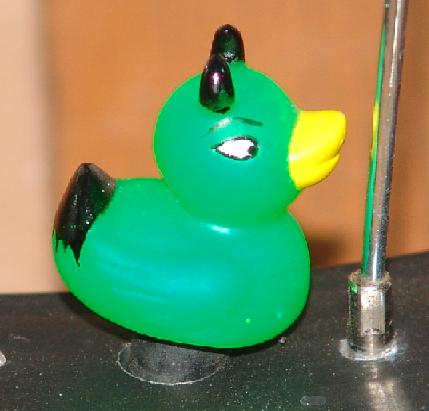 That is an extremely cool duck!
It would make a cool avatar also! (Not meant to criticize your current avatar, which is also pretty cool too)
where did you get the duck i want one