I really need to dedicate more time learning to ride the tandem. Here's me and Scott Bond last weekend:
–corbin
Looks like you've almost got it

Do a wheel walk!!!

(you knew it was comin')
That is great. Where were you guys riding?
We were at Yosemite last weekend and messed around in the parking lot; not the ideal place with the bumpy ground.
That looks incredibly easy to ride.

Is it harder on the tandem to be on the front or the back?
Wow, that looks more difficult than I had imagined. It seems to me that left-right balance is even more difficult than front-aft. I mean, how do you steer in the first place?
In the vid it looks as though for front-aft balance you guys are overshooting the corrections. Wouldn't it be better to have one guy (front or rear, I don't know) to act dumb (i.e. just pedalling no matter what), and the other do all the corrective actions? Or maybe replace one guy with just one big dead weight, for practice purposes?
Oh and the falling must be rough on the chain rings.
That's a good idea, Klass. Riding on motorbikes, things get awry when the pillion moves around too much - It's easier cornering if they just stay locked in (I have one daughter who has a strange desire to suddenly lean the wrong way on my motorbike, which is a wonderful little surprise cranking it into Post Office corner on the old chaff cutter).
Not if they save the chainrings with their legs…
Good job, Corbin, and your Blog's great, too.
Cheers,
Eoin
Wow! That's soo cool!

I want to built one too, it must be pretty fun to ride, but I'll have to find someone at my weight:p
Tuni
Hey Corbin,
Good job But the rear person is compinsating the wrong way, Pedal less to balance forward and more to get lower, kind of opposite of a regular ride. The speed may have to pick up a bit to realize the balance. But great job and looks about there, Phil and I never filmed our rides, we had no camera in '62.
Hold the seats with your knee's and it will work you have done good.
                                                                       Lobby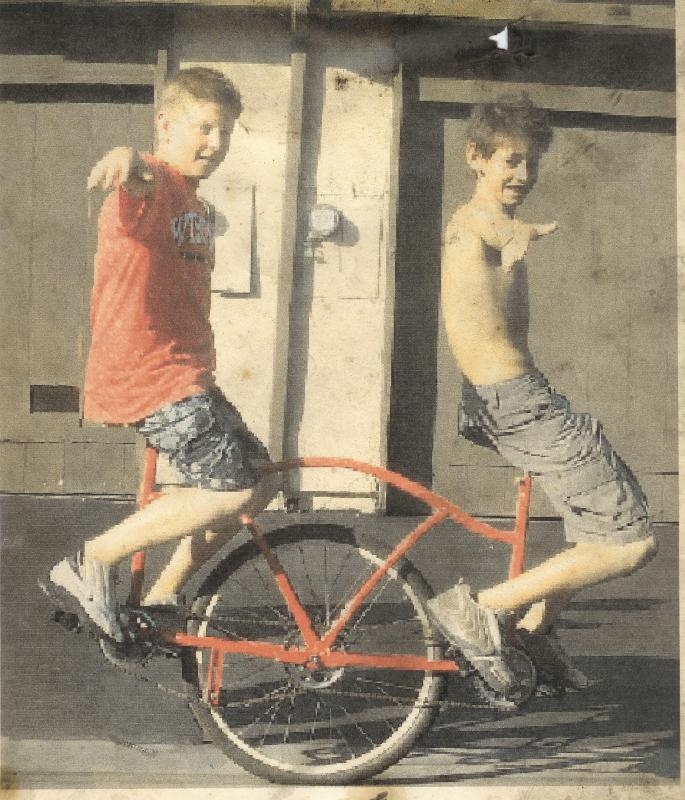 Wow, awesome. I guess in this configuration you have more freedom in terms of seat-post angle. Did you think of making it more bike-like, ie, 72-74 degrees?
I'm in if you build it - I'm about 140lb, 64kg, would that work? Maybe you could make the seat position adjustable to compensate for differently-weighted riders? Or just add weight to one side.
I'm heavier than you, but maybe we can do like Corbin and put rocks in a back-pack! I'll tell you if I ever start Welding and if I weld not too bad… I might get a welding gun soon though, as soon as my mom's boy friend gets one:p
EDIT: I think I weight like 170lbs… I only weight me at school when I need to in gym class
I love stuff like this. To me this is the forum at its best.
Here's my backseat unicyclist advice:
Have the lighter rider wear a weight belt in order to achieve the same weight as the heavier rider. Skydivers sometimes wear them to increase their fall rate:
http://www.paragear.com/templates/parachutes.asp?group=397&parent=3&level=2
These are expensive because they must be very secure. I'm sure you could find something inexpensive.
Can't wait for the next video!
Balance
I used dumbell weights on the seat post to offset and learn to ride. But I was65lbs. then.
                                              Lobby
The riders don't need to weigh the same. Long as the cycle isn't hitting the ground it will just tilt to compensate. I remember how amazed I was to see a dad ride is (antique) sociable tandem with his little daughter next to him. The bike only tilted a little bit to the side. I know it's more sensitive in this sort of setup but unless they're hitting the ground, weight difference is a minor problem compared to the rest of it!
But Corbin's tandem has a long frame, so you can see where the weight difference is a problem. Future designs might consider a tilting or fore-aft adjustable seats to even things out.
Hey all - thanks for the advice! Scott's 160, and I'm 130, so there is a pretty large weight difference. The rocks helped, but the thing is definitely hard to ride. I have heard the best thing to do is have one guy "play dumb" and do nothing. I'll have to give that a try.
Hopefully Louise and I can practice some this week and get some more videos. Today's out for me, as I uni'ed to work (20 miles).
-corbin
Oh C'mon corbin, its just a matter of time til we see you doing tandem MUni, then shortly after that, you'll upgrade it with a geared hub.
Very cool and hope to see it at U Games. Have you tried just riding it yourself with no one on the front? Many years ago in MN a guy called Ken Fuchs had one and we practiced by riding it with no one on the front seat. Once you got the hang of that, then someone just sits on the front and plays dumby by very loosely pedaling with the back guy (heavier person) doing all the work. But the design was different as the seats were very close to each other.