yeah, I think I can pull it off with enough training.
I'll try to be with you for the west coast part, but that might be my limit. I'm still not sure.
I'm gonna sleep, now. I have an average of 4 hours of sleep per night for the last 6 days and I'm feeling it.
Night, I'm off as well. I'm going to be riding tomorrow(trials though not distance

)
Right now I'm almost sure this ride will happen. I've been doing a good deal of planning lately and it seems like I will be taking the train back to my house upon reaching the Canadian border. Trains are pretty cheap for students and I hear the train ride down the coast is pretty amazing.
Currently my ride from Mexico to San Fransisco is almost set in stone. I will be sticking to the Pacific Coast Highway until it runs into Cabrillo Highway and take that up to San Fransisco where I will joyfully cross the Golden Gate Bridge. After San Fransisco, my route is based on wherever it will be easiest (and cheapest) to sleep at that time. Once I reach Oregon I will turn inland to Ashland and try to visit "naturequack". From there I will probably go directly north to Portland and meet up with a few riders. I'm then undecided on either going west to the coast or going north to see Mount Saint Helens (something I've always wanted to see). If I go to Mount Saint Helens, I will go straight to Seattle and then finally reach Canada. I'm considering even going across the border and visiting Vancouver, because I hear that is also a great place to see.
If you plan on coming to Canada, bring your passport! Remember, anyone is encouraged to ride with me. I don't care if it's even for a few mile, the company will still be welcome!
I would advise taking very minimalist camping gear - a bivy sack, a therm-a-rest, water bottles, waterproof matches in a waterproof container, stainless steel folding shovel (comprable to the u-dig-it), a paktowl, and food that you don't have to rehydrate or cook in order to eat (bagels, tortillas, peanut butter, granola, bananas, apples -look for things with a high calorie / vitamin intake for their weight)
Take 2 synthetic shirts (Capilene or comprable) one lightweight (short or long sleeve) and one mideweight (long sleeve) and 2 pairs of cycling shorts, one pair of synthetic shorts or pants or convertible pants (I like the Marmot Invincible pants), a fleece sweater - Patagonia R2 (it doubles as your pillow), an ultra-lightweight rain jacket, be sure to take a good all-purpose soap (like Dr. Bronner's) and chamois cream. Plan on resupplying on food in towns, and don't carry way too much stuff.
Take a unicycle repair kit with you too (extra tube, a small pump, patch kit, tire levers, small adjustable wrench and the allen keys that you need to fix anything on your uni), practice completely disassembling your unicycle with the tools you will take and reassembling it - do it in the dark, do it in the rain, do it in the dark while it's raining. Put a Mr. Tuffys tire liner in your unicycle before starting, they are wonderful and will save your tire. Take an extra folding tire if you like, and ride a unicycle with a fairly common wheel size so you can get spare tires or tubes or spokes at any bike shop in any town. (That means 26" or 700c. 20", 24" and 36" tires are harder to find and you will not have as wide a selection).
If it were me, I would ride a unicycle with a 700c wheel with a wide, fairly smooth, touring tire. Nothing too thin, and nothing too thick or knobby) I ride Continental Contact tires on my touring bike that are 37 mm wide, and Continental Contact tires have a 1-year no-flat guarantee as long as you use a Continental brand tube. They are very durable tires and if you use a Mr. Tuffys along with them, you shouldn't have any problems.
You might want to check out the couch surfing website -
For places to stay (or at least shower)
I think that your trip is a great idea. Contact me if you want to chat more.
Good Luck,
Matt Long.
Are you sure you can ride on or next to those highways?
This sounds fun, make sure you bring a way to Hydrate yourself while riding like a Camelback, You will need to sip some fluids every 15 min
Thank you very much for the advice you gave me! You even gave a good example of each, which will really help me when I'm purchasing everything! Thank you. I'm going follow most of your advice, because it sounds like you know what you're talking about!
There is one thing, though. I'm going to ride it on a 36". I understand the reasons for riding a 26", but I am going to do this ride between high school and college. If I'm on a 36", I expect the ride to take between 30 and 35 days. If I'm on a 26, that number shoots up to about 45-50 just because I'd be going slower and I'd need to take more breaks. I don't know how long I get between HS and college, but up to 50 days is too much. I will, however, bring a spare tube. If I start to notice my tire tearing or wearing down too much, I could ask a bike shop to order a nightrider and have it shipped to a store I know I would be passing a few days later.
Other than that, you have given me great advice and I really, really, really appreciate it.
I know I can ride next to Pacific Coast Highway. I'll find out about Cabrillo Hwy, though.
Yeah, a camelback is a pretty good idea. There will probably be a few times when I'll go a whole day without seeing any places to get water. I'm not sure if you read the story of the man who went coast-to-coast, but he had the great idea of putting a paper on his back that said "help, need water". He said he got plenty of water because of it. I'm not relying on that at all, but it could come in handy.
If I go with you we have to go to Mt. St. Helen. The lava tunnels are so awesome to walk through. They're pitch black and you have to carry a latern over huge piles of lava rocks. I walked like half way through one on a vacation to washington a couple years ago.
Sounds awesome. I may have guarantee that detour in my plans.
I have done a lot of long haul motorcycle camping
Several 10 ooo mile summers that took me all over the map. I camped out alone in the woods almost all the time.
I have not done any long haul 36 riding, but I have these ideas.
1 I tossed my cooking gear early in my first tour. To heavy. You will be hungry enough to eat anything, and it will taste great. Just buy-find what you can on the way.
2 You don't need a change of clothes. Just a swim suit. Riding in the rain, swim, or go to a laundry mat, put on your swim suit and wash all your clothes. If extra changes of clothes was to much stuff on a motorcycle, it's a crap mountain on a uni.
3 Definitely run a 36 with a TA tire. I wouldn't bother with carrying tubes, irons, patch etc. Odds are you won't get a flat in 5000 miles on a TA. If you do, walk-hitch to a bike shop. All you really need is a tiny spoke wrench and allen. Buy an extra 36 tube, and leave it with someone at home base you really trust. It is extremely unlikely that you will damage the tube beyond patchability, but if you should be so unfortunate, your friend can overnight it to you. This is a 1 in 200 disaster, per 2000 miles, not worth carrying a tube and irons with you, just wing it, simple and light. Unless you are traveling to the end of Baja or somewhere truly remote, a kit to fix a flat is hard to justify. Owners of less diamond like tires may beg to differ, but not TA owners.
4 Get a KH freeride seat, and try different high end bike shorts. That's what most of the riders at the big lobster race did. This step is kinda crucial. Find a set of riding shorts you really really like. Spend money on this ! Maybe buy 2 pairs (these can be 100 ish $), then you can leave the swimsuit home, and wash- rinse the alternate pair each day. Cutting quality on the shorts will really be a bad idea.
5 Get a 2 piece Gortex rainsuit. It is breathable, water proof at 65 mph, weighs almost nothing and stuffs into a tiny pouch. They are not cheap, but I am still using the suit I bought 15 years ago. This is an essential item. You can easily get away without a tent in many areas. The gortex suit provides some modest insulation, combined with a fanny pack, it is almost unnoticeable riding.
I would say those are the real essentials. A fanny pack with a gore tex rain suit, a 36 with a TA tire, and a money card and cell phone. Try to add as little to that as possible. I thought the story of the guy riding a 24 cross country was somewhat a caution on how uncomfortable that could be. I got the impression that the dual hand grips was because he had a seat sling set up, it didn't sound very comfortable.
I think I would like to do a long uni ride myself. I wouldn't use a back pack. Just a fanny pack, and the tiniest bit of frame storage. A super tiny sleeping bag might earn it's keep for cool camping. It sucks to sleep cold. For some reason, sleeping bags always seem to be warmer for their weight-bulk, then wearing warm clothes. Especially because the active uni rider won't need warm clothes during the day.
I just did a little googling
This thing looks real good to me, as a uni sleeping bag-tent. Wearing a goretex rainsuit, and crawling into this, is maybe light-warm enough for many summer tours. Gotta love that 7 oz. and compressed size. Unnoticeable in a fanny pack.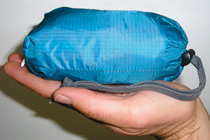 http://www.promountainsports.com/bivy.shtml?http://www.promountainsports.com/bivy-montbell-ulsbc.shtml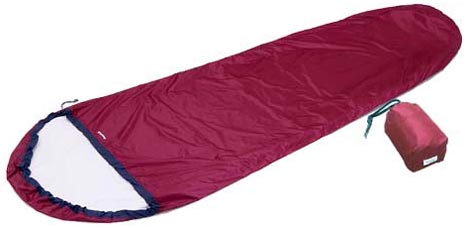 Isn't that just a sleeping bag cover? I don't think that's much of a bivy sack. I am looking at this one, though. It's pricey but it would be worth it.
Also, thank you very much for your advice. I have a question: why would you choose the TA tire? Have you ever tried a nightrider tire?
True, it's only a cover
The draw string will pull it tight around the face, and it's waterproof. It really depends on how cold it is. Most sleeping bags are to hot for summer camping. Wearing gore tex (breathable ) rainsuit, you could climb into this and sleep through a 50 degree rain dry and warm enough. So that's a rain suit you need anyway, plus a 7 oz bag, instead of a 2 lb bag and a 3 lb tent.
I have only used the TA 36 tire. Maybe 1000 ish miles the past 2 years. No flats, almost no wear. I ride cheerfully across broken glass strewn dirt lots. Were someone to ride across the USA, I would guess they would have no flats, and could ride back on the same tire. Maybe do it again next year, with the same tire. I wore a 24 Duro muni tire completely bald in a tiny fraction of the distance I have taken the still new looking TA.
I'd be willing to put an extra pound in my bag to sleep more comfortably at night. More sleep=more strength. I could make up for the extra weight.
I really like my nightrider. I've probably put 500 miles on it with no visible wear at all. Most of those little rubber strings poking out of it are still there, too.
Also, I'm calling this ride the M2C. Mexico to Canada.
Do you think I should have a GPS? It would be a waterproof one, too.
Hey do you plan on riding in or near Ventura County? If so just pm me or look me up on aim (crashboy1993) and i will definently ride a state or two with you =)
For road riding a GPS with roads on is really useful, but we have lots of little tiny roads, so navigation is hard. In the USA, it might not be so useful, especially if you're sticking to obvious roads. Batteries and charging is always going to be a hassle on long rides where you're sleeping rough too.
In terms of spares, I'd carry a spare tube, a puncture patch kit and maybe a spare right hand crank, plus whatever tool tightens up your cranks / seat bolts / bearing holder bolts, and a spoke key and pump. Pretty much anything else you can bodge up or buy from bike shops.
I always try to keep hold of enough sugar rich food that I don't need to stop somewhere and buy food for about a day or so, in case places are shut, but aim to stop and buy food any time I can. I don't bother with cooking, carrying a stove always seems more hassle than it's worth.
I'm not convinced by the goretex rainsuit - I've got a bunch of goretex stuff, and I can see it being useful on a motorbike, but on a unicycle you sweat like mad in it, it is way too hot to wear on a uni in summer.
Be sure you fill up water any chance you get. Having ridden 40 miles in a heatwave without water a couple of years back, I wouldn't recommend doing it too often (riding near the sea, but all the fresh water streams were dried up).
I have a waterproof sleeping bag (macpac epic 150sf). It is fabulous, perfect for this kind of trip, 500g and you don't need a bivvy bag or anything extra, a cut down sleeping mat to go under you if it is cold out maybe. The downside is that it cost an arm and a leg.
It occurs to me that on a trip like this, you'll go from warmer climates into much cooler ones? It might well be worth buying some stuff on the way, or getting it sent to people on the way, like a warmer sleeping bag or whatever.
Joe
10 lbs tops
I wouldn't want to carry more then 10 lbs of "permanent gear", stuff I must carry always. That leaves out spare tubes, cranks, etc. I would just gamble.
On my motorcycle tours, I had a huge plastic "Action Packer", a very large plastic box from Wall Mart, 15 $. It was insanely large, yet worked really well because it was 1/3 full in the mourning. I could stop and buy stuff, and just throw it in the big box. If I filled the box up with heavy stuff, it would be to dangerous to ride outside of Vietnam. That's why you can't buy a motorcycle with such a large box on it. I had a nice tent, essential for traveling in the south, because of nasty bugs crawling everywhere at night. You can sleep on the ground up north, but in Florida, or Mexico, expect scorpions and large spiders to crawl around at night. The friendly inquisitive ants of the north are replaced with nasty biting ones down south. Tents are much more important in the south then the north. Did I mention rattle snakes and mosquitoes ?
I think a grand time could be had riding long distances up north, traveling real light, and in the right season, sleeping on the ground with no tent. In the south in summer, you need a tent larger then a uni rider could carry, because small tents are horribly hot, and no tent means sleeping with the bugs. I have spent many nights in southern swamps reading at night, watching the huge and numerous bugs crawl all over the outside of my tent. The noises were just great, birds calling, a dozen different frogs etc. But the south is no place to sleep on the ground.
Hawo Crazyjoe.

An idea would be to ride constantly on the flight from Anaheim to Sydney. Now there is something to match your username.