Hi,
What size spoke wrench do I need for the Nimbus 2 24" (non-muni)?
Chief
I like the Park Tool Triple Spoke Wrench SW-7.2
It is a quality tool and fits common sizes.
Made of cast tool steel; nickel plated for durability
Fits spoke sizes: 0.127 in., 0.130 in. and 0.136 in.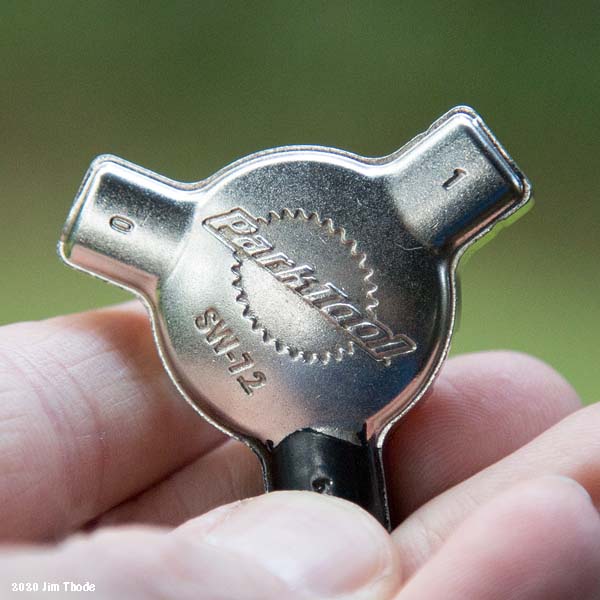 Whatever you do, don't get the cheap "every size" disk shaped spoke wrench. They will quickly cause damage more costly than the price of a good spoke wrench. I prefer to have only the size that I need on a wrench, that way you don't accidentally use the wrong size and round or deform a nipple.
You can find out what size your nipples are by measuring with calipers or bringing the unicycle to a bike shop and seeing which wrench fits.
Premium spoke wrenches that "capture" a nipple on three or four corners can be very much worth it if you have aluminum nipples and plan to do more than just a light touch up, but they can be a smidgen more fiddly to use, still if you are serious about building and truing wheels I recommend them.
I agree with Saskatchewanian. Get a set of Park individual spoke wrenches (SW-0, SW-1, SW-2 & SW-3). There is also a less common SW-5 size. These are three sided wrenches, but Park also has a couple 4 sided wrenches. The 4 sided wrenches are least likely to damage a nipple but take a bit of getting used to, especially if you have used 3 sided ones for as long as I have. With good three sided wrenches I can quickly move from spoke to spoke, while keeping my eyes focused on the rim and truing stand gauge. It is way too easy to use the incorrect size with double or triple ended wrenches, which quickly messes up the nipple. Likewise, cheap-ass, or 'universal' wrenches also quickly mess-up nipples.
My dad used to have an "all size" spoke wrench, but it was much better than those round ones with individual slots. This one was shaped kind of like a wingnut at the handle end, tapering down to a tapering spoke slot at the "business" end. Just stick it on any size spoke and it would grip just fine.
I wonder what happened to that tool, as I much later have taken possession of most of his remaining tools…
I have used the all-size disk kinds without problem, but you have to be careful to use the correct slot each time, which is a pain when you flip it around. Now I have a set of individual Park ones.