Just curious – what kind of times are folks putting in while Cokering marathons, half-marathons and 10Ks??
JL
I'd like to know that too. In fact, I'd love to doa 10K and a 1/2 Marathon on a Coker.
But first, I'd have to get a Coker.

--chirokid–
I'm still looking to do a marathon race, but for me my average speed for that kind of distance on the flat will be around 23-25km/h. (Coker, 125mm cranks). So slightly under the 2hr mark for a 42km marathon.
We were averaging this speed during my Cambodia ride (which was mostly flat).
Late last year I did 160km road race on a hilly course (with an extended steak n' cheese pie break) in 8hrs20min. So I guess over a longer distance the average drops down to around 20km/h, once you throw in the necessary rest breaks.
Lake Taupo Cycle Challenge
I did a 50km MTB race on Sunday- but it was off-road and had three very big hills (Coker, 150mm cranks), in 4hr37min. Last year did the same race in 4hr28 (29'er, 150mm cranks). Bigger is not always better!
Karapoti Classic
This thread has a 10km time trial time by Ken Fuchs
Frank Bonsch and Christian Hoverath did the Dusseldorf marathon
Just do a search on the forums- there are plenty of times to compare.
Ken
With 150 mm cranks, my best performances were:
12.95 miles covered in 1 hour
20.05 miles in just under 2 hours (about 1:56?)
Re: Road Race times for Coker??
What kinds of seats do you guys use?
I haven't been able to find a seat that I
can sit in for more than about 45 minutes.
I have an air seat from unicycle.com.
On Tue, 9 Mar 2004 17:47:55 -0600, Mikefule
<Mikefule@NoEmail.Message.Poster.at.Unicyclist.com> wrote:
>With 150 mm cranks, my best performances were:
>
>12.95 miles covered in 1 hour
>20.05 miles in just under 2 hours (about 1:56?)
At last year's USA Nationals in the Twin Cities, the 10k (marathon) results can be found here:
24" with regulation cranks:
http://www.unicycling.org/usa/naucc/2003/NUC03_Marathon.html
Unlimited (any size wheel and cranks):
http://www.unicycling.org/usa/naucc/2003/NUC03_MarathonOpen.html
Elijah Parker did what was probably the fastest time ever for USA competition at 25:21.50. He was smokin'. Ryan (Smiley) Woessner was second at 27:22.73. I was close behind him at 27:30.22. Those were all modified Cokers. Mine had 125mm cranks and a Wyganowski handlebar setup.
I ride approximately 8.15 miles to work. I start my watch just before I get on the uni, and stop it when I get off at the door to my building. Total time includes the three traffic lights I usually have to wait for. My best so far is about 38 minutes, but 42-43 is more average. It's a lousy measure of fitness, because the traffic lights add a random element.
Here's a picture of my setup. I got the handle from Bronson Silva, but I'd like to have one made that better fits me and the position I'd like to work out (and a rack). I attached a pair of bar-ends to what was originally intended as the front bumper. I'm slightly more "aero" when I hold those.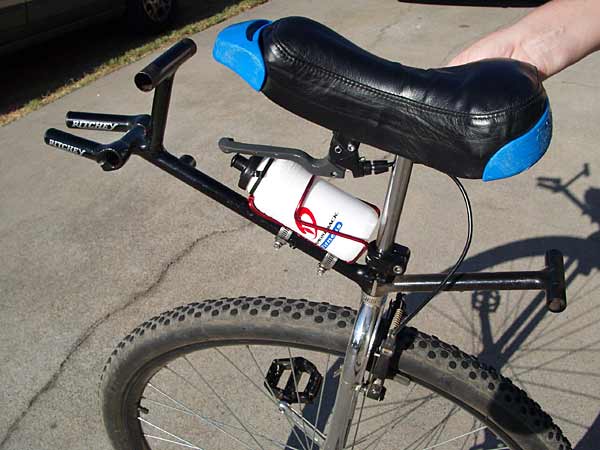 Okay, I did a little more reading. At home I have most of the results from every NAUCC and UNICON, but I'm not home. Much is available online if you know where to look. Here's the 10k race from UNICON 11:
http://www.unicycling.org/iuf/unicon11/results/IUF02_Marathon%20Open.html
Note Roger Davies was faster than Elijah was in 2003, at 24:12.63. Yuta Ando was also faster, on a 24" wheel with micro-cranks, at 25:02.07.
Interestingly, Elijah Parker was a lot slower in 2002, at 35:22.91. This put him in last place in the men's unlimited category. Why was he so fast in '03? The Unicycle Across Norway tour!
I was also amazed to notice my time from UNICON 11, at 27:15.51 (6th place). I can't believe I was faster in 2002, riding my clunky, heavy 45" big wheel! I slowed to almost nothing on the little hill in the course turnaround, and lost a lot of ground there. The race course in 2003 had more hills in it, but I thought I was in better shape! Hmm.
24" (regulation cranks) 10k results from UNICON 11:
http://www.unicycling.org/iuf/unicon11/results/IUF02_Marathon.html
At UNICON X, racing results are not available online. There was a problem at that convention in the unlimited category, resulting from a miscommunication between the officials onside and people who know the rules. The Referee (me) was back at the hotel trying to sort out the track racing results, and was not there to crack heads and tell the officials to let the Cokers race.
At UNICON IX (Germany, 1998), Huah Bi, China, did the 10k on a regular 24" in 28:30.03. He was in the 15-18 age group.
http://www.unicycling.org/iuf/unicon9/results/marathon.html
At UNICON VIII (England, 1996) we have the places, but not the times:
http://www.unicycling.org/iuf/unicon8/u8fram.html
Thanks for posting that John, very useful for training for Unicon 12.
What sort of crank legth was Roger Davies using and and how hilly was the course?
And do you know what the Unicon 12 10km course will be like in Japan?
Ken
p/s- I think the most impressive 10km time there is the 34:31 by Xu Jinpeng on a 20" wheel! That's insane

I'm not sure but he may chime in. Probably in the 102-125 range. The course was very flat, with only a couple of rises. The biggest "hill" was at the turnaround, and was a rise of probably 30' or less.
I don't know if they have the location details figured out yet. They have the bus price though, so I think the course is known. This is a question on the minds of many riders I'm sure, and we need to ask the organizers for whatever details they can offer so we can train and bring appropriate sized cranks.
Was that listed in the "regular" categories? If so, it means he was not only riding a 20", but also using the standard crank length for that size, which I believe was 114mm!
I was riding 110's. The course was flat except for one little hill at the furthest point which slowed me down a little. It was not the best marked course in the world and I came to a big arrow by the road side and followed it… luckily I only lost about 30 seconds on that mistake. I was also determind to not do my self in as I did in China so kept my speed down to a steady 16mph cruising speed on the flat… except for the lap around the track where I took it above 20.
China was a nice hilly course and I did a better time. This was even with being stopped and held by "The officials" after the first of the 2 laps. I was so furius though when I did break free from them and get to continue the race, I attacked the steep hill from the start at FULL speed! It took me less than 1km to catch and pass all the riders that they had let past me.
Japan is going to be interesting, I do not think I will be able to bring my Coker, so I may be on a 29"

I am not comfortable on them yet by any means so feel I will be a lot slower this year.
Roger
Thanks Roger,
Sounds like you had a rough race and still came out on top!
I haven't used 110's yet- is there a noticeable difference in speed with the 125's?
Who else will be at Unicon to watch out for? Christian Hoverath or Frank Bonsch? What are the Japanese like at the racing events? Are epicyclic unicycles allowed in the 10km Unlimited race? Doesn't seem fair somehow…even if it is unlimited.
110's are only faster than 125's if you are really comfortable with them and they take a bit more settling in. I definately speed up after I have warmed up which normally takes about 5 or 6 miles.
Christian is the man! he is fast and has durabilty. If the Marathon was a sensible length (like a real marathon) then Frank I think would win as his an amazingly consistant rider who loves eating the miles up.
But the Japanise have some really fast riders as well, put them on a Coker and I am sure they will beat me. The winners of the unlimited race should be somewhere around the 20 min mark easily, even sub 20 with a geared unicycle like Manfreds at Guildfords UNICON.
Yes epicyclic hubs are allowed, I think that Greg rode his at the last UNICON.
Roger
It would be cool if the Coker company sponsered some type of road race. They would probably get a lot of free press out of the deal and sell a bunch more cokers as well. It could be a one day deal or it could even be Hildalgo style with the contestants camping out and starting again the next day. (Just no pits with spears in the bottom please)
Yeah! Coker Tour De France style stage race. Complete with time trials, criteriums, hill stages, bunch riding, yellow/green/polka dot jersey, etc etc etc. How cool would that be?
Yes , only instead of tour de france it could be a tour de somewhere else. I think tour de Oregon sounds good, but they are in Tennessee I think, so maybe a tour de Tenessee. I really do believe it would be a great promotion for Coker and lots of fun for the unicyclist community. Maybe if everyone here got pumped up about it and all emailed Coker co. they would go for it. Ya never know…
Then I'd would be forced to buy a Coker. My wife would have to understand!!!
Get us an e-mail address. I'll join in the sending. The TourDeTennessee. That does have a good ring to it. --chirokid–
Re: Road Race times for Coker??
Grokthezeppelin Wrote:
> I sent em one, why not? Not sure I could make it to tenessee and not
> sure I could finish a tour but there are alot of folk here that could.
>
> http://tinyurl.com/yunwb
>
>
> –
> Grokthezeppelin - Moved up to a coker
> ------------------------------------------------------------------------
> Grokthezeppelin's Profile: http://www.unicyclist.com/profile/3316
> View this thread: http://www.unicyclist.com/thread/30944Frank leone ,mt. pleasant recreation dept. contractor teaches juggling
in mt. pleasant ny
–
cheechee