I am lucky. I've known and ridden with my Ride The Lobster team-mates for 10 or more years and they all live with or near me. Although it's harder for teams that live far apart, I really recommend getting together at least once before departure for Nova Scotia in June to practice racing together. My team has had two practices so far and we learned quite a bit.
Transitions
First, we had a day of "Transition Practice". We picked a section of road about 16km long and rode it out and back, doing transitions almost as frequently as possible. This worked out to be about every 1.5-2km, and we did about twenty transitions in about 1:40, not pushing as hard as in the race. We used a camera case that's about the same size and shape as the real GPS baton will be in the race:

We tried riding with and without Camelbaks. We preferred riding without a Camelbak and simply stuffing the baton in our jersey pockets while riding. The baton case has a Velcro strap that can be easily stuck to the Camelbak strap and rides nicely out of the way, but keeping it in the jersey pocket is the easiest.
The ideal transition is where the incoming rider maintains full speed and the outgoing rider is just hitting full speed when the actual hand-off occurs. In a 200km stage, each team is likely do to 20-40 hand-offs, so losing even 10 seconds per hand-off will translate to minutes off your time for that stage. But you want to take care as crashing due to riding too fast, or having two riders maintain full speed for a long time are not good. We tried for as efficient as possible transfers, although I don't think we ever did a "perfect" one.
The most important thing we learned doing this practice is that communication is key. We tried several methods, but having the incoming rider announce his distance in a loud voice (40 feet…20 feet…GO GO…5 feet…Here it is!), then decisively putting the baton in the outstretched hand of the outgoing rider seemed to work best. This way it isn't necessary for the rider in front to look backwards during the hand-off. We worked out in advance that the incoming rider would approach on the right side, passing the baton with the left hand to the right hand.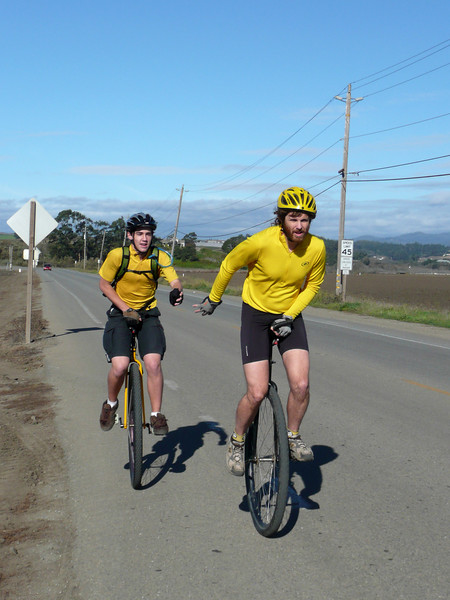 Racing
Late in December 2007, we organized a local "Ride The Lobster Team Practice Day". Four teams participated. We picked a route that was one-way and had some hills but nothing too steep, similar to Nova Scotia. Since the days are short in December, we chose a route a bit over 120km instead of 190-200km as in the race. The weather cooperated; it was drizzly and cool (about 8C at the start, warming to 12C midday). I imagine the weather in the race could be similar.
We met in San Francisco at 8:15am and the first riders started out soon after. Each team had its own vehicle and planned their transitions independently, just as in the race. As in the race, no transitions were done in the first 10km, although later on, some legs were as short as 2km for some riders. We raced with no breaks or check points, with each team responsible for navigation and food.
Here is the route we followed: http://tinyurl.com/387tmo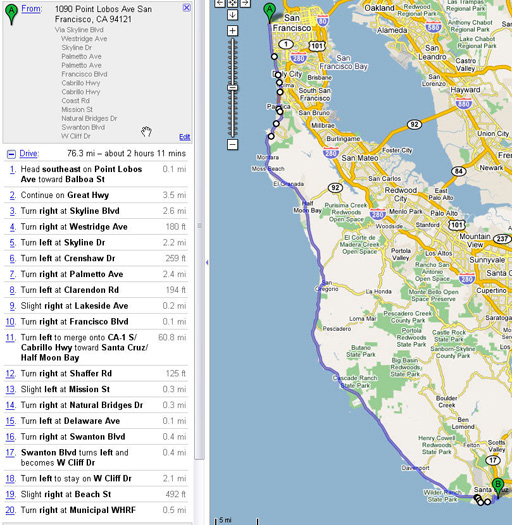 We also used this website to map our route and obtain an elevation profile:
http://www.gmap-pedometer.com/?r=1512756
Each team had to decide how far each rider would ride and in what order. This was based on each rider's strengths and weaknesses as well as equipment. Team Totally Doable was using a normal 36" cycle plus a geared up (54" equivalent) cycle. The geared up cycle wasn't shift-able though and was very tough to ride up hills. So they did more transitions than the other teams, swapping out equipment as well as riders. They were lucky in that all three of their riders could ride the geared up cycle without adjustments, although their shortest team member complained of hip pain afterwards from reaching for the pedals.
For my team, it seemed that doing legs of 5-9km worked best. While it's hard to keep up "race pace" for a long time, especially while climbing, short legs mean short breaks for the other two riders. Probably the best thing to do is start out with some slightly longer legs and go progressively shorter as the day wears on and the riders wear out.
In the end, we surprised ourselves with how fast we covered the 123km. Team Totally Doable took first place in about 6:10 using their geared up speed machine—their average speed for the course, including stops, falls (two), and transitions, came out right at 20km/hr. My team, Yellow Line Fever, finished 5 minutes later. Team Venus (all woman racers, two members from California, two from Minnesota) finished soon after. Team Yam Power! was missing one of their racers and finished later while we were having dinner – but Jim Sowers managed to ride far enough to make this day his first qualifying ride, and successfully completed his qualification the next day.
So what is the fastest unicycle? Geared or non-geared? Ever since the Laos Unitour in 2006, I have been a believer that given a skilled rider, an effective wheel size of over 36" on the flat or downhill will beat a standard 36" cycle. That appears to be especially true with a geared up 36" cycle. But the course is not all downhill and flat, and it is very, very long. Whatever you ride, make sure you're completely comfortable on it. There are many factors involved and there is no one "best" unicycle for this race. It depends on the rider.
When you sit down and think about actually racing 200km in a day, day after day, it sounds pretty hard. After these practice sessions, I know it's not only doable, but will be really fun. With only four teams, it was surprisingly exciting and fun. Just imagine what it will be like with over 20 teams, and racers from all over the world! I can't wait - see you in Nova Scotia!
More Photos
Transition practice 12/2/2007: http://nhoover.smugmug.com/gallery/3929534
Racing practice 12/29/2007: http://nhoover.smugmug.com/gallery/4147057
Racing practice 12/29/2007: http://www.flickr.com/gp/83189681@N00/q0CXAJ (Tom Holub)
Nova Scotia visit, course preview 9/2007: http://nhoover.smugmug.com/gallery/3495421