You might have heard the phrase "ride to work day". Usually it's a call for people to ride their cycles to work, typically bi-cycles or motor-cycles. Well, I don't ride TO work, because it's a 20 mile commute and even if I had the time the route is too dangerous for cyclists.
So I ride AT work. I've mentioned before that I usually have one of my unicycles with me in the truck, (I'm a truck driver), in case a ride opportunity presents itself. I even have a growing list of spots that work frequently puts me near, so I get to ride these places a few times a year. Belle Isle is one such place.
Yesterday I found myself doing deliveries in Detroit, (yeah, on Sunday, it happens sometimes in this job), and with enough time between the last two appointments to park the truck on the island and ride. I didn't have the coker, (damn it why didn't I think to bring the coker!), but I had the 24" municycle. Good enough. I rode around the western tip of the island. I wanted to do a complete circuit of the island, about 5 miles, but I was wearing down after two miles and took a shortcut back to the truck, reaching the three and a half mile mark, according to gmap pedometer.
It is a beautiful place to ride, and near the western portion of the island there are great views of downtown Detroit. Along the southern side you see Windsor, Ontario, and if you're lucky some Great Lakes freighters gliding up or down stream. The weather was brisk, about 35 degrees Fahrenheit, and a bit windy. It was exhilarating!
Here's the gmap pedometer satellite image of my ride (zoomed out enough to see Detroit and Windsor):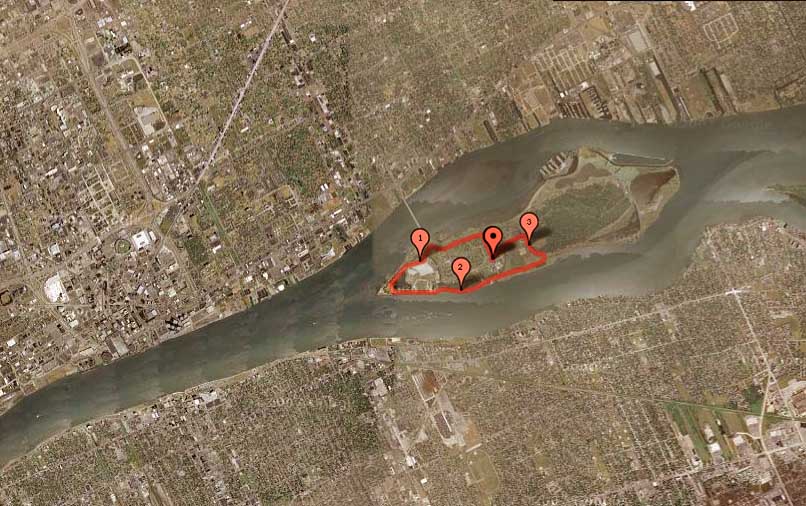 Riding during lulls on the job has become a vital source of physical and mental therapy for me. One thing I forgot since the last time I rode here: the tire gets full of goose poop. Makes it a bit gross putting back into my car at the end of the day.