So in my Last Ride report I mentioned a charity b*ke ride with my work collegues
The plan was to ride the Leukaemia Research Fund bikeathon at clumber park and since we are a collection of IT types & a unicyclist we'd go for the 11mile ride rather than the 19 mile one.
On tuesday all the final paperwork arrived, rider numbers, route control cards & general info bumpf, this caused me to get slightly nervous, I'm used to running and I know how much of a bugger mass starts can be. I was also expecting some media & being unique (the field was expected to be about a 1,000 so maybe I'm not unique, just 1 in a thousand) that was keeping me twitchy.
Saturday was a later night than planned, blame friends family & eurovision (and not drink at all oh no) and sunday dawned grey and grim. The weatherman said we were in for rain later (and how right he was).
Having organized the logisitics (as many cycles into as few cars as possible) we all got to the event field at about the same time. Registration was pretty painless and we filed round to the start, where we were led in a pre-ride aerobic warm up (I have photos, I've been asked not to share them) . Then the count down (mas 10,0,8 style) and the first wave were off. I managed to get into the 2nd wave, ran over the line to the side of the start & hopped on, the wet grass played havoc with the road razor's slick skinny tyre, but I kept it together. and got out onto the road, where I slowed right down to wait for the rest of the team who'd been held back into wave 3.
The first road crossing caused a bit of an shock to the marshalls who evidently weren't expecting a unicycle so I fielded the first question about doing the whole thing on one wheel, shortly after I had to stop due to a cycle gate (the path is narrowed to 1 b*ke width) causing a bottle neck.
From then on it was pretty much a nice ride in the country till checkpoint 1 where my unusal mode of transport caused a couple of gawping mountain bikers to crash into each other (cue gales of laughter from the assembled folk). After checkpoint 1 is a short steep climb where I passed several people who'd got off to walk & several more who were having gearing issues, and then it was down the long back straight, where all you could hear were singing birds & the gentle swish of tyres on tarmac.
All to soon it was the descent down to the Ford & checkpoint 2, we convinced the marshal to take a team photo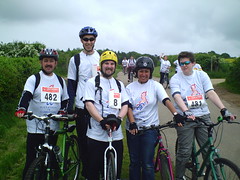 I wasn't allowed to ride the ford (boo hiss) so I rode the bridge instead. I abused the hands free nature of unicycling to take a couple of in motion pictures which I'll link to a bit later and carried on pedalling.
Turning back toward the finish the rain started to come down, an attempt to avoid a wet tree root, led to me catching a rock instead and after 15.8km making the first UPD of the day. Shortly after another wet root led to my second.
The finish line was now in sight, unfortunately there was about .5km of wet clay & grass between me & it. That slowed me down and my focus shifted from the horizon to the next 5m or so. The actual finish was round a swoopy 90 degree bend in front of the stage, a UPD here would be a disaster (though to all the unicyclist pretty probable, high pressure wet grass, cornering & skinny tyre). Fortunately fate smiled & it didn't happen, however the comentator did drop his mic in suprise. He proceeded to race over to get some finishing line chat with me and a couple of photos (I don't know where they are or if they'll see the light of day).
Whilst finishing up all the administration & quaffing lemon barley water a local radio presenter came in, I heard the commentator gleefully tell him he'd been beaten round the course by a unicyclist, I couldn't help but smile.
All in all a nice 18.6km on mostly cycle track & tarmac, no real challenging terrain and the b*kers wher emostly OK to ride with. A big round of cheers to the organizers & their helpers, we'll probably go back next year but it'll be to do the 19 miler for sure. If you fancy a go I'd say go for it, but you might be wise to try to get to the very front of the start or to get the organizers to let you start off to one side