Your nimbus is sick! does anyone own a qu-ax 36" here? I want to know if you can change the position of the brake
what do you meen by change the position af the break??
I got my Coker yesterday, but I dont have my crank(Qu-ax aluminium 114), I hope they will find my home…

and I will put V-brake i found on a little bike…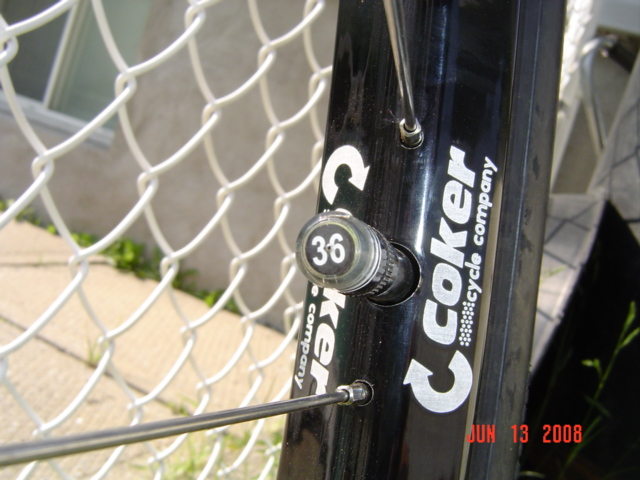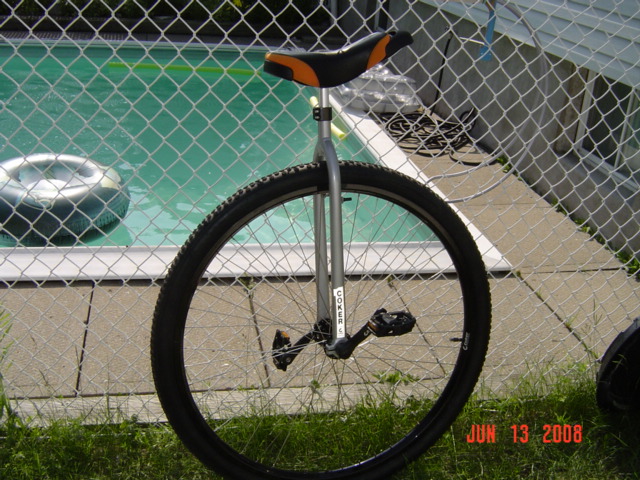 aren't your brake mounts the wrong way? i thought they went in the back
Does any think this would be…like fixie cool…
-36" wheel(any kind)
-A round crown frame
-kh fusion street saddle
You'd think? But in actuality they're supposed to be like that. I think people have been flipping their frames around so they're in the back so they don't rub against the brakes.
Oddly enough, my Coker Big One came with the brake mounts in the back…This just tells me that Coker's manufactures don't know how to assemble their product.
Here's mine, with recently upgraded wheel.
It's an old QuAx coker-copy frame, Stealth Pro rim, Nimbus ISIS hub, 14-gauge stainless spokes, TA tyre, QuAx aluminium cranks, DMR V8 pedals, steel 22.2 seatpost, KH Fusion saddle, BMX caliper brake with Tektro lever mounted on a bar-end.
Not the best quality picture, but here it is:
That green Nimbus looks really nice. I don't really like chrome frames, but haven't got round to doing anything with this one yet. At least it doesn't chip if you drop it

Rob
no they are not in the wrong way the frame was already on the wheel set when i got itand if i want it in back i can just turn my frame.
I got my 114 cranks! but i dont have square taper crank extractor

My coker
I got all my coker now.
specs:
-Stock Coker big one
-KH Fusion Freeride(orange)
-114 Qu-ax Cranks
-T7
-TransX seat post
-Koxx-one seat clamp (red)
-36 valve cap
-Small bell
-little light
-…grips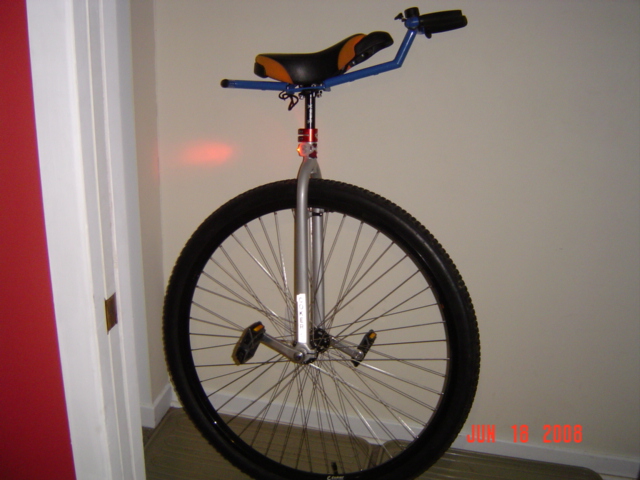 114s and no brake?


Do you live somewhere very flat, or are you just a nutter?

Rob (who loves his 145s)
Jacob is a litte Nut.

It's all about the 102's for muni with no brake!
it's not really hard to break without break…and you can just do a "face plant" if you can't break


and now i have some little pink grips!
whats it like to ride with 114s? is it hard to ride uphill as im considering getting smaller than 125 if i can get away with it
Go for it, I remember people doing mad amounts of climbing on 110's, personally I could only do a couple KM of serious climbing (7% grades), but if you look at the riders from San Fransisco area they are all using cranks about that size.
dam!, nice uni. whered you get the handle from? would it be possible 2 fit one 2 a KH 29? how?
If you are refering to Yakob's uni, the T7 i gave it to him as a gift, that i baught from Nathan ( ntappin ) With i presume got it from unicycle.com
it is Fittable to a KH29, only thing you would need is a Rail type post, not the Traditional one.
The KH 29 comes with a rail post.