Keep the epic shots coming, I love 'em

Mike, I hope to someday clime half as far and steep as u :):o
Another awesome one! High res?
Vidcaps from today's G-MUni ride.
Riding muni in the western part of Hardangervidda
Trolltunga is located in the Skjeggedal (Beard valley) above Tyssedal, next to the town Odda. It lies about 1100 meters above sealevel, and 700 meters above Ringedalsvannet. The path to get there starts at the western end of Ringedalsvannet, and rises all these 700 meters during the first 4 km. I used almost 2 hour crawling up this part… The remaining 7 km is better for riding, where I used about 3 hour 20 minutes in total to reach the toungh without any major breaks.
Up this valley… I started at 4:15 AM. Here, it is now 4 degree Celsius. No wonder the glacier "Folgefonna" survives on the other mountain back there…
Now it begins! … leaving the reach of cellphones…
A nice part of the stony path:
Yeah, this is the right valley!
Here we are!
The second breakfast today:
Starting on the way back. Notice, there have been old industrial activity here… (in addition to the new…)
On the last 2 km before the toungh, the river "Tysso" have to be crossed. It was tubed in 1967, and are now dried out. According to the size of the many potholes its clear that it was carrying volumes of water.
Tysso was known for having the highest free waterfall in Norway, "Tyssestrengene". A twin waterfall, of 312 meters! (Do you know any higher?) Kinda impressive without water too.
I put my muni in a pothole on the edge, just to illustrate the dimensions…
Cauld have been interesting to view from this spot at the time of full load of water!
Having an icecream downtown in Odda, on the way home.
This is it, before cropping and adjusting. Do that qualify for "High res"?
Cato
That´s so beautiful. Thanks Tveit. I´m going to visit you

I have already visited Norway but at that time I didn´t know anything about unicycling. I was a fool.
Wow, thanks for putting these up. They are wonderful.
What was behind the idea of obliterating such a beautiful waterfall? Hydro plant? Pity…
-Could be because of man, or just too far past the rainy season.
Angel in Venezuela is the world's tallest waterfall dropping 979 meters.
http://www.infoplease.com/ipa/A0001781.html
Yes but pics 1 & 3 look much better zoomed in ~ 50% and the third from a lower angle IMO, but cropping looses the crispness.
I would have liked pic one the best in portat orientation & zoomed in 25-50%, showing as much vertical of the cliff as possible.
I was just checking those waterfalls too.
The claim of "Tyssestrengene" being the highest free waterfall in Norway, I guess, is because of the true 90 degree (to the horizontal line) fall, not allowing down to 85, as most of the common waterfall lists do… One of the differences should be the sound. A true 90 degree waterfall, especially when hitting a pound, make a characteristic "deeper" sound… But it was difficult to find a list over waterfalls based on true 90 degree…
Did about 9-10 miles today (On a 24", im dead!) Of relatively rough terrain, was great fun, and I visited a bridge that's made out of a slightly… Unorthodox material!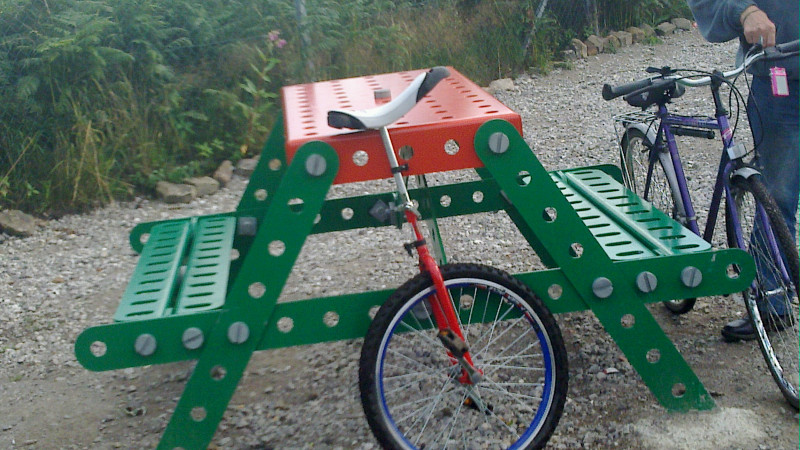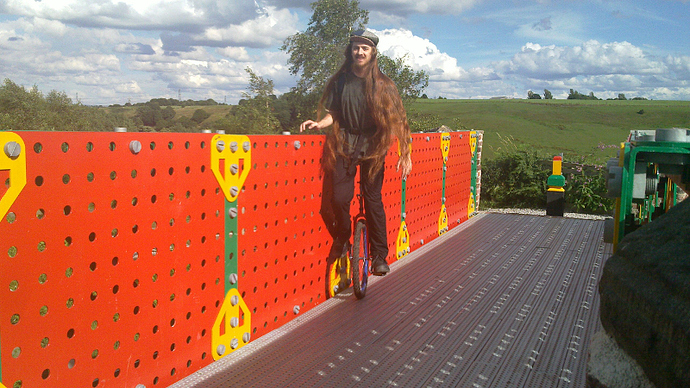 Cool, They look like a jumbo size erector set from when I was a kid.
The erector set is actual size. So, 9-10 miles on a 24" is incredibly impressive when you're only 6" tall! Actually, I think 9 miles on a 24" is impressive whatever. Well done!
Jerry
:D:D:D
I'm thinking of upgrading to a 29" soon… I don't think my dad appreciates having to ride his 2-wheeled cycle at super-slow speeds… It's always sad to finally hang up your first Uni

Tour de Pologne, amatour stage again.
After failed attempt last year (I got taken into the latecomers bus at half of 56km distance) I was quite motivated and I had some odds in favour of my attempt. This year I had 26er Guni instead of my old fixed 29er and due to some roadworks the route was shortened to 38,4km.
I got into starting sector closer than last year and I still got hope to get to the starting point in time. First 7km descent is neutral start and then real start follows from the valley down there. Last year I got there when the starting point was already disassembled, but this year I was having some more sectors behind me and my Schlumpf allowed comfortable cruising at 24km/h so I was down at the start line even before the last group. Having first part of my plan accomplished, I started the first of two heavy climbs on the way passing slower bikers and getting passed by the faster ones from the later groups. It was really motivating to hear all the support from people waiting around the road first for amatours and later that day for Pro Tour riders. After the first climb, nice descent followed ended with short segment that seemed almost vertical from the top, I was happy we are not climbing that. Of course on the descend quite many bikers overtook me, but we met quite soon as just after crossing the valley again we got into the biggest climb that day. Better bikers were already somewhere in front (probably finished as the best time was under 1h) and I saw everybody around me getting off the bikes and pushing them up. "No" I said to myself "I will not dismount until I fall down!" and I pushed the uni up slowly. Step after step in the steepest part, squeezing all force I had left into this hill, but still I managed to push it straight to the top leaving many astonished bikers behind.
At the top a nice suprise was waiting as we got some water and power bars at the buffet that was there, not as it was planned before the climb. It was great to drink bit more without thinking how much is left in my water blade and to splash the rest on me after climbing that much in more than 30C and full sun. Then some up and down started and when we got back to starting village our last climb remained. As on first climb people I was passing were riding slowly, on the second one they were walking up, but now some were even struggling to walk, or at least they looked so. It wasn't that hard really, but after two previous and all kilometers in my legs I also felt that this is not time for showing off, just keep going and reach the finish. Of course it's hard to keep such promises to you and just as I saw the 200m to finish sign I switch into high gear even if it was bit uphill and pushed it as quickly as I could to the line.
I made it, missing the recommended time (officially the cut-off but some people finished almost an hour later and they were classified) just by 4 minutes and I would be in time, if I was just one sector forward. Anyway I was classified as 1108 out of 1175 who finished with 2:04 time on the measured part of 30.7km. All my ride you can see on Strava http://app.strava.com/activities/71654283. And pros had 5 rounds like this that day.
I'm very happy first, to get to start in time, then second, to finish the race, third, to climb the biggest climb, and last but not least, not to dismount for all measured part.
Photo: Piotr Kurek (www.kurek-rowery.pl)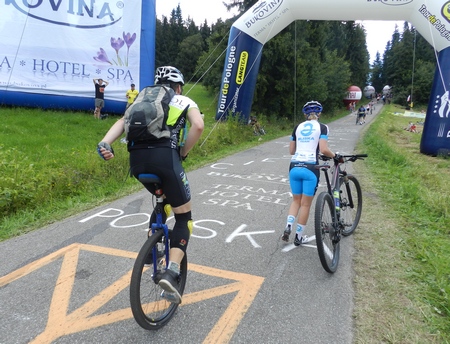 I detoured off of the Henry Hudson Trail in Keyport, NJ and wound up at the end of a dock looking out on Keyport Bay. Quite pretty.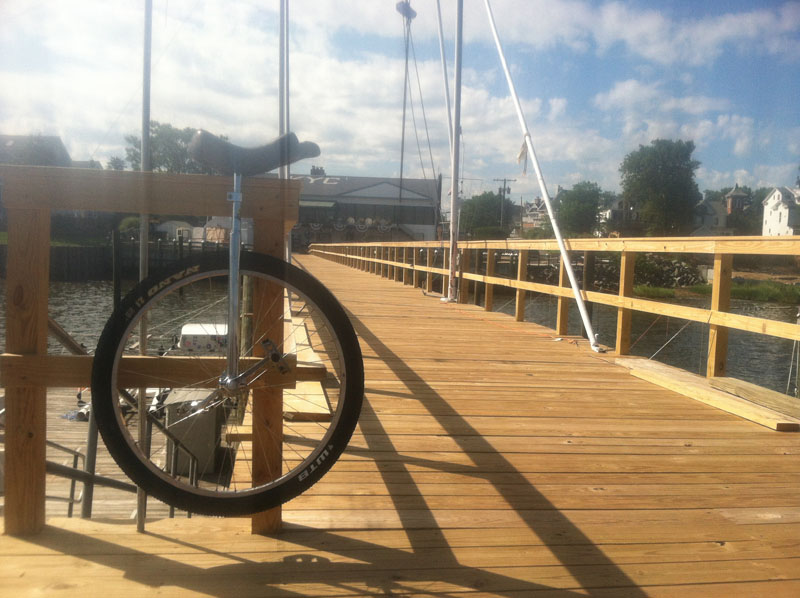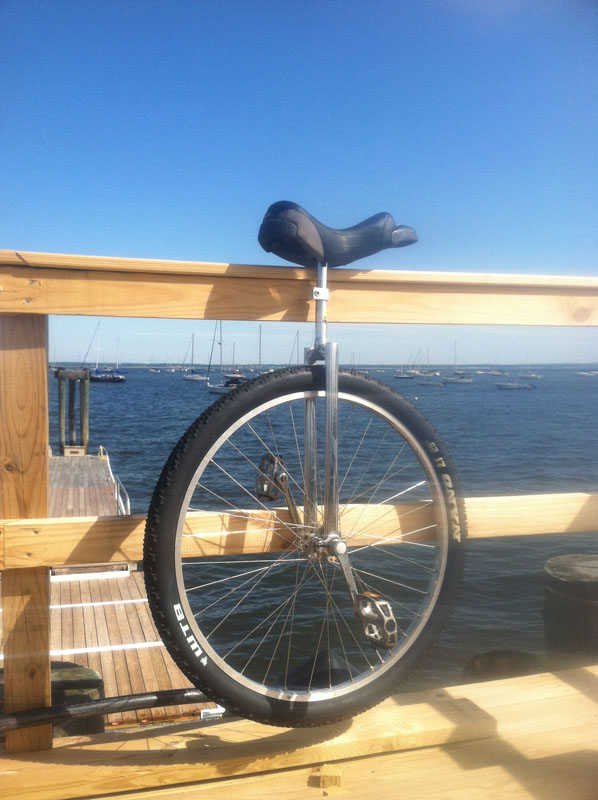 Way to go, Vookash!
I did a 40 mile test ride today lugging a tent and a backpack. I'm planning a week-long uni trip soon and this was to make sure I can do the miles while carrying gear. This was my first ride with the luggage rack behind the seat. I only partially filled the backpack, but the ride still kicked me arse.
I did get to go by the campsite I'll be in the first night, so I reserved the best spot. Which is coo…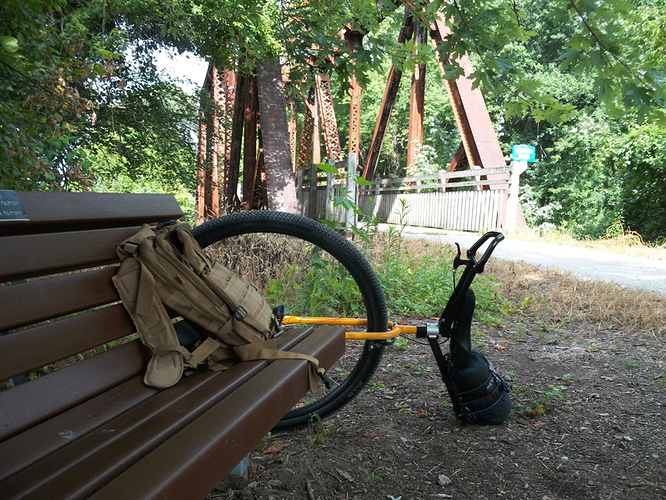 Lloyd, uni touring is the way to go! Good luck and take comfortable backpack.