Wow


I've seriously gotta visit Norway!!
Not such risky but went for riding as well today

Those are some great shots! I really like the one where oh wait, I like 'em all.

almost to top of Mt. Evans 14,104' - 27 miles 6,915' climbing life is good
pure & simple unicycling:)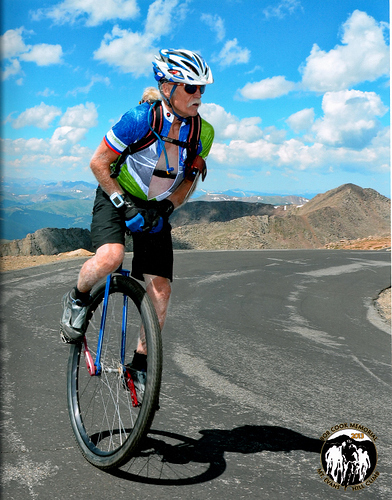 That's quite a uni! Are those cranks triple hole?
Old School GB4 w/kooka 3 hole cranks - started w/145mm and last 1,500' climb switched to 170mm
Mike, I truly hope to be as amazing a rider as you are some day. You are a huge inspiration for me and my riding.
Killian, you are having a great summer from what I am reading/seeing. Keep pushing your limits. Stretching, good nutrition, and miles on the wheel. Its a honor to be part of such a great group of people, we all do our thing. And don't forget, smile when you are riding, life is good! and btw, thank you.
Thank you!

We were trying

That's real unicycling spirit!

I might have to quote you on that in my signature.
Trolltunga (The Troll's tongue)
"Been there, done that!"
I visited "Trolltunga" this morning.
Two done, one to go… uh, eh, no. Won't happend. (The last one is dangerous!)
Cato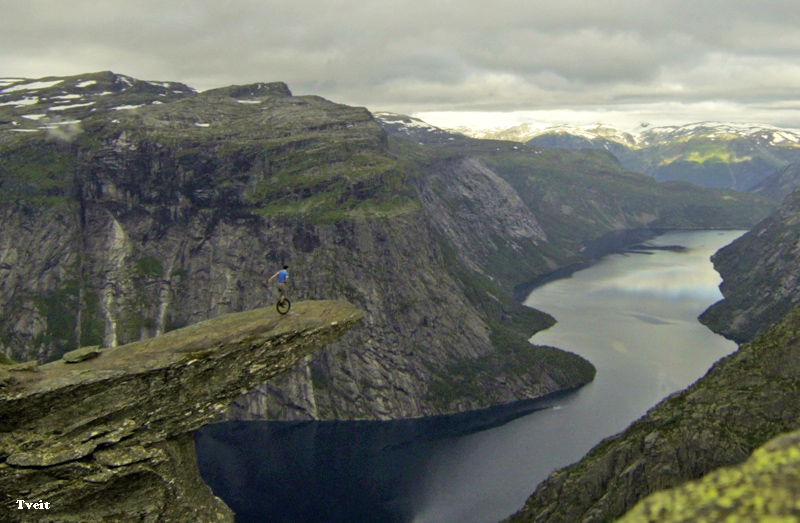 Nice pictures, you make me want to live in Norway!
What an amazing picture. So friggin cool. Glad the end of that rock didn't crack off while you were up there.
Keep the epic shots coming, I love 'em

Mike, I hope to someday clime half as far and steep as u :):o
Another awesome one! High res?
Vidcaps from today's G-MUni ride.
Riding muni in the western part of Hardangervidda
Trolltunga is located in the Skjeggedal (Beard valley) above Tyssedal, next to the town Odda. It lies about 1100 meters above sealevel, and 700 meters above Ringedalsvannet. The path to get there starts at the western end of Ringedalsvannet, and rises all these 700 meters during the first 4 km. I used almost 2 hour crawling up this part… The remaining 7 km is better for riding, where I used about 3 hour 20 minutes in total to reach the toungh without any major breaks.
Up this valley… I started at 4:15 AM. Here, it is now 4 degree Celsius. No wonder the glacier "Folgefonna" survives on the other mountain back there…
Now it begins! … leaving the reach of cellphones…
A nice part of the stony path:
Yeah, this is the right valley!
Here we are!
The second breakfast today:
Starting on the way back. Notice, there have been old industrial activity here… (in addition to the new…)
On the last 2 km before the toungh, the river "Tysso" have to be crossed. It was tubed in 1967, and are now dried out. According to the size of the many potholes its clear that it was carrying volumes of water.
Tysso was known for having the highest free waterfall in Norway, "Tyssestrengene". A twin waterfall, of 312 meters! (Do you know any higher?) Kinda impressive without water too.
I put my muni in a pothole on the edge, just to illustrate the dimensions…
Cauld have been interesting to view from this spot at the time of full load of water!
Having an icecream downtown in Odda, on the way home.
This is it, before cropping and adjusting. Do that qualify for "High res"?
Cato