Hi.
From what I have read since I started unicycling, 125s flip faster than 137s (or shorter cranks flips faster than longer cranks). Why would 125s flip faster? I'm no maths wizard but I was told at AUS Uninats that you could get more torque out of 137s.
I looked at this video later on to see what torque actually is. It is a little confusing as I haven't learnt about all this vector stuff.
What I have gathered from it is that the distance vector (length from the pivot point) X newtons (force) is the amount of torque. The more torque, the faster the wheel spins right? Below I drew up a diagram of a 137mm moment crank with mathematical symbols and calculations.\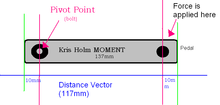 Torque = Force (how hard the cranks are kicked/flipped) X Distance (length of the cranks). In the diagram the distance is 117mm and lets say the force is 10. So the torque here is…
10 (force) X 117 (distance) = 1170
The torque is 1170.
If we were using a 125mm crank…
10 (force) X 105 (distance) = 1050
The torque is 1050.
…
The 137mm crank has more torque meaning it will flip faster, but if we put this rule into a real life perspective, would we be able to apply the same amount of force to different crank lengths?
If we can than 137s flip faster. If not then…?
DISCUSS.