Today, I took two of my sons (the middle boy had a hurt toe) on a hike just east of Oroville, CA (Oroville's about an hour north of Sacramento). It's a place called Big Bald Rock. All I can say is OMFG.
There's a short trail from the trailhead–maybe a half mile, at most–that climbs steadily, and then you emerge in this amazing, mountain-top full of granite in the coolest shapes. It looks like a skatepark in some spots, has cool eroding hoodoos, boulders the size of school buses–absolutely amazing terrain.
What's even cooler is that it's a multiuse area, so nonmotorized wheeled vehicles are allowed. While we were there, we only saw a pair of hikers, but there was a guy getting his mountain bike ready to go when we got back to the car. The local bike store in Oroville confirmed that it's permitted to ride there.
Fellow Norcal riders, we've got to go there. The terrain was a lot like the area of the trials competition at CMW last year, but with way more lines for people like me (ie, rather pathetic overall) to actually try without feeling that failure was an absolute certainty. I've not been to Moab, so I can't make a comparison there, but this must be like a little slice of Moab here in my neighborhood. I've put some pictures below, and here's a link to my entire Bald Rock set on Flickr. Sorry for the big color variation–it's because my camera died, and I had to use my cell phone for many of these.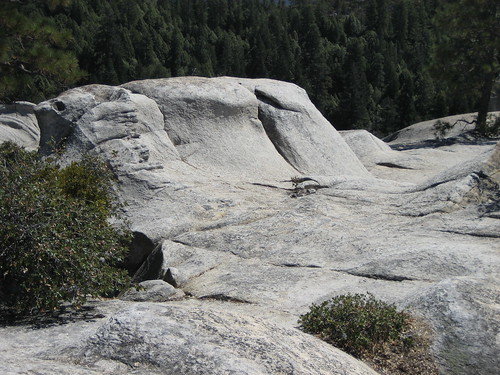 Smooth lines–you could almost skate parts of this place.

Lots of opportunities for big drops if you're so inclined.

More of the wavy goodness that is Big Bald Rock.

Drew atop one of the formations. There's about a 50 foot drop just in front of him.

This is from the other side of the picture above, with Drew and Seth barely visible at the top of the rocks.

This is a big boulder. You can see Drew on the right of the shot, and he's about 5'10" tall.

Seth surfing one of the granite waves.