For sale is the Nimbus NightFox 2014 frame.

The Nimbus NightFox frame was updated in 2015 to extend the boom. My kids never complained about rubbing the back of their legs on the frame but it bothered me enough to switch to the 2015 frame.
The "before" picture of the frame. My KH36G is NOT included.
The 2014 frame (one closest to the wheel) is the one that's for sale. I'd take $75 for the frame including (in the package, never opened) leg pieces and bearing holders. I'll throw in the Nimbus Shadow (with 30 degree bend) Handle for $15 and a lightly used Kris Holm Freeride Saddle for $50 complete with two unused saddle covers (one all leather, the other is the older fabric) for $5 each.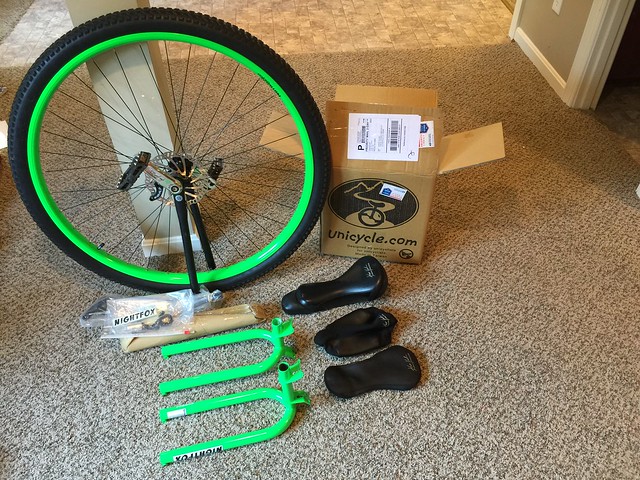 I'll include the stickers (never applied) with the 2014 frame.
2014 frame straight and true. My kids are not very hard on equipment. To be honest they don't ride nearly as often as I would like.
We took really good care of the screws that tighten the frame around the legs applying blue LockTight instead of over tightening.
Frog shot shows a few scratches but no real structural damage. Whoever said you can't fit a KH saddle to a 2014 NightFox frame did not try hard enough.
This was a bit concerning. The paint cracked where the rear of the saddle rests. Could be from trying to cinch up a KH saddle where the frame was most likely designed for a Nimbus Gel. Again, no structural damage. Just saying in the interest of full disclosure.
Buyer is responsible for shipping costs (I'll use the pictured UDC box). Shipping from Kentucky zip 40299.